Investing in a quality coffee grinder, whether you're brewing for drip-style coffee or espresso, is crucial if you want to get tasty results. Just imagine buying some exceptional coffee beans, paying a substantial amount, and still not being able to get the taste you desire.
Let alone close to what you normally get in the café! That could be because of your coffee grinder choice. You don't simply want a cup of coffee that wakes you up in the morning — you want a cup of joe packed with complex aromas and flavors; one that delivers a truly satisfying experience in each sip. If you are that kind of coffee aficionado, then our best coffee grinder for the money buyer's guide is for you.
Read More:
Why Buy a Coffee Grinder?
Brewing that idyllic cup of coffee takes more than buying the perfect coffee beans. It doesn't matter how excellent your beans are. If you are using the wrong grinder, you get inconsistent results and bad coffee. That's why getting the best coffee grinder that money can buy is of the utmost importance.
The benefits of owning a coffee grinder outrank the cons by far. In fact, there are no real disadvantages to owning a coffee grinder apart from having to spend money to buy one! The following two points are probably the biggest hitters when it comes to owning a coffee grinder. read here: How To Grind Coffee Beans For French Press 
You Want More Control
Having your own coffee grinder affords you flexibility and freedom in your brewing that cannot simply be ignored. It helps to substantially increase the quality of your coffee.
Temperature and humidity, the age of your beans, and the time of day can affect the quality of your coffee as they impact your beans. For example, when humidity is higher, the beans absorb more moisture. A good grinder allows you more precision and control over the grind of your beans. That means you can enjoy the same great coffee at home despite the time of the day, weather, or if your beans are fresh or older.
Having your grinder gives you more room to maneuver with your coffee brewing. You can, for example, choose to up your grind size when you want to employ more than one coffee brewing method. You can go from super-fine for espresso coffee to super-coarse suitable for French Press.
Besides, with your grinder, you only need to grind as many coffee beans as needed each time you are brewing, keeping most of your roasted beans in their whole form. By owning a good grinder, the world of coffee beans opens up dramatically for you. Now you can get out and buy your beans with abandon, choose to make your own grind size adjustments whenever you want to and experiment with what works best for you.
Read More:
Having Pre-Ground Coffee is Not Good Enough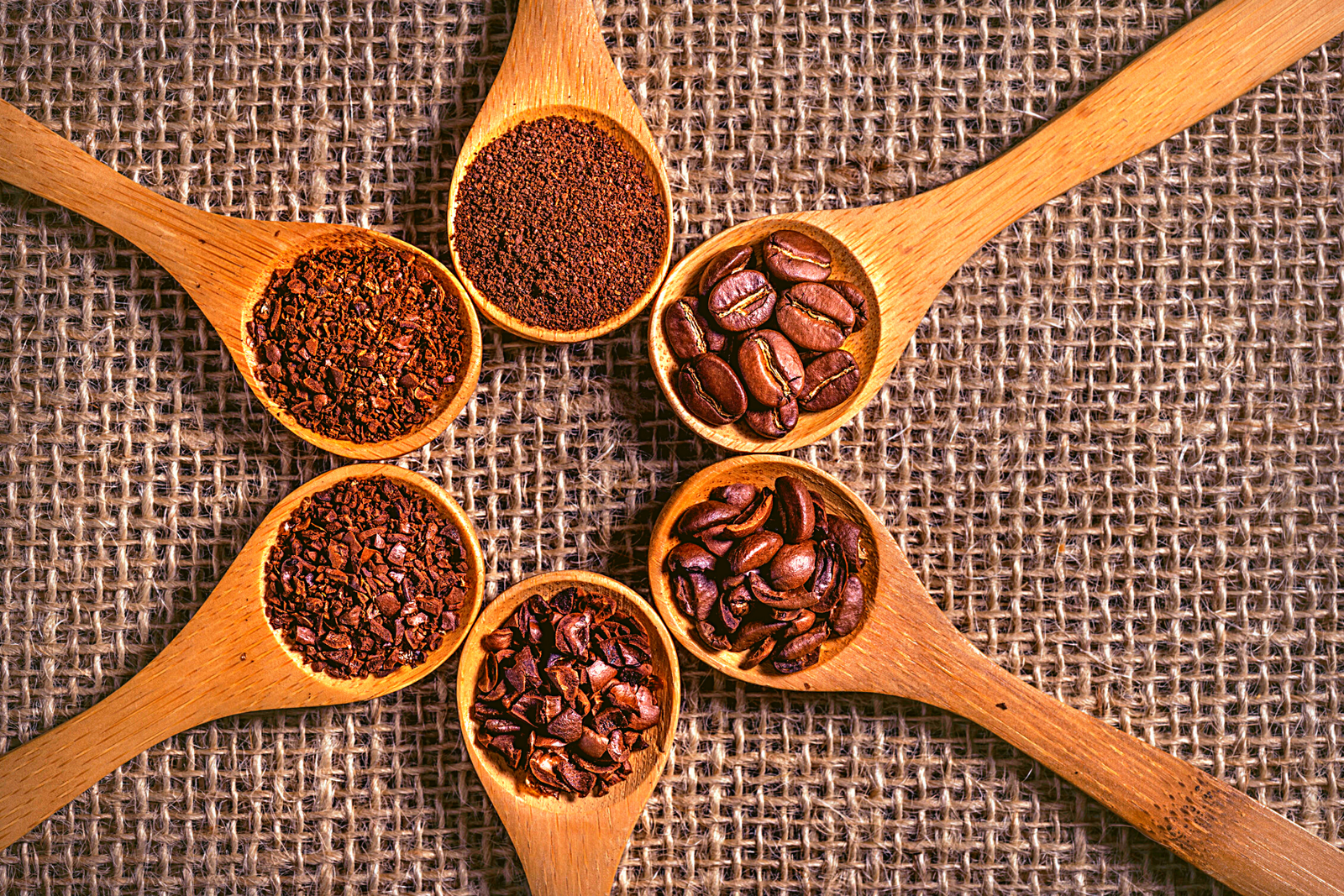 Perhaps that bag of pre-ground coffee was even stale before you paid for it after lying on the shelf for months. However, when you grind your own coffee, you immediately smell the fresh aroma – and you begin to notice the difference.
The beans smell amazing when they're being ground, and when they're being brewed. A cup of joe brewed fifteen minutes ago lacks the same smells and flavors as one freshly brewed. You can make fresh coffee just when you need it!
Grinding your beans fresh ensures you get the best coffee quality. You extract maximum coffee solubles with less coffee degradation that is caused by exposure to environmental elements and the passage of time.
Types of Coffee Grinders
Depending on your favorite cup of joe, you want to buy a coffee grinder that gives the best brewing for your specific use case. For example, a grinder that does well for espresso coffee will vary substantially in terms of set up and price range to a grinder that does well when brewing French press, cold brew, or stovetop espresso.
Think carefully about the brewing style you need as a coffee grinder designed specifically for that will help you out immensely when choosing. Before you learn the factors you need to consider when buying, the first thing is to know is what types of coffee grinders are available in the market.
There are two main types of coffee grinders, blade grinders or burr grinders.
Blade Grinders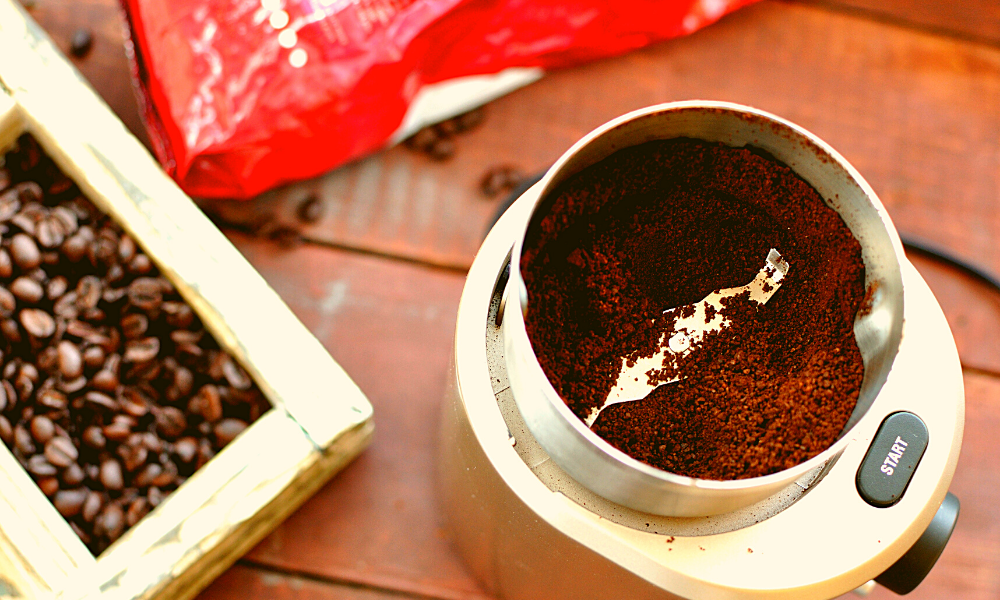 Manual or blade grinders are common because they are quite affordable. Blade grinders are, however, not cheap without a reason. Coffee aficionados deride this type of grinder as they are inconsistent – the beans come out partially coarse and powdery powder-ish with all types of particle sizes. If used for too long, blade grinders can burn your coffee, further affecting the flavor.
To be fair, if you normally use cheaper types of coffee, you might not even notice much of a difference whether you use a blade grinder or burr grinder. And, yes, the low price tag is not only tempting but welcome.
However, if you are intending to spend cash on high-quality coffee beans, you might be better off investing in a piece of equipment that's suitable for them such as a burr grinder.
Burr Grinders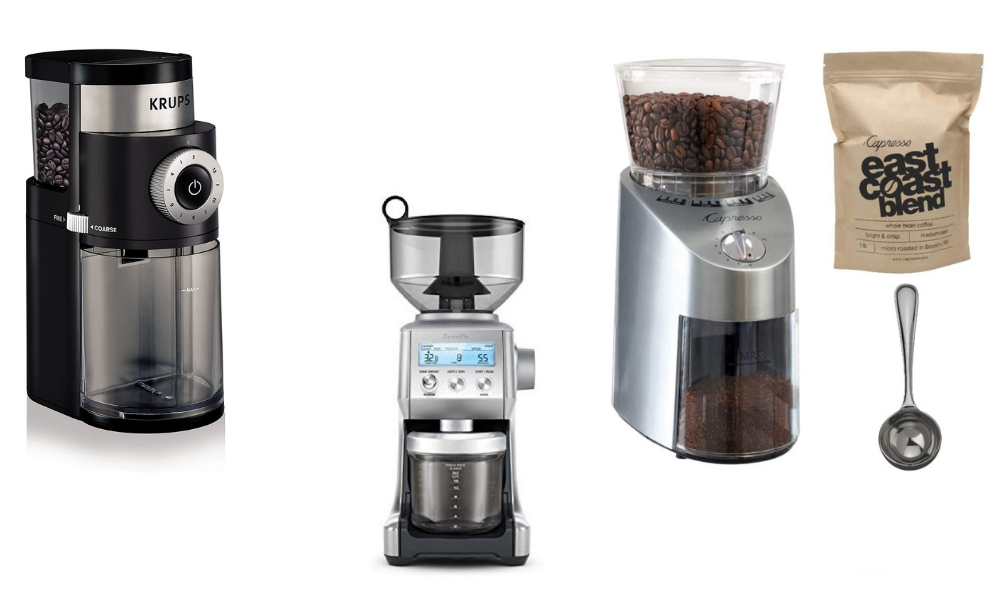 There is a good reason why people who love brewing their own coffee think the burr grinder is the best. For one thing, these are the most common types of coffee grinders found in quality coffee shops. Read Here: Top 5 Best Burr Coffee Grinders: Reasons to Pick The Right One
That alone is a solid endorsement that's not easy to overlook when searching for or trying to decide what the best coffee grinder for the money is. It's no wonder then the burr grinder is also the most common type found in the homes of genuine coffee lovers.
Burr grinders produce uniform ground coffee – all the coffee particles are about the same size. This is the consistency that coffee connoisseurs love as it makes a huge difference in terms of the quality of the flavor.
If you decide on getting a burr grinder you need to choose between two different types:
• Conical
• Flat plate
Although there are slight differences in how the two types work, in general, the quality of the results is similar.
• Flat plate burr grinders are more expensive and better at producing grind consistency
• Conical grinders are cheaper, more affordable, and quieter
• A flat burr grinder use discs that have burrs in between
• A conical burr grinder, on the other hand, uses cone-shaped rings that sit inside each other
Some coffee lovers don't like flat burr grinders as some of the coffee grains tend to get stuck in the burrs which mean you lose some in the process of brewing. Conical burr grinders are more forgiving when adjustments are needed to get the coffee grounds just right.
The most important thing to note is that these differences are fairly minor and the overall results are very similar whether you use a flat or conical burr grinder.
Read More:
Electric vs. Manual Coffee Grinders
Coffee grinders are either electric or manually powered. Electric grinders are exceptionally easy to use. They give quick results and also tend to give more uniform outcomes. However, some people like the control they get when using a manual grinder.
Most hand or manual grinders come with an inbuilt burr, which is an affordable way of getting a quality grind for your coffee maker. What's more, hand grinders are quiet. Having said that about manual grinders, in many ways electric grinder models are superior, but if you still enjoy grinding your beans manually or looking to save money, the manual option makes good sense.
High-end electric grinders come with over 40 grind settings that range from espresso to French press. With such a wide choice of settings, you can have your cup of joe, just the way you love it. On the downside, most electric coffee grinders make lots of noise, not ideal for the family setting. Read Here: Manual vs Electric Coffee Grinders: Which is Right for You?
Such coffee grinders are best for specialty coffee shops, which typically serve hundreds of customers daily with different preferences and tastes. If, on the other hand, you are looking for different consistency and variety, then you might be better off with an electric grinder. For example, if you love espresso, an electric grinder is your best option due to uniform consistency.
Read More:
Spice Grinder vs Coffee Grinder: The Differences
Top 5 Best Burr Coffee Grinders: Reasons to Pick The Right One
Factors to Consider When Buying
For such a small appliance that does a fairly simple task, there are surprisingly hundreds of options available on the market. And because all offer similar features but at a variety of price points and ranges, it can be rather difficult to choose the best coffee grinder.
Here are several factors worth considering:
Particle Size and Consistency
This is probably the most important factor you should think about as you search for the right coffee grinder. The factor relates directly back to the aroma and flavor you'll get from your cup of coffee.
Grinding your own coffee beans is somewhat more complicated than simply plugging in a coffee grinder and throwing in some beans for a couple of minutes. Making sure the coffee beans are ground is not enough — they must be ground correctly, just perfect for your particular coffee maker.
Even a minor change in particle size makes a big difference in the quality of your coffee or what you are serving to your guests. After all, don't you want a great-tasting cup of coffee and your guests wowed? Using the right grind size makes all the difference!
Size and Capacity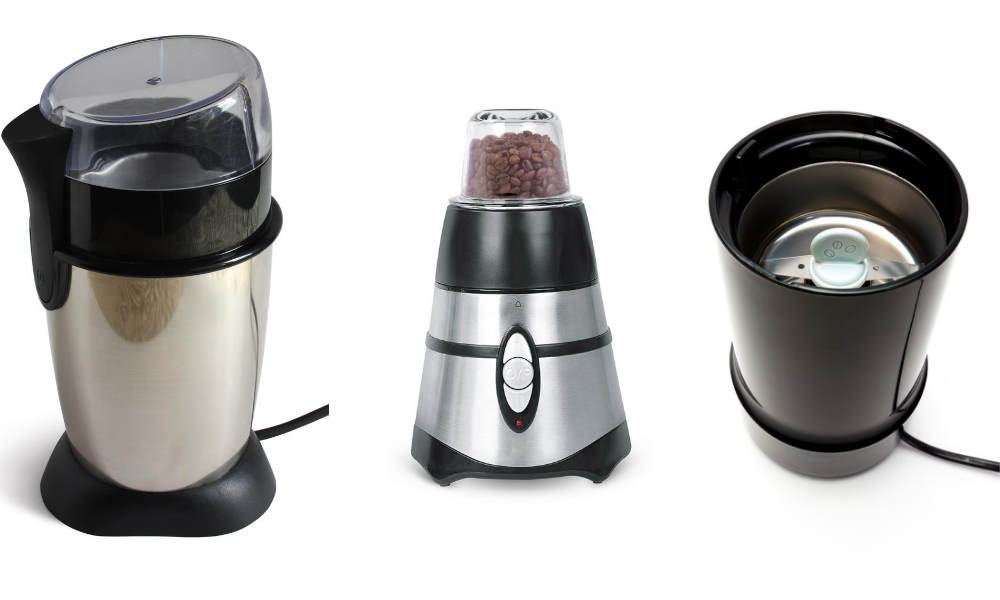 When looking for the best coffee grinder for the money, a practical consideration you should make is its capacity and overall size. It doesn't matter how small or large your kitchen is, most tend to have a limited cabinet or counter space. Therefore, before you begin searching for the right coffee grinder, make sure you know the space you have available.
Although coffee grinders aren't particularly large, they will still need somewhere to go. Whether you leave it on the kitchen countertop or stored away when not being used, ensure you buy a product that fits in the available space.
The grinders you see in the stores are designed to hold a certain amount of ground coffee beans each time they are used. You'll get better-flavored coffee from your machine if you grind the right amount of beans each time you brew.
By the same logic, you won't necessarily require a high-capacity grinder unless you are expecting to be making coffee for several people regularly. If you are alone, settle for a small-capacity coffee grinder. If you have several co-workers or roommates, then go for something that can accommodate all of you.
Read More: 
Grinder Material
As with all other important purchases, coffee grinders that cost more are often made from superior materials that are designed to last longer and give better results. With proper care, such high-quality grinders not only last for much longer than many cheaper models, but they could save you from having to buy again and again.
There are two materials commonly used on burrs:
• Ceramic
• Stainless steel
Stainless burrs are quite popular and have several benefits. For example, it's easier to find new replacement steel burrs and they usually cost less. However, if you are looking for more durability, ceramic burrs are the better option.
The flipside of ceramic burrs is that it will typically take you more effort to replace them, and they cost more. If you love espresso, then we recommend ceramic burrs because they achieve a superior level of fineness needed for espresso.
The Cost
The best coffee grinder for the money isn't cheap and if cost is a particularly big concern, then a blade grinder makes the most sense. You can expect to pay between $15 and 30 for a simple blade grinder.
Burr models are not only more expensive but their prices vary more widely. While a manual burr grinder can cost around $20-30, even if your budget isn't that big, you can get a decent electric burr grinder for about $40-60. If you are ready to spend money on getting a grinder that does the best job, then look at electric burr coffee grinders in the $100-$500 range.
Remember that the more money you are willing to spend on coffee beans, the more you get out of a high-end coffee grinder. It might be harder to meet the higher upfront cost, but if you want to get the best flavor out of your high-quality coffee grinder, it's worth it in the long run and a good investment.
Similar to when buying any new home appliance, it's important to look at your purchase as an investment, but to equally weigh it against how you intend to use it. Spending more money upfront will definitely provide better coffee and potentially save you money in the long run. However, that might not be a very prudent move if you rarely use the coffee grinder.
Speed
Coffee grinders are designed with a mechanical (motor) component that grinds the coffee beans. It's easy to assume that the faster the motor rotates, the smoother or better the coffee powder produced. Unfortunately, when it comes to a coffee grinder, that's not the case.
Instead, a high-speed motor might cause problems because it also means more heat is produced. Burnt coffee negatively influences the aroma and flavor. To avoid generating too much heat, you may need to start and stop several times each time you grind the coffee.
That, however, results in longer times to brew just a single cup's worth of beans. If you prefer the high-speed grinder, consider buying one with gear reduction as it can help in solving the problems cited above.
Noise Levels
A factor that is commonly overlooked when buying a coffee grinder for use at home is the noise level. Often, it's not until you begin making your cup of coffee at some ungodly morning hour that the reality of the noise hits you and you also realize that the rest of your household is still asleep.
Even for the most ardent coffee lover, weathering the ire of your woken family members each morning may not be worth enduring. Manual coffee grinders are obviously much quieter.
If you are an early bird, a manual grinder might be preferable if you must have your favorite morning brew without having to wake the entire household. If the noise level is likely to affect your coffee making, ensure you hear the grinder in action before you bring it home.
Read More:
Dosing
"Dosing" is used in reference to how the coffee grind is deposited into the grinder basket after being ground. This is an important factor when buying.
A doser grinder or dosing coffee grinder deposits the grind into a container with six segmented sections on the bottom that are designed to hold and deposit about 7g of grind. In some grinders, the amount can be adjusted. In manual dosing, the barista then uses a lever or handle to distribute the grind into the basket. As a barista, manual dosing is a valuable skill to have. However, the market trend is now shifting to non-dosing grinders.
A doserless grinder or non-dosing coffee grinder dispenses coffee by either depositing the grind into an inbuilt internal container and from there depositing into the basket or directly dispensing the grind into the basket.
Ease of Use and Cleaning
While some people are willing to put some effort into making the perfect cup of joe, others want a simpler process. Coffee grinders tend to vary in how complicated they are to use and also clean.
If you know that you are likely to be frustrated by a machine that demands taking extra steps each day when used, or a process that always involves lots of time and frustration to clean, then read reviews about the product before making a buying decision.
Some grinders have extra accessories such as a carrying case, cleaning brush, or container for storing the ground coffee.
If your preferred product doesn't come with the kind of accessories you'd want, consider buying them separately. The flip side is that accessories mean more cleaning effort and time.
Grinding to a Halt
While getting the best coffee grinder for the money is not a straightforward task, there are several fantastic machines available on the market that fit the bill. Besides, manufacturers are continuously working to develop new products.
Whether it's the first activity of the day or you're serving special guests, your cup of joe should always taste fresh, rich, and flavorful. And owning the right grinder makes that possible. When all is said and done, the price, time, and consistency remain the three main considerations when looking for the best grinder.
When choosing the best coffee grinder for your money, the choices are not set in stone. Finding the right coffee gear is usually a matter of the associated benefits and personal choice.
Frequently Asked Questions (FAQs)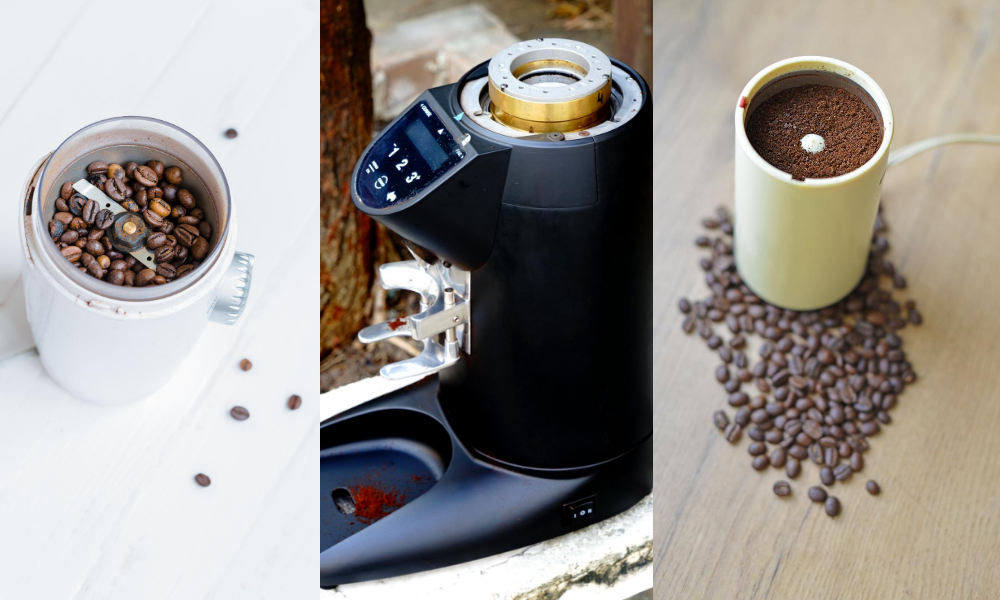 When looking for the best coffee grinder for the money, some of the most frequently asked questions include:
Q. Why should I grind my own coffee?
A. Freshly ground coffee not only has a superior flavor but when you opt to grind your own coffee, it gives you control over the grind size. Different types of coffee makers typically give the best results when used with particular grind sizes.
Q. Which is the best coffee grinder for me?
A. Your specific needs will determine the best grinder for you. Refer to our Factors to Consider When Buying section above!
Q. How much should I spend on a coffee grinder?
A. Depending on the type, brand, and style of the coffee grinder, you can spend anything from $15 up to more than $500 for a quality coffee grinder. For a quality electric grinder, we recommend starting your search at around $150.
Q. Are coffee grinders easy to clean?
A. It may be hard to clean some coffee grinders around the burrs or blades. You may need to use a special cleaning brush if you are to get all the remnants out. Consider getting a model with removable burrs or blades for easier cleaning.
Read More: