Best coffee thermoses take versatility, convenience, reliability, and affordability and combine these features in high-quality products. Perfect as gifts or for yourself, these classic coffee thermoses get the job done and look good doing it.
Nothing beats a piping hot cup of coffee to wake you up in the morning and give you the much-needed energy boost to get through the day.
At home, we always have the option of sipping a freshly brewed cup of joe. However, if you woke up late or traveling, your convenient option is to get coffee from a local coffee shop on your way.
The other, and much better, the option is to brew and bring along your own coffee. And for that, you will need to get one of the best coffee thermoses available on the market today. But before let's do a quick look at our top 10 best coffee thermoses list.
Top 10 Best Coffee Thermoses
Thermoses: How Do They Work?
Most thermoses will rely on their double-wall or even triple-wall construction. The space between each wall is also vacuum sealed for better temperature retention.
Air is effective at transferring heat so if there is less air between two objects that are not touching, then the gap between them does a better job in resisting heat transfer.
James Dewar, a Scottish chemist, and physicist noticed this effect. In 1892, he invented the vacuum flask, a container with an outside and inside wall separated by a vacuum. Today, Dewar's flask is the forerunner of the modern thermos.
The gap between the container's outside and inside walls do not have too wide and only needs to be absent of air in order to be effective.
3 Types of Thermoses Insulation
Your coffee thermos needs to be well insulated if you wish to maintain the ideal temperature of your beverage. The less heat and cold can get inside, then the better the liquid will be preserved.
There are 3 different methods of insulating, depending on the kind of thermos you choose and the manufacturer.
1) Foam Insulation
This kind of insulation integrates a foam between the 2 walls of the thermos. Thus, the internal temperature is kept longer, and the cold can't penetrate the first wall. This method can maintain the coffee warm for at least 3 hours.
2) Air Insulation
Mostly found in thermal mugs and cups, air insulation is the most affordable method of insulation. The name comes from the fact that there's air between the 2 walls.
Although this is the least efficient kind of insulation to preserve the optimum temperature for a longer time, so it is ideal for short journeys.
3) Vacuum Insulation
Vacuum insulation is the most common and efficient way to preserve the optimum temperature.
It consists of a double metal layer on both the walls in order to prevent the external temperature from totally affecting it or the internal heat from escaping.
Read More:
Benefits of a Coffee Thermos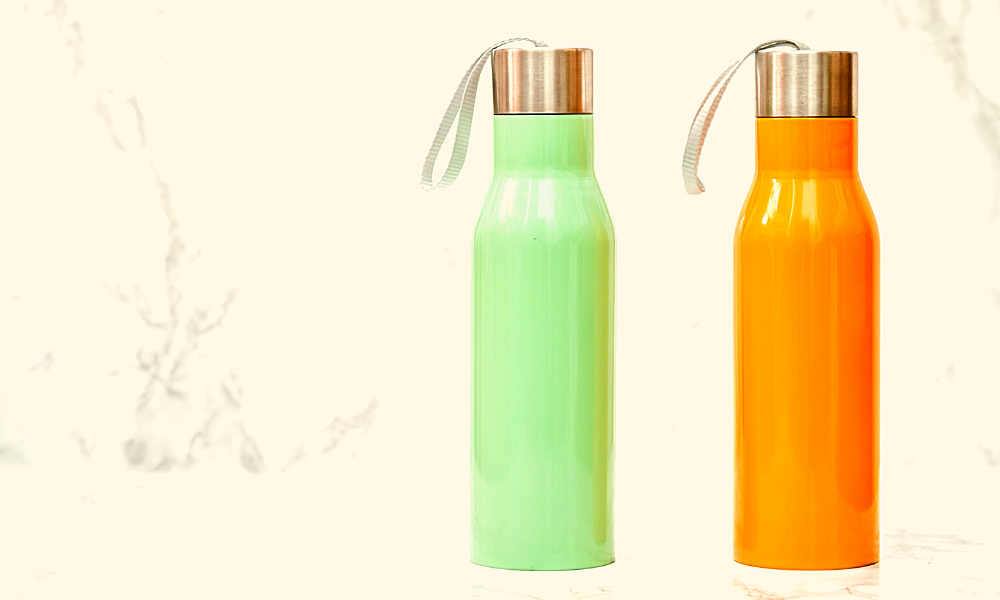 The best coffee thermoses help preserve and retain the temperature of your favorite beverages. With its insulation mechanism, you can ensure that your cold beverages stay cold or your hot coffee stays hot.
Leak-proof and Spill-Proof
The most reliable thermoses of today offer top-of-the-line technology preventing leaks and spills, so you can place them in your bag without any worries.
Thermoses are compact containers that allow you to carry your beverages along with you in a bag, train, bus, or car. In addition, most thermoses fit perfectly in car cup holders.
With the best coffee thermoses, you're able to carry your drinks and save a lot of money that you'll otherwise spend on buying beverages
from outside. Adding all the money that you spend purchasing expensive drinks from local coffee shops, you'll realize how huge sum of money you'll be saving every month or week.
With a reliable coffee thermos, you're able to avoid using the disposable cups, thus, prevent adding to the non-biodegradable waste, cutting down on your carbon footprint.
Stay Refreshed with Your Favorite Taste
With a good thermos at your disposal, you can stay hydrated or awake every time. During a busy day, you don't have to go out to buy your coffee from the nearest coffee shop or opt for the coffee vending machine.
By keeping your self-brewed coffee in a reliable thermos, you can enjoy a beverage that suits your taste and keeps you refreshed all day long. Read More: Best Espresso Machines Under $1000
The Best Coffee Thermoses Buying Guide
When buying the best coffee thermoses, there are things that you need to consider. Having the facts straight is going to make your decision easier and help you find the best one available.
1) Size
First off, the size!
Will you use it for yourself? Or do you want to share it with your date or with your camping friends? Do you need coffee to sip for the whole day? Or just needs one cup to get you throughout the day?
If you're looking for a shared thermos or need to drink a whole pot of coffee, then go with the large-sized thermos. Take note, however, that it is going to be heavier and takes up more space.
However, if you just want coffee for yourself, then you can go with the smaller choices that are compact and cheaper. In addition, if you are always on the move, your best option is to go with the best coffee thermoses that fit into your car cup holders.
2) Insulation
This is the most important feature you need to closely investigate. Insulation is the main reason why people buy the best coffee thermoses since it will be able to control the temperature inside.
You iced drinks will never melt, and your lattes won't get cold in case you forgot it for hours, thanks to the vacuum sealing technology and heat insulation.
The effectiveness of the thermos insulation is determined by how it is designed. The best coffee thermoses are constructed from stainless steel with double walls or triple walls and then sealed by vacuum.
Such thermoses can keep your drinks cold or hot for about 24 hours.
Most cheap thermoses, on the other hand, are made from plastic or tin which can't compete in the insulation department. Although these thermoses can be perfect for short-term use, they'll fail in maintaining the ideal temperature.
3) Material
The material used to construct the thermos is another crucial factor, impacting on its effectiveness and durability.
As mentioned previously, thermoses that are made of stainless steel are the more popular option since they are reliable and offer great heat retention.
Meanwhile, thermoses that are constructed from glass or plastic, may look beautiful and elegant but should be avoided since they are prone to breakage, leakage, and don't retain heat as well as stainless steel.
4) Lid and Delivery System
The seal or lid of the thermos is another thing you need to consider since it determines whether that thermos leaks or not. Some thermoses use corks in order to keep them tightly closed, however, not that effective in preventing leakages and spills.
Screw caps, on the other hand, are better options since they stay in place. You also need to consider how you're supposed to sip your drink from the thermos.
Does it come with a sipping hole, a metal straw, or an adjustable mouthpiece? Or does the lid come off, allowing you to use it as a small cup for you to pour your coffee into?
5) Design
The way a thermos is designed can also affect its ease of use. Everyone has different wants and need, so there's no right or wrong in this department. You only need to find what you like the most in the product design.
You can find thermoses with handles that make it is easier for you to carry it around. Others come with a free carrying bag that keeps the thermos wrapped up and prevent any sort of spills and leakages.
Some thermoses will have secure grip material, allowing you to hold it securely with one hand while driving or when going down a busy lane as you carry your other things.
6) Cleaning Convenience
Thermoses are amongst the most dreaded items for cleaning. Thermoses for hand washing only can be difficult to clean and require special cleaning tools, especially for thermoses with narrow openings.
Meanwhile, dishwasher-safe thermoses allow convenience since you only need to throw it inside and it's good to go.
Take note, however, that some thermoses only have dishwasher-safe lids with the body that needs to be hand-washed so as not to damage the insulation walls.
7) Warranty
You might also want to get a thermos that comes with some kind of warranty or money-back guarantee. It's important to consider, particularly if you're buying online.
The warranty as well as return policies allow you to send the product back and demand a refund if it does not work as what is said on the label.
Thermos Use and Care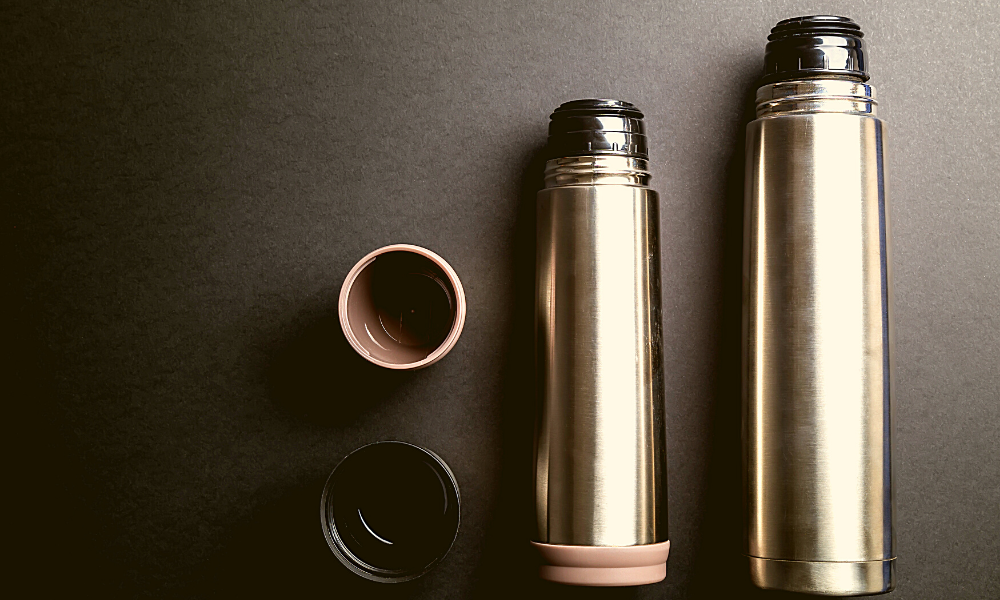 In order to ensure that your coffee thermos lasts long and is safe to use, take note of the following tips:
Don't put carbonated drinks in your thermoses since it can cause increased pressure inside and result in damages to the structure of the thermos.
Hot drinks with temperature from 40 – 140 degrees Fahrenheit shouldn't be stores in a thermos for over 3 hours since there's a high chance of bacteria build up in this temperature range. You can boil your hot drinks at 165 degrees Fahrenheit or higher before you put them into the thermos.
Try not to keep your drinks in your thermos for over 6 hours, unless specified in the user manual.
Preheat the thermos with warm water before pouring hot coffee or beverages in it, keeping your drinks warmer for longer. Similarly, you can pre-chill the thermos before putting cold beverages in it.
Don't drop, bump, or knock your thermos to hard surfaces since it can affect the insulation of your thermos.
Cleaning A Coffee Thermos
A coffee thermos is used for keeping coffee hot or chilled drinks stay cool. However, depending on what's being stores inside your coffee thermos, there can be build-up stains or odors on its inside walls.
And the process of cleaning a coffee thermos varies whether you are keeping an extra cup of coffee during the cold mornings or a chicken noodle soup warm. Regardless of the stains, there is a cleaning method that can help remove them.
Dishwasher Detergent
Using dishwasher detergent is the most basic way to clean your coffee thermos. You only need to pour a tablespoon of dishwashing detergent per 4 cups into your coffee thermos. Then add hot water into your coffee thermos.
Put the lid back and shake the mixture for at least 30 seconds. Remove the cap. Just be careful in doing this since foam can build up. Allow the coffee thermos to sit in the sink for several hours. After that, pour the liquid out and rinse until no detergent smell or residues appear.
If your coffee thermos has tough stains or odor, then you will need to try this method.
Pour 120ml or half a cup of white vinegar into the coffee thermos. Add hot water into the thermos.
Let the mixture sit for 8 – 10 minutes, using a bottle scrubber in order to remove the stubborn stains and odor inside. After that, pour out the mixture and rinse well until the smell of the vinegar is completely gone.
For a deep clean, you can try this mixture.
Pour 80ml of vinegar into your coffee thermos. Then, add a tablespoon of baking soda per 2 cups of the thermos capacity. Slowly pour in hot water into the coffee thermos until the foam reaches the top. Let it sit for a few minutes.
Tip:
Make sure that you place the coffee thermos in a sink and leave the cap or lid off as the vinegar and baking soda react.
Once the foaming has settled, you can fill the thermos with hot water again.
Allow to sit for a few hours. After that, pour out the mixture and rinse well until the smell of the vinegar is completely gone.
Cleaning The Coffee Thermos Lid
Most coffee thermos lids are food-safe plastic constructed from polypropylene and have a high heat tolerance. Thus, you can place them in the top rack dishwasher.
Unfortunately, not all coffee thermos lids are constructed from this reliable material with the less expensive seals tend to warp or break down.
And even though the coffee thermoses are suitable for the hot environment, sometimes the lid can warp, causing it to be leaky. For such lids, the dishwasher is not a safe option.
Here are the following steps on how to clean your coffee thermos lid.
After every use of your coffee thermos, rinse out the lid. Open and close all its moving parts under running water.
Soak the thermos lid in warm soapy water for at least 10 minutes, keeping the lid in an open position.
For the stubborn odors and stain, you can use a cotton swab, toothbrush, pipe cleaner, or a scrub brush.
Rinse the lid thoroughly.
Allow drying before using it again.
In case of stubborn stains, you may need to repeat the process all over again. Also, try to avoid chemical cleaners or anything that is chlorine-based.
You can use a teaspoon of baking soda and half a cup of white vinegar to clean these stains instead. Let the lid soak in the vinegar and baking soda mixture overnight and rinse thoroughly.
How Long Can You Keep Coffee In The Coffee Thermos?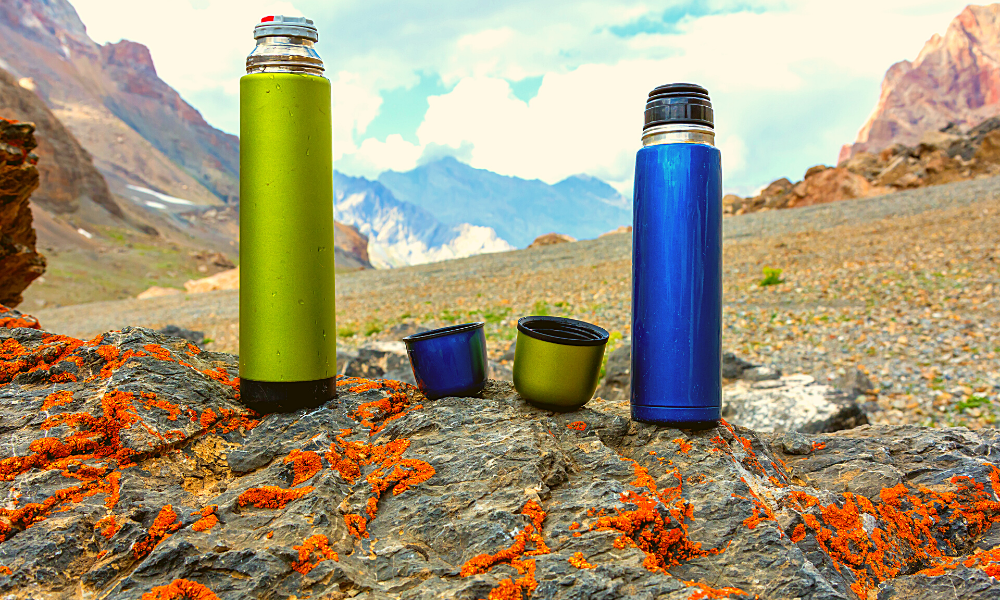 How long the coffee can stay in the thermos will depend on several factors. Here are certain things you need to consider.
Have you added creamer or milk to your coffee?
Milk or creamer in your coffee makes it easier to spoil. On average, a coffee can last up to 2 days with moderate amounts, however, with creamer or milk, you need to consume it as quickly as possible and not let it sitfor a day.
How clean is your coffee thermos?
Coffee stains can happen on the inside of your coffee thermos and introduce bacteria. This can ruin the coffee taste and flavor even for a few hours.
Leaving the lid open in between cups will allow moisture and bacteria into your coffee thermos, thereby altering its flavor and temperature.
The place where you store the coffee thermos will also affect the coffee taste.
Frequently Asked Questions
Q: How do I get the smell out of my coffee thermos?
A: You can use a bit of hot water and vinegar when cleaning your coffee thermos. Just pour an inch or two of vinegar and fill it up with hot water.
Put the lid back and give it a good shake. Allow the mixture to rest in the thermos for at least 30 minutes. After that, empty it back and allow it to air dry.
Q: Can I clean a thermos with bleach?
A: No! You can't use bleach in order to clean a thermos, especially the stainless-steel ones. Bleaching agents can be highly hazardous to the thermos and should be avoided at all costs. You can check the cleaning instruction of your coffee thermos.
If unsure, you can always use soapy water or a mixture of baking soda, vinegar, and hot water in order to get rid of odors and stains in your thermos.
Q: What temperature should coffees be served at?
A: Coffees are served best at around 180 – 185 degrees Fahrenheit, according to the National Coffee Association. However, other experts suggest that serving coffee at such high temperatures will undermine the expression of the subtle flavors in a good cup of coffee.
To taste the coffee's unique qualities such as acidity and sweetness, they recommend that coffee should be served at temperatures around 120 – 140 degrees Fahrenheit.
Q: Is the stainless taste of the coffee from my thermos normal?
A: If you're allergic to steel, then you might feel the discomforting taste of steel in your coffee stores in a stainless-steel thermos. In such a case, it is recommended that you buy a plastic thermos which has a lower heat-storing capacity but won't' cause the metallic taste.
The metal taste might be caused by a problem in the integrity of the thermos; thus, you can exchange it for a new one. However, for some, the metallic taste is normal at first but will disappear after a few washes of the coffee thermos.
Q: What warranty length is good for coffee thermoses?
A: Different manufacturers offer different warranty lengths. However, the most common is a 5-year warranty for the cold and heat saving capacity of the thermos.
Meanwhile, some reliable brands such as Contigo and Stanley will provide a lifetime warranty for their products.
Final Thoughts
Investing in the best coffee thermoses is a step towards making your mornings a lot easier, particularly if you are always craving for your favorite caffeine brew while on the go.
It can be difficult to find the one that ticks all boxes; however, our above list should be able to give you satisfactory performance in keeping your coffee piping hot throughout the day!