Brazil has been the world's no 1 producer of the coffee for over 150 years and has recently passed the United States of America in the ranking of the world's best coffee.
Brazilian coffee industry is huge and diverse with everything from bottom-of-the-barrel commodity coffee to world-stunning specialty coffee.
But what makes the Brazilian coffee so special that it has been ranking highest on the list? In this article, I will do a deep insight into the best Brazilian coffee.
Top 10 Best Brazilian Coffee
History of the Brazilian coffee
The first coffee plant was introduced to Brazil in the 1700s. Francisco de Melo seduced the Guianese's governor's wife to acquire help in smuggling the coffee seeds from French Guiana.
Initially, Brazilian coffee was used by the European colonists locally, and afterward, demand grew in the United States and Europe that increased the exports.
By 1820, Brazil was producing 30% of the world's coffee and by 1920 Brazil was growing 80% of the world's coffee that is incredible!
In mid to late- 1800, a disease devastated the coffee industry of Asia that gave a chance to Central and South American the chance to fulfill the gap as a coffee region.
During the coffee period, Brazil was prospering and several agrarian elites invested in infrastructure, railways, banking institutions, industrialization, and credit expansion. And the coffee export bought beneficial social, economic, and cultural changes. 
The three main growing areas that provide the best Brazilian coffee are the oldest, Mogiana, lies along the border of Sao Paulo and Minas Gerais states north of São Paulo city, and is famous for its deep, richly red soil and its sweet, full, rounded coffees.
The rolling hill of Sul Minas lies in the southern part of Minas Gerais is the heart of Brazilian coffee. Coffea Arabica is one of the species of coffee plant that grows the highest quality beans and can be broken down into varietals.
The varietal is natural mutations having most of the characteristics of their subspecies and differ in one significant way. 
Typica and Bourbon are the parents of almost all the famous coffee varietals. Bourbon is the varietal for the best Brazilian coffee. 
Bourbon coffees are slightly sweeter with a caramel quality and also have crisp acidity flavors that vary from the land to land where they are planted. 
Read More:
Brazilian Coffee Growing Regions
Brazil can produce some outstanding coffees because of its unique climatic conditions. Some of the particular regions for the growth of Brazilian coffee are:
Minas Gerais means 'General Mines' which is named after the gold rush in the 18th century. It is the largest coffee-growing state in Brazil, accounting for close to 50% of the total coffee grown.
It's here that you'll find Sul de Minas. It has mild climate consistently around 22 Celsius.
Sao Paulo
Bahia
Espirito Santo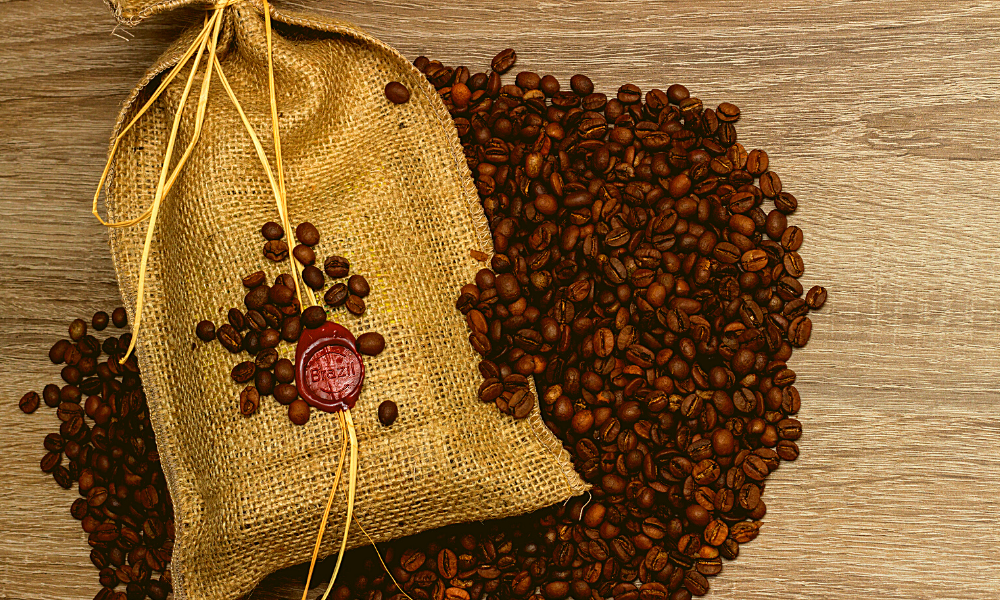 Traditional Brazilian Coffee Recipe
Cafezinho is the traditional Brazilian coffee recipe. The recipe of Cafezinho is rather simpler and similar to espresso. You need the following things to follow this recipe:
1/3 cup finely ground coffee
2/3 cup sugar
4 cups hot water
Scalded milk (optional)
Instructions: 
1. Weigh and grind coffee if not already ground.
2. Add coffee to French Press.
3. Add sugar on top of grounds.
4. Boil water. Let rest for 30 seconds, then pour over contents of French Press. Stir to mix.
5. Put a lid on French Press and wait 4 minutes for coffee to brew.
6. Steam milk (if using) while coffee is brewing.
7. Press the coffee slowly.
8. Pour steamed milk into the cup first and then fill with coffee.
Coffee Processing Methods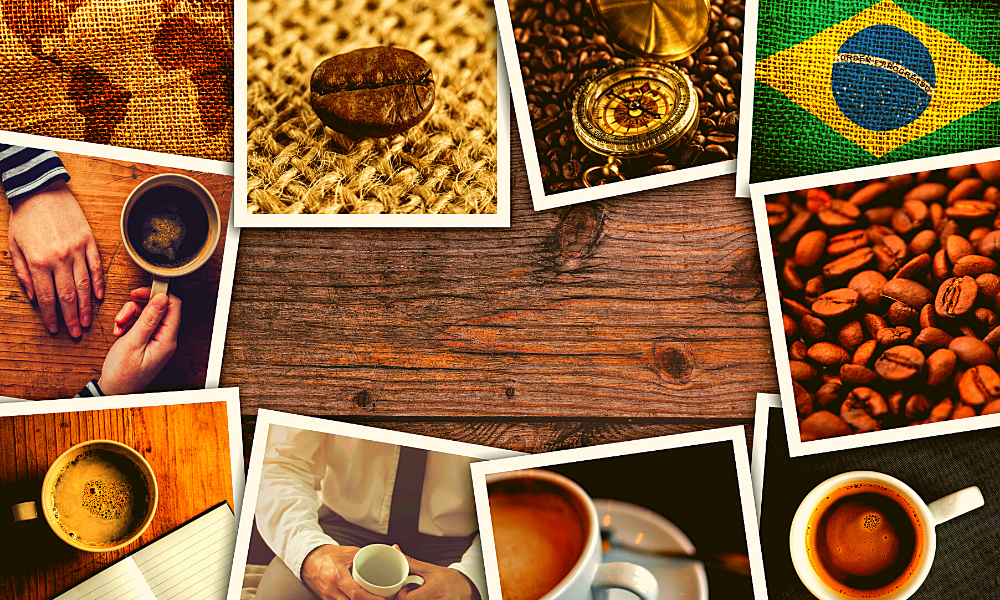 Today, Brazilian coffee beans are used for coffee blending and we can also roast them properly to amplify their diverse characteristics. Brazilian coffee is being processed in different ways:
Wet method
A dry or natural method
Honey – a pulped natural process
However, most of the Brazilian coffee is processed by natural method because of its proper weather to do it successfully. Brazil has a dry and wet season that allows Brazilians to harvest coffee via strip picking method.
Brazil has one of the most advanced and well-cared processing methods of coffee that makes the best Brazilian coffee. Let's discuss some of the processing methods above in detail: Read Here: Best Medium Roast Coffees
1) Wet-Processing method
The wet processing method is relatively a new method of processing the coffee. In this method, four layers surrounding the coffee beans are removed.
This makes the coffee cleaner, brighter, and fruiter. This wet processing of coffee is done in a small quantity. Fruit flesh is removed with a machine called depulper.
This method is called the wet method because water is the primary source of both moving the coffee through the process and making the extraction of the seeds possible.
This processing method affects the taste of the coffee and it helps to understand why every coffee tastes different.
Many producers of the coffee used this wet method because it reduces the risks of defects and it is a more stable but expensive way to process the coffee.
2) Dry or Natural Processing Method
In the dry or natural processing method, the coffee is dried while they are still in the cherry. The coffee beans are dried in contact with the sweet mucilage in this the coffee will be heavy in body, sweet, smooth, and complex.
This coffee method is also one of the most complex processing methods in which coffee cherries are laid in the sun. After three or four weeks, the husk of dried cherries is removed by mechanical methods and the green coffee is stored.
This natural process of coffee is common in regions where there is no water like Ethiopia and several regions in Brazil. These natural processed coffees can be useful for roasteries and baristas.
3) Honey– Pulped Natural Processing Method
This honey natural process is commonly used in Central American countries such as El Salvador and Costa Rica and Brazil. In this processing method, cherries are mechanically depupled.
After the depulping process, coffee beans go straight to the drying tables to dry. These honey processed coffees are generally referred with colors: black, red, yellow, and white honey.
Brazil has made this processing method famous in the world and produces some of the best-pulped method coffees in the world.
However, all the twenty winners of the Gourmet cup competition in Brazil in 2000 processed their coffees using the pulped natural processing method.
Types of Coffees in Brazil
Brazil cultivates several types of coffees that is why coffee growing there is subject to research and development in universities and institutions.
Here are some of the varietals that are commonly grown in Brazil and this information is based on the Brazil Specialty Coffee Association (BSCA) and the Coffee Research Consortium. 
Acaiá
Arara
Red Bourbon
Yellow Bourbon
Catigua
Catucai
Red Icatu 
Yellow Icatu
ACAIA:
ACAIA means 'fruit with large seeds'. This varietal was distributed to the Brazilian farmers in 1977 selected from Mundo Novo. These large seeds are liable to coffee leaf rust, but the yield is good, and the plants are hearty.
It is a natural mutation of the Mundo Novo hybrid found in Brazil. ACAIA is adapted to the climate and growing conditions in Brazil. Its tree develops in a triangular shape that allows capturing the sunlight homogeneously.
However, ACAIA is susceptible to pests and coffee tree diseases. This type of Brazilian coffee seed is more acidic with the mild body, rather than usual Brazilian chocolaty beans.
ARARA:
An agronomist named Francisco Barbosa Lima discovered this Arara varietal between Obata and Yellow Catuai in 1988. The trees of ARARA are productive and resistant to drought and leaf rust.
These are attractive with an agronomic perspective that presents tasty characteristics in the cup of coffee. 
Why ARARA is popular?
It has high productivity 
It has yellow cherries that increase their market value
It has remarkable sensory attributes 
It is resistant to diseases such as coffee leaf rust, bacterial blight, and phoma leaf spot 
They are compact trees that make harvesting easier
RED BOURBON:
Red Bourbon seeds arrive in Brazil in 1859 sent by the Brazil central government after hearing that coffee growing on the island of Reunion.
In 1930s different variants of Red Bourbon was breed at the Campinas Agronomic Institute (IAC) in Sao Paulo and distributed among farmers in 1939.
YELLOW BOURBON:
Yellow Bourbon was studied by Dr. Carlos Arnaldo Kurg in 1930. A yellow bourbon tree can reach up to 2.8 meters in height and its cultivation requires more care and attention than any other varietal of coffee.
Its characteristics are visible in a cup of coffee with its sweet flavor, striking aroma, and pronounced citric acidity flavor.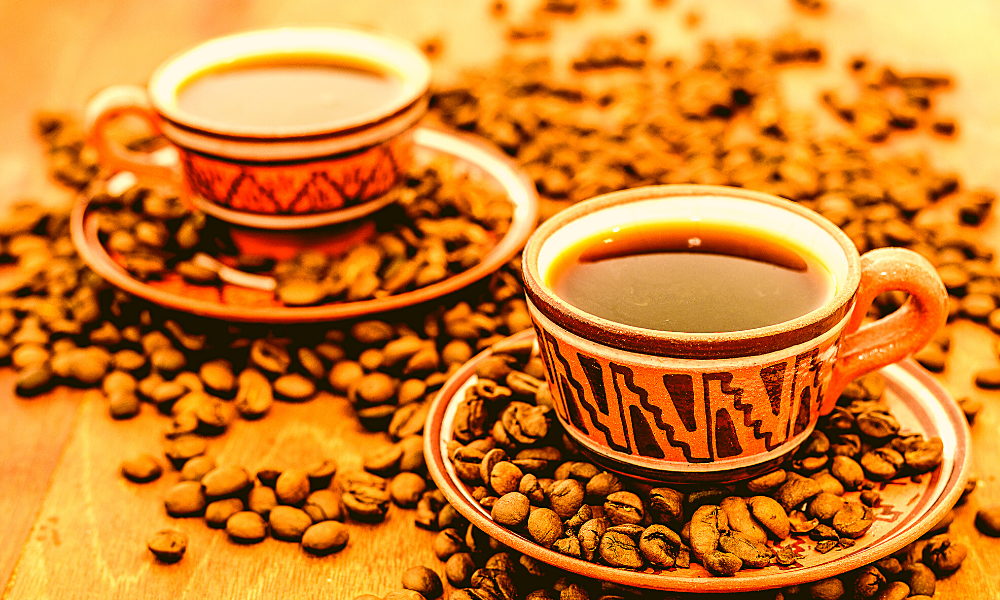 CATIGUA:
A team of researchers made a cross between Yellow Catuai and the Timor hybrid in 1980. The name 'Catigua' refers to the original name of the city of Patrocínio, Minas Gerais.
CATUCAI:
Catucai was first discovered by Brazilian researchers in 1988 at the Brazilian Coffee Institute (IBC). It is an Arabica-Robusta hybrid variety. Catucai is well-known for its high yielding characteristics and vigorous growth.
It has a small structure and is founded in two colors; red and yellow. Red catucai trees are slightly higher than yellow catucai trees. Both the trees are resistant to leaf rust disease.
However, a cup of catucai is fruity and sweet with a smooth aftertaste.
RED ICATU:
Icatu is related to Arabica and C. canephora and it is a relatively young varietal that came to the forefront in 1950. The word Icatu means smooth sailing. 
It also has a strong resistance to leaf rust and pest. The red Icatu was officially released for commercial use in 1992.
YELLOW ICATU:
Yellow Icatu is also related to Arabica and C. canephora. Yellow Icatu was registered in National Cultivar Registry (RNC) in 1999 and was released for commercial use in 1992.
Growing Facts of the Brazilian Coffee
Following are some of the amazing growing facts about Brazilian coffee:
Brazilian coffee institutions have made several amazing contributions in the coffee market. One of the interesting contributions is the discovery of new varieties of the coffee plant like Caturra, Maragogype, and Mundo Novo.
Pulp Natural processing method
Another innovation of the Brazilian coffee institutions is the 'pulp natural' processing method. This method has been discussed in the above section of the processing method. 
Brazil produces one-third of global coffee
There are 220,000 coffee farms in Brazil 
Brazil produces both Arabica and robusta varietals of coffee
Most of the world Espresso beans come from Brazil 
The coffee bean harvesting season starts from May and ends in September 
Brazil has a highly specialized coffee classification system
Brazil is the only major producer vulnerable frost 
Brazilian coffee is mostly exported as:
Green coffee
Soluble coffee
Roasted and ground coffee
Concentrated and essential extracts
Coffee residues
Brewing Methods For The Brazilian Coffee
There are multiple ways to enjoy the Brazilian coffee. Following are some of the brewing methods:
French press
Espresso
Cold-brew
Arabic method
Vacuum Brewer
Moka Pot Brewer
French Press: French press is known for brewing coffee with a full heavy body. As the French press is a full immersion brewer and the coffee sits in the coffee for up to 5 minutes.
This process starts by putting ground coffee in an empty cup. Add hot water into it and cover it. Then press the plunger to separate the solids from the brew.
Espresso: Every traditional espresso has Brazilian beans in it. These Brazilian beans are made for espresso. It is a full chocolaty that helps to make the perfect shot of espresso.
Cold Brew: Cold brewing is one of the brewing methods. Most of the people want their cold brew to be smooth and the Brazilian coffee beans give it a unique flavor.
Arabic Method: Arabic method is one of the oldest brewing methods which is also known as 'mud coffee'. This method requires an extremely fine powder to prevent swallowing grounds.
Vacuum Brewer:  In this method, a simple physics principle 'thermodynamics' is used. This principle allows the mixture to flow through a filter between two glass chambers.
Moka Pot Brewer: The Moka pot brewer method is brewing coffee by passing steam through ground coffee up through a tube and into a top chamber.
Taste Of The Brazilian Coffee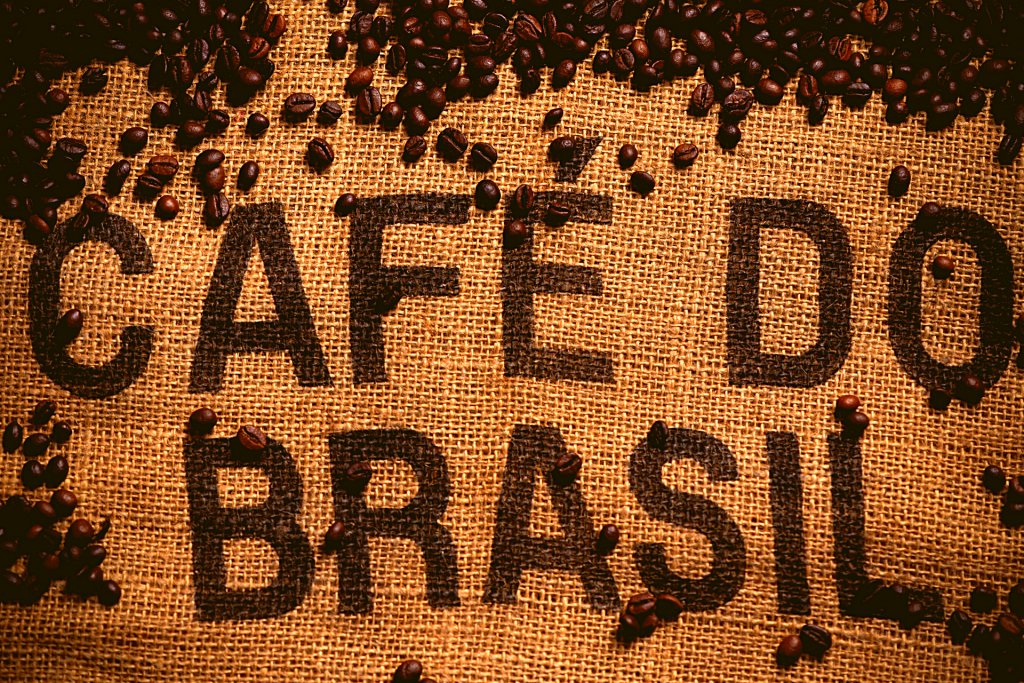 Brazil has a diverse topography that means there are variety and diversity in the coffee beans cultivated on the Brazilian land.
As this is discussed in the above section of the types of Brazilian coffee, Robusta beans grown in grasslands are fairly unremarkable with mild earthy notes and an unpleasant bitterness.
We see different flavors of Brazilian coffees that define their different characteristics. The most common is the earthy, spicy, nutty, and low acidity beans that make a perfect blend foundation.
Flavor: Complex, spice, sweet, gentle acidity, lime, wine, floral 
Processing: Natural, Pulp, wet, honey 
Main growing regions: Minas Gerais, Espirito Santo, São Paulo, Bahia
Roast Type For Brazilian Beans
Following are some of the roast types for the Brazilian beans: Coffee beans are versatile, and you can make them according to your preferred taste
Lighter roasts: are smooth, low acid, chocolaty, and nutty cup of coffee.
Medium roasts: it is the best roast. Balanced flavors and low acidity
Darker roasts: full body and have a toasted nut character.
Brazilian coffee beans are lighter, which makes roasting a bit tricky. You should apply low heat for a longer period to avoid scorching the beans
Buyers Of The Brazilian Coffee
The largest buyers of the Brazilian coffee are:
United States
Italy
Germany
Japan
Belgium
Growing Brazilian Coffee Market
Statistics show that Brazilians never become tired of their coffees. Brazil isn't just the primary exporter of coffee around the world, but at the same time, it's one of the beverage's biggest buyers.
The inward utilization of coffee is constantly developing, which can be demonstrated by certain numbers. The populace's admission of coffee expanded from 8.2 million packs, in 1990, to 20 million sacks, by the principal long periods of 2012.
An overview made by IBGE uncovered that coffee is the most devoured item every day by the Brazilian populace over 10 years of age. That speaks to 79.7 liters of coffee drank per occupant during a year.
The espresso expended inside the nation is the most exceedingly terrible of its creation, as the best yields are bound to exportation.
Possibly that is one reason why the coffee that the Brazilians drink regularly is modest and famous, costing around BRL 2.00 a cup or BRL 5.00 a large portion of a kilo of the powder purchased in grocery stores.
The vast majority of the individuals here discover ridiculous to spend considerably more than that just to appreciate some coffee.