Medium roast coffees are another type of coffee roast. Roasting is what brings out the flavor of the coffee and develops the characteristics of the coffee.
Coffee would not mean anything to us without its roasting process. Starting as the small red fruits, coffee turns green after removing the pulps and skins of the bean.
Then, they are changed to the brown beans that we recognize as everyday coffee through the roasting process. There are various roasting levels for coffee, but the best medium roast coffee is the more popular variety.
So, if you like to discover the unique characteristics of a medium roast coffee, you might want to start off by choosing the best medium roast coffee.
In this guide, we reviewed 10 of the best medium roast coffee available today, along with everything you need to know about this type of coffee roast.
Top 10 Best Medium Roast Coffees
Medium Roast Coffee: What Is It?
In general, a medium roast coffee is brown in color, but others may showcase a darker and richer hue.
The best medium roast coffee doesn't have oil on the bean's surface like the light roasted coffees, however, they offer more balanced acidity, flavor, and aroma.
Also, medium roast coffee contains less caffeine than the dark roast coffees. Medium roast coffee is also known in many names including City Roast, Breakfast Roast, and American Roast.
How Is It Roasted?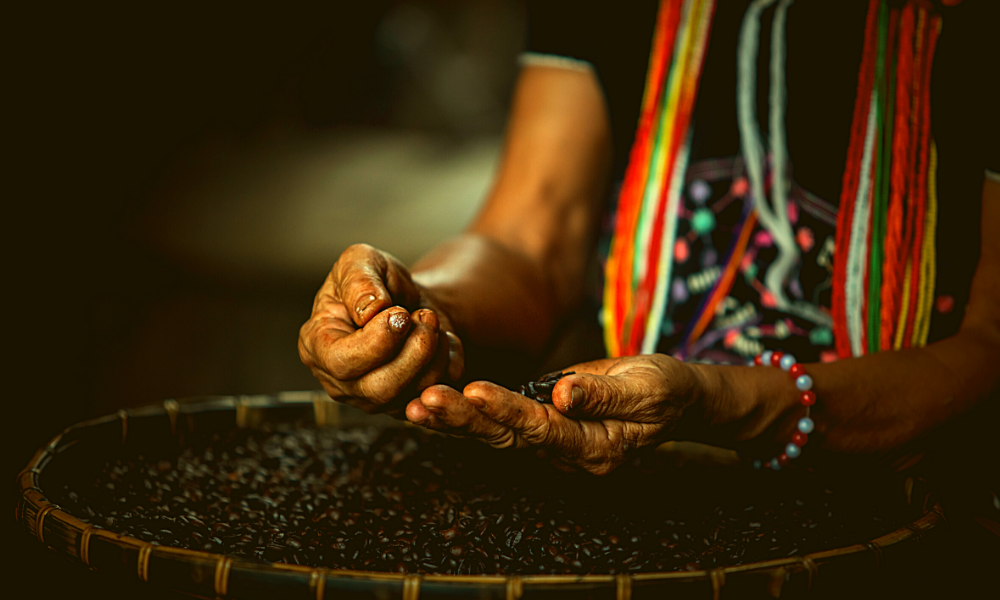 For the medium roast coffee, it is important to go for the 410 – 428 degrees Fahrenheit window. In this temperature range, oils start to be extracted from the coffee beans but not very much at all.
In addition, roasters have found that this temperature range allows the caramelization of the beans to start without being too much.
Also, it is towards the end or middle of this window of temperature and time for the medium roast to produce the cracking sound.
From there the medium roasted coffee beans are immediately transferred to a cooling tray since it is just a matter of minutes for it to turn dark.
If not properly cooled, the sugar from the beans can be compromised and it can ruin its sweetness.
Features of the Best Medium Roast Coffee
The color of a medium roast coffee bean has a more brown and darker shade than the light roast, however, not as dark as the dark roast coffees.
They are also denser, but not as the light roasts. This makes them slightly brittle and not easier to crutch with your finger.
In addition, a medium roast coffee bean is relatively smoother than the light roast coffees. These coffee beans are not oily to the touch and don't appear shiny on direct light.
Flavor Profile of Medium Roast Coffee
A medium roast coffee is characterized by its mild acidity. You see, acid is lost with an increased duration of the roasting process, making the dark roasts have the lowest acidity.
In addition, the delicate toned flavors are still present in medium roast coffee beans, although, these are not as strong as with the light roast coffees.
If freshly brewed, medium roast coffee will have an intense aroma and have a sweet flavor, thanks to the high level of caramelization from the longer and higher roasting period and temperatures.
Not only that, but medium roast coffees are also characterized by their less bitterness and having a fuller body. Lastly, a medium roast coffee tends
to have the most traditional coffee flavor and notes of caramel, chocolate, fruits, and nuts. It is by far richer with a more complex flavor.
Medium Roast Coffee: Is It Strong?
Medium roast coffee doesn't have any oils on its surface. Plus, it features medium acidity and body as well as a well-rounded flavor profile.
The medium roast coffees are a preferred choice since they are less acidic and intense while boosting the natural flavor profile of the coffee.
And to be clear, strong coffee is created during the brewing process and not during the roasting process. So, if you want a strong coffee with medium roasts, you need to take into account the ratio of coffee grinds to water during the process.
In short, you have complete control over how you would like your coffee— whether it will be strong, moderate, or light.
Because even though the best medium roast coffee has a bitter yet sweet flavor, you can make it stronger in flavor by adjusting the amount of coffee grind and water during your brewing process.
The Caffeine Content of Medium Roast Coffee
Caffeine content varies across different coffee types, where the light profile coffees having more caffeine than the dark roasted.
An average cup of coffee has 95mg of caffeine. However, this amount varies among the different type of caffeinated drinks and sometimes go from 0 to over 500mg.
And the caffeine content of a medium roast coffee will also depend on several factors, starting with the bean type.
There is a broad range of coffee beans available on the market today. And naturally, they contain different caffeine amounts. The Robusta varieties tend to provide more caffeine than the Arabica coffee beans.
Next off, the roasting process also plays a crucial role in the amount of caffeine in a medium roast coffee. However, in general, medium roast coffee does contain less caffeine than lighter ones.
Another factor that affects the caffeine content is the type of coffee brewed such as decaf coffee, instant coffee, or espresso coffee.
For instance, a 1 ½ shot of espresso contains 90mg – 100mg of caffeine, whereas for a standard cup of drip coffee, that number increase to 128mg.
Medium Roasts vs. Light Roasts vs. Dark Roasts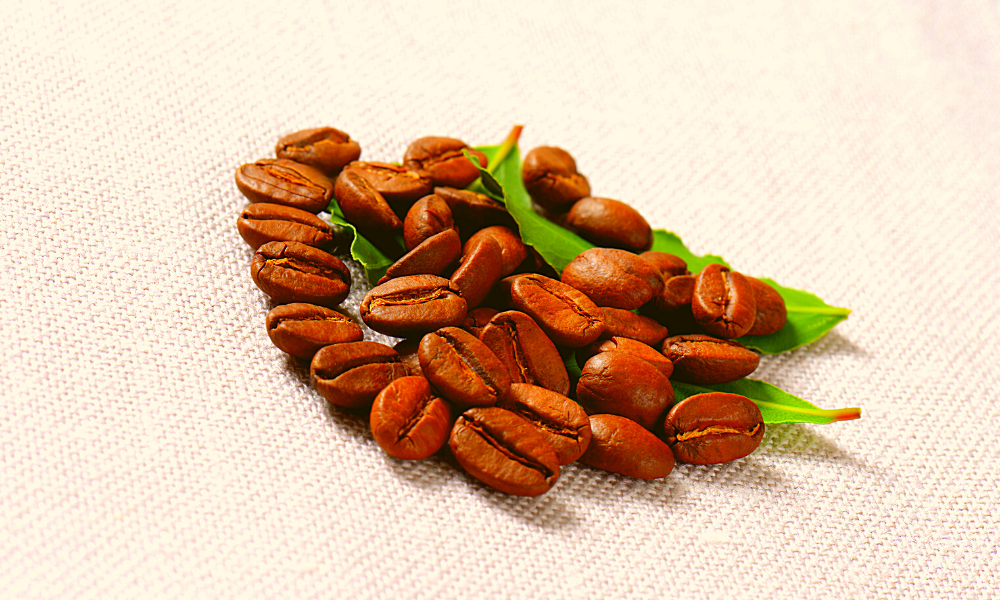 In terms of the roasting period, light roasts are roasted for a less period of time, followed by a medium roast and dark roasts having the longest roasting time.
Because of the varying roasting period, light roasts have lighter colors, medium roasts having a rich brown color with little to no surface oils and the dark roasts showcase a darker brown color with oils coating the beans.
In terms of flavor, the light roast coffees are more acidic and retaining much of the original flavor. Meanwhile, medium roasts are smooth but have a diverse flavor with richer sweetness such as caramel or honey.
Dark roasts, on the other hand, are far richer, possessing minimal unique flavors such as dark chocolate, spice, and woodiness with the least acidic content.
Medium roasts serve as the middle ground between dark and light roasts.
What Are Medium Roast Coffees Best For?
Medium roast coffee is a universal roast and is quite suitable for almost any brewing method. However, it is best and most recommended for espresso, cold brew, and pour over brewing methods.
Medium Roast Pros
The best medium roast coffee is very common and the most available roast type. They are used in popular coffee brewing methods while maintaining their unique and original flavor and properties.
Also, the rich and complex flavor profile of a medium roast coffee sits well with most coffee choices that include lower acid and delicate flavor making them easier to drink.
Another thing that makes medium roast coffee a great option is that it offers various types of coffee for the milk-based brewed coffees, thanks to its full and well-balanced body.
The result will be a sweet coffee drink with a slightly lower body and lower acidity levels.
Medium Roast Cons
Unfortunately, there's no consistency in the medium roast coffee, thus storage and quality control are not well managed.
In addition, if you like strong and darker flavors, then medium roast is not your type of coffee.
Now, if a medium roast is not properly roasted, it can result in a flat-tasting coffee without a fully developed flavor.
How To Make An Average Medium Roast Coffee Taste Better?
If you got an average or improperly roasted medium roast coffee, then there are ways you can do to make it taste better.
There are several factors that will come into play such as the ratio of water to coffee as well as the brewing method.
When water and medium roast coffee are blended together, there are several different chemical compounds extracted that are responsible for the fruity notes and acidity level.
If you wish to make your medium roast coffee to taste better, then the first thing that you need to do is to tweak the grind size. Finer coffee grounds mean more surface exposure which results in faster extraction.
Next, you want to ensure that you have set the correct water temperature for your brew, ranging between 195- and 205-degrees Fahrenheit.
Also, take note, that the hotter the water, the faster the extraction. And some compound is never extracted such as sweet and mellow flavors, at lower temperatures such as cold brew.
Once you have figured out the right water temperature, you will need to set the right brewing time. Of course, this will depend on the type of your brewing method.
A Guide On Choosing The Best Medium Roast Coffee
1) Single-Origin vs. Blends
In this modern technological era and highly knowledgeable and eco-centric farmers, it's not that hard to find a well-rounded and rich coffee.
With the specialty coffee industry growing, the single-origin coffees are also on the rise. However, it does not mean that the coffee blends are far behind either.
So, what's the difference between blends and single origin coffees?
Coffee blends are made up of various coffee bean crops, usually from around the world such as Bolivia and Mexico. These beans are then blended together.
Roasters created coffee blends in order to achieve a unique flavor profile that is a mix of multiple coffee beans and origins. The process also makes it easier to distribute consistent products across greater areas.
Coffee blends are sometimes a more preferred choice for most coffee lovers since the harsher flavors can be paired with the mellow flavors in order to ease the acidity levels and making it more desirable.
Unfortunately, coffee blends do not produce some of the excitement of trying specific coffee varieties like you would with the single-origin coffees.
Single-origin coffees, on the other hand, are hailed by the specialty coffee industry. No 2 single-origin coffee is the same. Thus, it allows you to check off every flavor of single-origin coffee and determine their unique flavors and characteristics.
Thus, you can try Ethiopia for a week and the Mexican coffee the next week. Also, some of the best single-origin coffee is exotic and unique, making them more serious coffee enthusiasts interested.
Although they lack consistency, single-origin coffee tends to be well-rounded and still work with espresso.
2) Coffee Quality and Variety
Medium roast is usually reserved for the rich and high-end Arabica coffee variety.
However, medium roast coffee can also sit well with the denser specialty coffee bean variety that grows in high altitudes and harsh conditions making them harder and bolder.
These coffee beans require more heat in order to extract the flavors. Some of the best coffee variety suitable for medium roasting include:
Other than producing the most coffee in the world, Brazil also provides a broad variety of high-quality coffee that you would want to taste their original flavors. The most common flavor aspect of a Brazilian coffee is its heavy body with a nutty note. Read Here: Top 10 Best Brazilian Coffee
This Asian country produces coffee beans in both high quantity and quality standards. Some of the best and high-quality Indonesian coffee variety is the Sumatran coffee beans, Java as well as the Sulawesi variety.
This coffee offers low acidity levels with a very deep body. With a medium roast, the unique flavors of these coffee varieties will fully develop and offer a richer profile with the earthy notes.
Jamaican Blue Mountain Coffee Beans
The Jamaican Blue Mountain Coffee Variety is a popular and certified coffee that is very expensive and rare. Because this coffee variety grows in the high altitudes and harsher conditions of the Jamaican Blue Mountain, the coffee is denser and thus requires high temperatures in order to fully extract its unique flavors.
For this reason, the Jamaican blue mountain coffee is most favored in a medium to light roast. A dark roast can damage some of its fruity, sweet, and floral characteristics.
Kenyan Arabica Coffee Beans
The Arabica coffee beans from Kenya are grown in high altitudes without any shading, unlike most countries producing the Arabica variety.
As a result, the coffee beans have a greater flavor that you do not want to be masked with a dark roasting. Also, these flavors won't be fully developed with a light roast since they are a lot denser.
Thus, it sits well with the medium roasting. The flavor profile is mostly winy, black currant, sweet, fruity, and savory with having a tomato hint sometimes. Also, the acid is mostly citrus and features a fuller body.
The Yirgacheffe coffee variety from Ethiopia is one of the most popular and unique varieties in the world. Not to mention that it comes from the ancient home of all coffee. Ethiopia mostly grows organic and wild coffee plants
Thus, the coffee flavor here is tea-like with a strong fruity, floral, and wine-like flavors coupled with a fuller and heavy body.
Panama, Colombia, and Guatemala are also some of the best countries producing rich-flavored coffee suitable for medium roasting.
Meanwhile, the Tanzanian peaberry coffee variety also produces great-tasting coffee with a medium roast. Since peaberry coffee bean is one coffee bean per cherry, you get rich flavor fit for 2 beans than other coffee varieties.
Not only that but it also uniformly roast and is easier to extract the various flavors. Thus, you can expect an exceptional cup of coffee with medium roasted peaberry beans.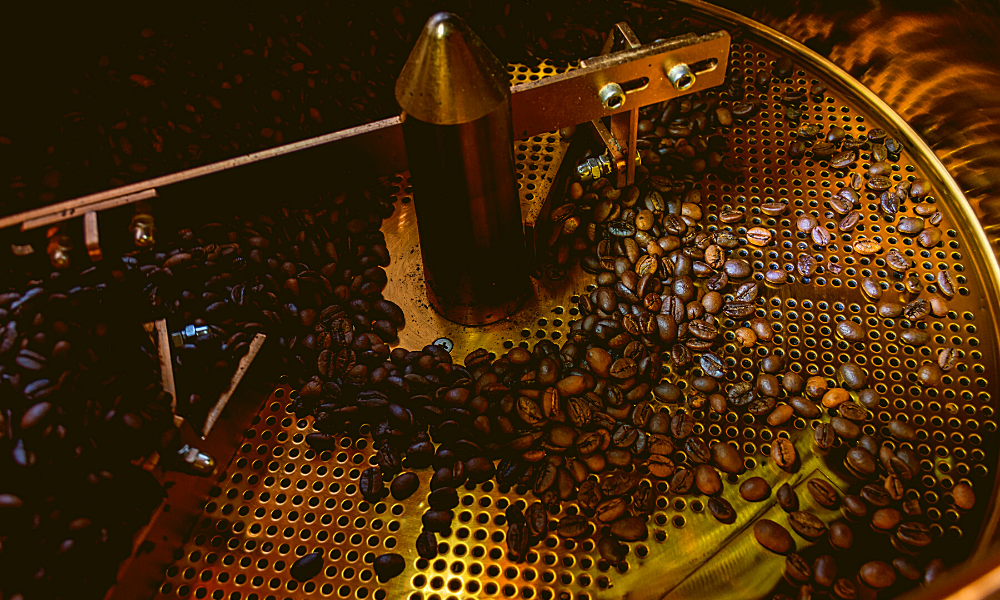 3) Ground Vs. Whole
Probably another big question beginner coffee enthusiasts ask when shopping for the best medium roast coffee is:
Which is better between the ground and whole coffee beans?
Well, here is a lowdown.
First off, whole coffee beans are exactly what they sound like— the unground and still-in-the-coffee-bean-form.
If you choose a bag of whole coffee beans, then you will most definitely need a high quality grinder in order to process and break down the whole coffee beans into grounds. Read Here: Top 10 Best Ground Coffees
Once they have been ground, then you can start making your coffee. Now, ground coffee is the kind of coffee that has been broken down and ground up after being roasted.
So, now let's compare the two.
Regardless of which coffee variety you choose, coffee will always taste best when it is freshly brewed. AS soon as a coffee bean is roasted, they start to lose their freshness.
Thus, in terms of longevity, whole beans beat pre-ground coffee. Because these beans stay in their solid form, they stay fresh for longer.
Whole beans are also widely loved since they are packed with flavors. Because they are not processed further after roasting, most of the taste and flavor is preserved.
Most coffee aficionados will swear by the deliciousness and flavorful characteristic of a freshly grind and brewed coffee.
Although it may not be as robust and potent as the whole coffee beans, pre-ground coffee a still be savory. If you do not mind sacrificing a bit of flavor and freshness, the pre-ground coffee can be a great option.
This is because it is easier to create a broad range of blends and roasts, matching and mixing flavors.
Another factor you need to consider is the grind size. This refers to how fine or coarse your coffee grinds are.
Grind size directly correlates to the thinness or thickness of the surface area of the coffee.
And if you like to go into details and do not mind taking effort and time to get involved in the manual process, then the whole medium roast coffee beans are a great option.
By investing in a high-quality grinder, you can have more control over the grind size and opening the door to brewing a broader range of coffee drinks.
Ow, if you do not have a grinder or want an easier option in brewing your coffee, then pre-ground coffee is a suitable choice.
In addition, although you might not have much control over the ground size, a pre-ground coffee usually comes in consistent and very uniform grind size.
Whole coffee beans are ideal for the home brewers who like to grind their coffee and love to experiment on other brewing methods. However, working with the whole beans takes patience and time to master since it is a very manual and hands-on process.
For those who want to save a lot of time and require convenience, then pre-ground coffee is the best choice. Because they come as grounds, you can just brew them right away.
Now, the most important difference between pre-ground coffee and the whole bean is the difference between drinks that you can make.
If you are a lover of the freshly ground coffee, then you will be using the whole coffee with espresso machines, French press, or pour-over.
Since these brewing methods need a coarse grind, you will need to invest in a burr grinder to get the preferred coffee grind size you will need for brewing.
Also, whole beans allow more control and flexibility over the texture and size and use your preferred coffee blend and roast for various drinks from espresso to drip coffee.
Now, although it is easier to just buy pre-ground coffee, your brewing options are limited because of the pre-determined grind size.
But, if you are a fan of making a classic cup of joe at home, then pre-ground coffee works well with the drip coffee maker.
Final Thoughts
And we are ending it here.
By now you should have enough knowledge about medium roast coffee. Boasting a brown color with a fuller and well-balanced body along with the unique nutty notes and a complex flavor profile, medium roast coffees are indeed loved in the coffee industry.
So, make sure to try the best medium roast coffee from our above list. We hope you enjoy this article. Don't forget to share your medium roast coffee brewing with us by commenting below.
Until then, happy caffeinating!