Decaf coffee has an undeservedly bad reputation — and whether you are choosing to go caffeine-free or you have to, that fact can ruin your enjoyment before you even get started. Don't let it.
Thanks to rapidly-rising demand, the decaf coffee market is booming and you have absolutely no need to settle for mediocre "mud water". Even the snobbiest of coffee snobs actually can't tell the difference between the best decaf coffee and the "real thing".
What's the best decaf coffee for you, no matter if you're after whole bean or pre-ground and a lighter or darker roast? What do you need to know about the best decaf coffee before you buy
Top 10 Best Decaf Coffees Reviews
Lifeboost is famous for selling only the best-quality, sustainably-grown, low-acid coffee, and when the company says it's offering the "best decaf coffee on the planet", it's not just a clever marketing ploy.
The excellence of this 100 percent Arabica decaf coffee begins with the growing process. Lovingly hand-picked, local farmers make sure only the best of their pesticide-free beans make it into this decaf coffee that originates in the Nicaraguan mountains.
What's truly special about Lifeboost medium roast decaf coffee, though, is this roast's chemical-free decaffeination process. Instead of more traditional chemical solvents, Lifeboost employs the Swiss Water Process.
Water with green coffee extract is decaffeinated with the help of a carbon filter to, quite literally, cleanse it of caffeine. As a result, happy consumers don't just get coffee that's completely free of toxins, but a pure-flavored, delicious decaf coffee.
Forget about your search for the best decaf coffee on the market for a moment — what Lifeboost has got in its medium roast decaf ground coffee is simply one of the best coffees. Period.
You can describe the flavor of this coffee as a perfect balance between caramel, chocolate, and a hint of fruit, or you can just enjoy a darn good cup of decaf coffee.
Stumptown Coffee Roasters: Trapper Creek Decaf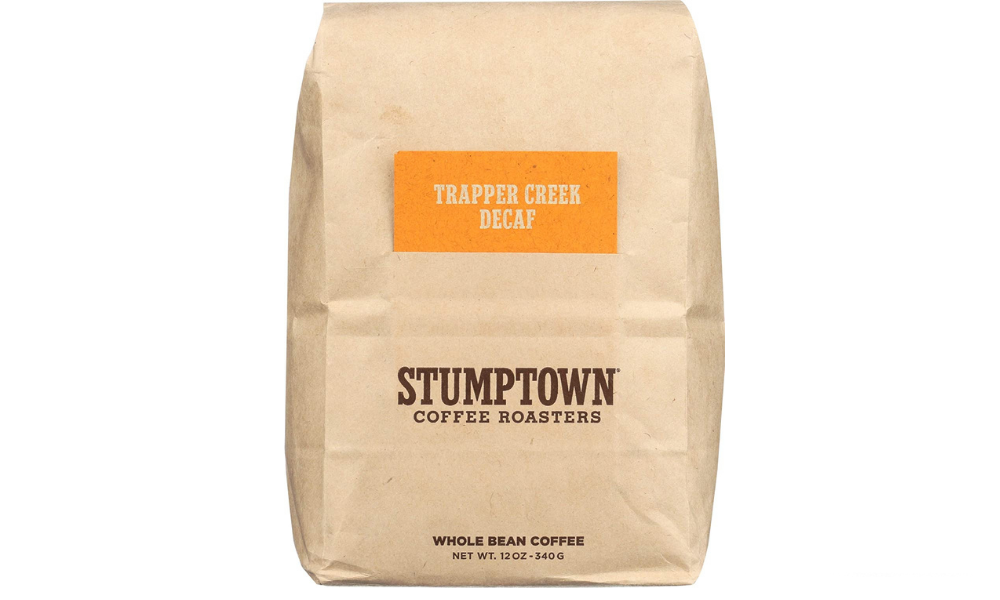 This delicious blend of South American and African beans will transport you to the Goldilocks zone of coffee in no time — you got it; "just right"! To get an idea of what Stumptown Coffee Roasters' Trapper Creek Decaf tastes like, imagine a full, buttery, medium roast, with delicately sweet hints (raisins) and a dash of caramel.
Imagine the best decaf coffee for long after-dinner conversations. You can almost smell it, right? While some folks say that Trapper Creek Decaf has a faintly burned smell, it certainly doesn't taste that way — and the bitterness you'll experience with some decaf coffees is also distinctly absent.
Freshly roasted in Portland, this beautiful blend also, like all of the best decaf coffee, relies on the Swiss Water Decaffeination process. That means no flavor is sacrificed on the altar of decaffeination — and you don't have to worry about potentially-toxic substances like methylene chloride.
In addition to decaffeinating the coffee in the safest of ways, Stumptown makes sure to carefully choose only coffee beans that keep their taste through the decaf process. Stumptown's packaging isn't only handsome, it's also got excellent seals that promise to keep the coffee fresh and enjoyable for up to four weeks.
The brand doesn't offer any pre-ground coffees and assures its customers that that's for the best, so you're getting whole beans here.
Folgers: Classic Decaf Medium Roast Ground Coffee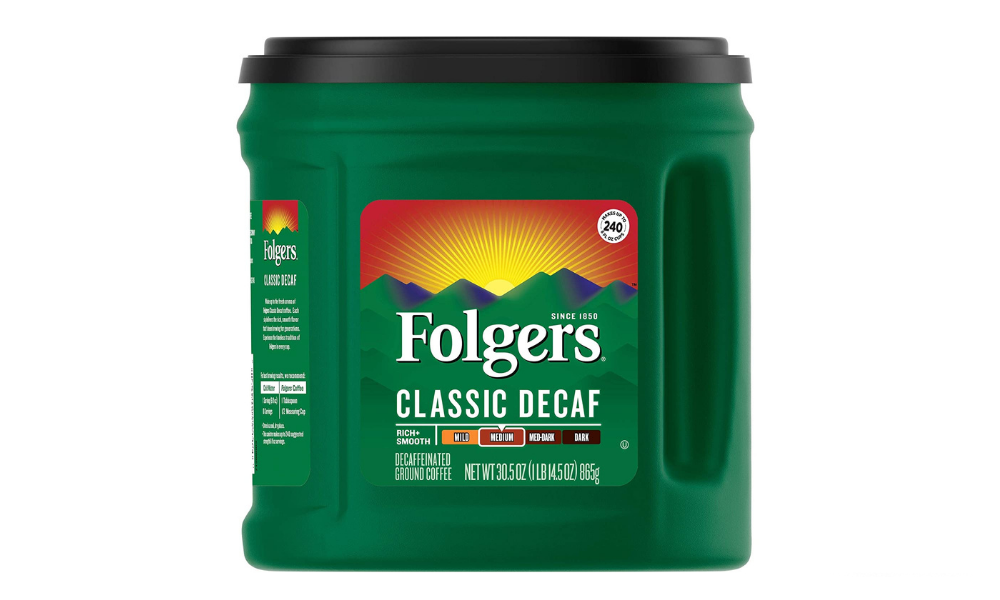 This one's slightly different — as the utilitarian packaging, and the more budget-friendly price, will immediately scream out at you, this ground medium roast coffee is, as Folgers itself proclaims, "the same" as its classic roast coffee, "but it's decaffeinated".
The fact that Folgers shares very little about this coffee's manufacturing process has a reason, and we won't be able to tell you that this coffee is Swiss Water processed because it isn't. In fact, Folgers classic decaf was one of 15 decaf coffees to have been found to contain detectable methylene chloride levels by the Clean Label Project.
Is Folgers classic decaf the best decaf coffee? No, and it doesn't even really make the list of best decaf coffees. Taste-wise, some would say it's a little on the watery side, while people who never liked strong coffee much might instead prefer to describe it as "mild".
What you do get in Folgers classic decaf is an everyday kind of cup of decaf — and if you're transitioning from the company's classic roast coffee, you might find the familiar taste comforting as you try to wean yourself off the caffeine. Folgers classic decaf might be for you if you "just want a cup of coffee".
Peet's Coffee: Major Dickason's Blend Decaf (Dark Roast)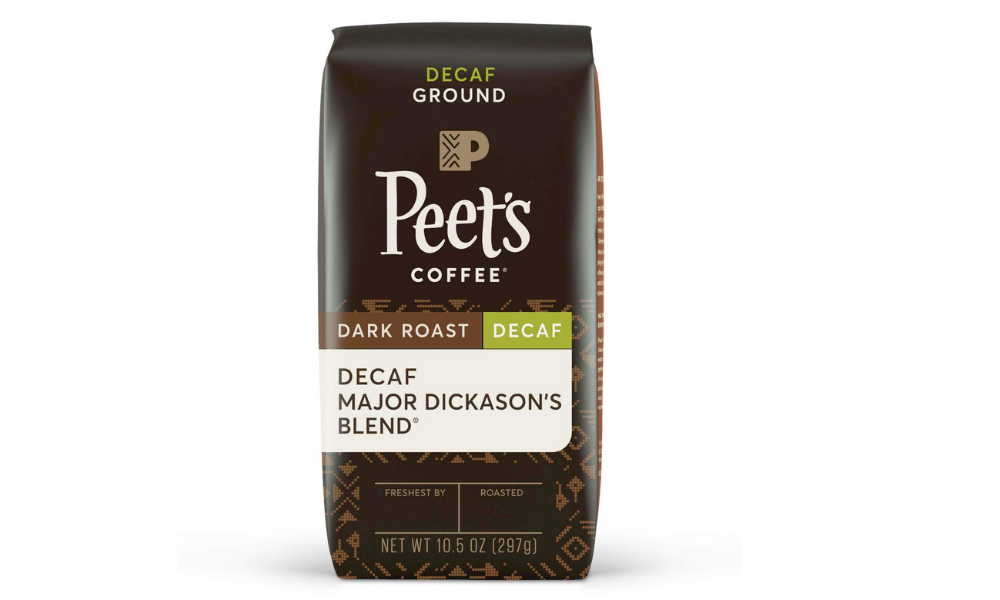 Finally, something for dark roast lovers! This bold whole bean blend that combines beans from the Americas and the Indo-Pacific benefits from the very same top-quality coffee beans as the caffeinated version, so you're in for a real treat if you're after an espresso or a strong brew.
"Earth, spice, everything" is what Peet's has to say about this decaf coffee's flavor profile. Major Dickason's Blend, the decaf edition, might not be for the faint of heart (definitely skip if you only ever enjoyed weak, milky, coffee), but one thing's for sure.
Folks who enjoy dark roast coffee and have gone decaf all seem to agree — Peet's Major Dickason's decaf deserves a top spot on the best decaf coffee list.
Roasted in small batches, each package of this awesome decaf is stamped with a roast date. You'll know exactly when your coffee was prepared for you and how long it will stay fresh.
On that note, if you're someone who likes to make a huge pot of the best decaf coffee to enjoy throughout the day, Major Dickason's decaf actually stays good. (And because it's decaf, even though the taste definitely won't allude to that, you can even have a few nice cups well into the evening!)
Volcanica Coffee Company: Brazil Baracosta Estate Decaf Coffee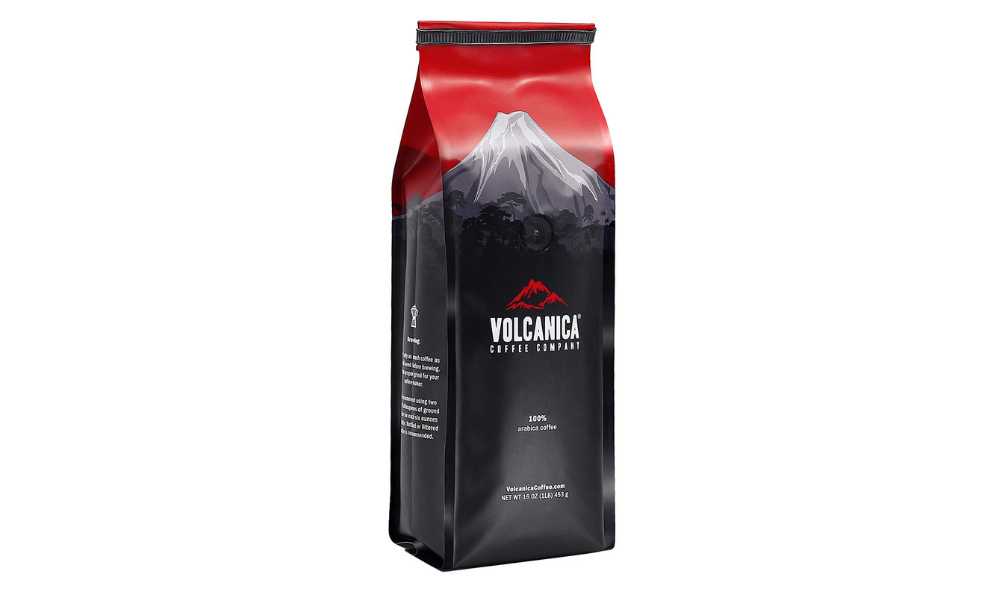 Fresh — and yes, we do mean fresh, as the coffee you get was probably roasted within the last 30 days — from the Minas Gerais region in Brazil, this whole bean, medium roast, single origin decaf coffee is overflowing with flavor, without being overwhelming.
If you've been looking for an extremely drinkable and fairly mild decaf that's not too acidic, and you love your cup to come with a subtly sweet taste, Volcanica's smooth Brazil Estate Decaf Coffee just may be the best decaf coffee for you. 
This enjoyable decaf is Kosher certified, and those folks who have made it their mission to only ever allow Swiss Water processed decaf coffee to touch their lips will be thrilled to hear that the Brazil Estate decaf passes that test, too.
Organically and sustainably farmed, this fantastic whole bean comes in an easily-resealable package to ensure that your decaf stays as fresh as it was when you got it — until it's gone, and as this really is one of the best decaf coffee products you'll find on the market, that's going to be a lot sooner than you might expect.
A word of warning, though: after you try the Baracosta Estate Decaf, the decaf your local grocery store carries won't be good enough for you anymore.


Starbucks: Variety Pack Decaf Ground Coffee (Light Roast)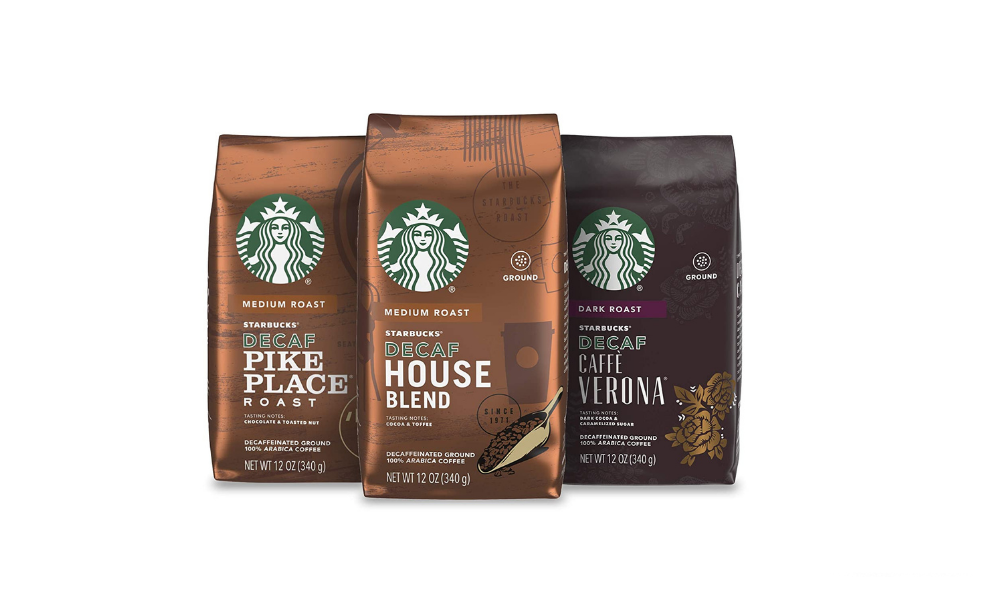 When it comes to Starbucks coffee, you know you can dip your toes in before committing fully and switching to enjoying these coffees at home — but just like many people are overwhelmed by choice at Starbucks, you may not be able to pick just one of the decaf coffee options this famous coffee house has on offer. That's where Starbucks' variety pack that comes with three of the brand's best decaf coffees comes to the rescue. You get:
Starbucks Decaf House Blend — a nutty taste with a hint of cocoa, you'll find this is the best Starbucks decaf for you if you love pleasantly mild aromas.
Starbucks Decaf Pike Place Roast — "chocolate and toasted nut", this is a smooth light roast that's excellent for your everyday decaf coffee cravings.
Starbucks Caffeè Verona — rich, smooth, caramel goodness.
All of these pre-ground coffees will embody your personal idea of the best decaf coffee if you're into light roasts and want to continue to delight in the same Starbucks flavors you've come to know and love but in the comfort of your own home. With the variety pack, you won't be getting bored any time soon.
No Fun Jo: Decaf (Medium Dark Roast)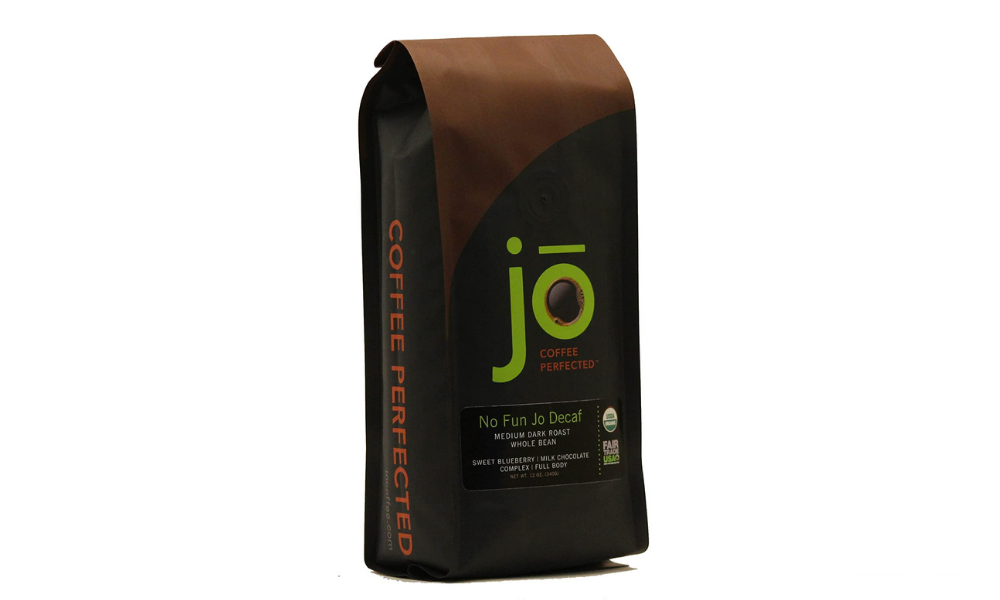 What doesn't No Fun Jo's decaf have? Pre-ground for your convenience, stored in nifty modern packages with resealable tin ties, this interesting blend is definitely among the best decaf coffee choices you could possibly make if you love yourself a nice a full-bodied medium dark roast.
Swiss Water Process? Check! USDA certified organic? Check again. Kosher certified? Again, yes! Sustainably farmed, fair-trade certified, and roasted by hand in tiny batches by people who clearly love coffee as much as you do? You bet!
No Fun Jo's decaf ticks all the right boxes, and taste-wise, it also has a lot going on, in all of the best ways. The brand itself says this 100 percent Arabica bean decaf cup has hints of milk chocolate and sweet blueberry, without any artificial flavoring, and this awesome decaf is low on acidity.
No Fun Jo's medium dark roast is the best decaf coffee for people who want only the very best quality beans, lovingly prepared by true coffee experts who believe that you deserve the cream of the crop. "Coffee makes people happy", No Fun Jo says, and if there was ever a decaf coffee to prove that caffeine is a completely optional part of that obvious fact, it's this one.
Bulletproof: The Original Whole Bean Decaf Coffee (Medium Roast)
Bulletproof's whole bean, medium roast, blend perfectly showcases how unique the best decaf coffee can really be. Are you bored of your old favorites and willing to splash out a bit?
Your taste buds are bound to delight in this rich celebration of flavor — a nice fruity orange and plum, with feisty splashes of cinnamon, chocolate, and hazelnut. If only the best decaf coffee is good enough for you, you may just find your perfect match in Bulletproof's original whole bean decaf (keeping all your options open), because these cups will make you feel like angels are dancing on your tongue.


This kind of excellence only comes from the very best farming processes, of course, so the Original Whole Bean Decaf is Rainforest Alliance Certified — this decaf coffee supports the expert farming communities in Guatemala and Colombia that make it possible for you to reach the next plane of decaf enlightenment.
Tested for toxins before it comes anywhere near you and gently decaffeinated with the Swiss Water Process, Bulletproof's whole bean medium roast has everything you could ever want from a rich, robust, but surprising cup of decaf; a clean, safe, and pleasant experience you'll want to relive again and again.
Don Pablo: Colombian Decaf (Medium Dark Roast Whole Bean)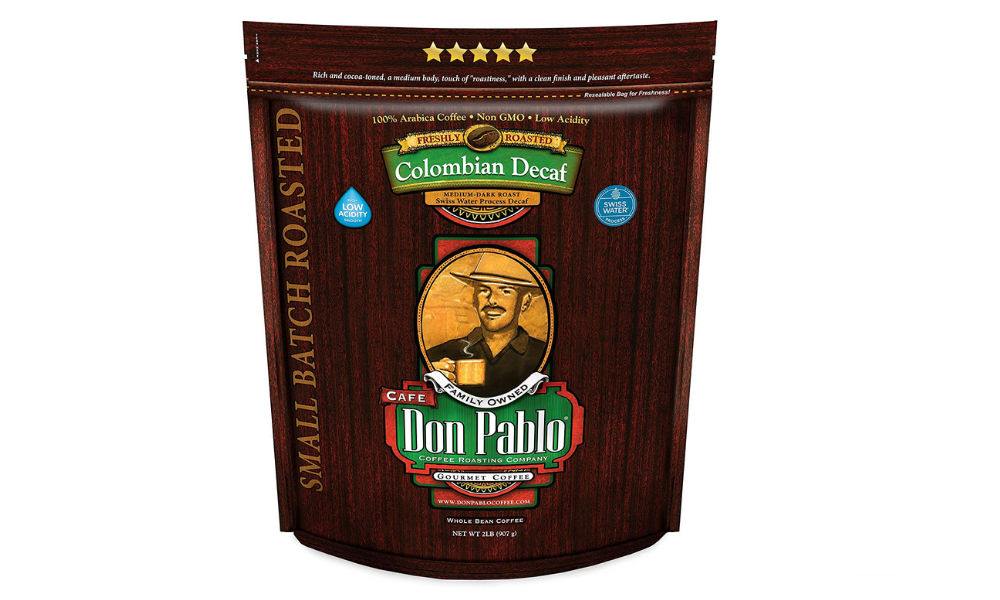 You bet, you can enjoy Don Pablo's iconic Colombian coffee without the caffeine, too, and this medium dark roast whole bean is about as good as it gets — though if you wanted a pre-ground decaf coffee, they certainly have that on offer as well.
This family-owned business gives you nothing but the very best, meticulously hand-picked, beans that are, in case of the decaf, put through the Swiss Water Process that you know ensures that your decaf coffee is the healthiest and most flavorful it can be.
Don Pablo decaf's medium dark roast is a full-bodied, low-acid, mix of citrus, and, thanks to its artisanal small-batch roasting process, caramel. Don Pablo's decaf coffee is, because of its low acid content, easy on the stomach and there's no way you'll be able to tell it's caffeine-free by taste alone.
This 100 percent Arabica coffee is free of any GMO products, and you get all the same benefits, though with a whole new flavor, if you instead opt to try the company's light or medium roast decaf offerings — because, no matter your personal preferences, Don Pablo offers only the best decaf coffee for every palate.


Waka Coffee: Decaffeinated Quality Instant Coffee (Medium Roast)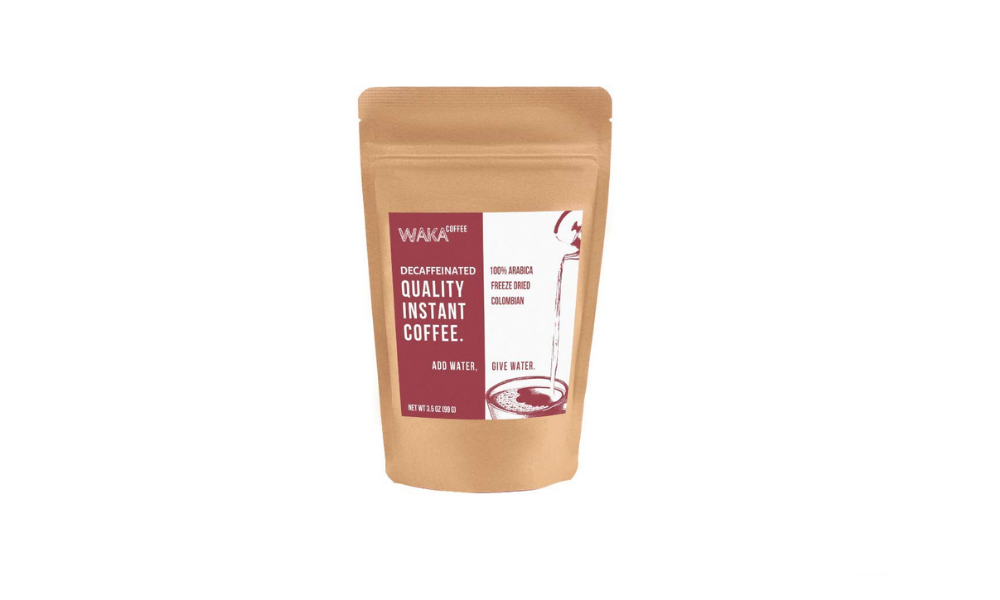 Sometimes you simply need the convenience of a really quick cup of decaf coffee — sometimes, in other words, you just need instant coffee. Why should that mean you have to settle for lower quality, or in the worst cases, make do with genuinely awful coffee?
That's where Waka Coffee comes to the rescue. Bravely fighting for excellence in a market saturated with mediocre instant coffee, Waka Coffee wants you to actually enjoy your cup. Waka's decaffeinated quality instant coffee will, much like their caffeinated options, surpass your every expectation.
Top-quality Colombian Arabica beans are freeze-dried, using advanced modern technology, to preserve the coffee's flavor, and that means you'll be in for two surprises if you weren't expecting much — Waka Coffee's medium roast decaf doesn't taste like instant coffee, and it doesn't taste like decaf, either.
For that reason, it's honestly impossible not to say that this is the best decaf coffee around, at the very least when it comes to instant coffee options. Who are we kidding? This instant decaf is better than a lot of the whole bean choices you'll find in your grocery store, and you can enjoy it hot or cold in the blink of an eye. Handy resealable packages ensure that it stays fresh.
The Smart Shopper's Guide to Buying The Best Decaf Coffee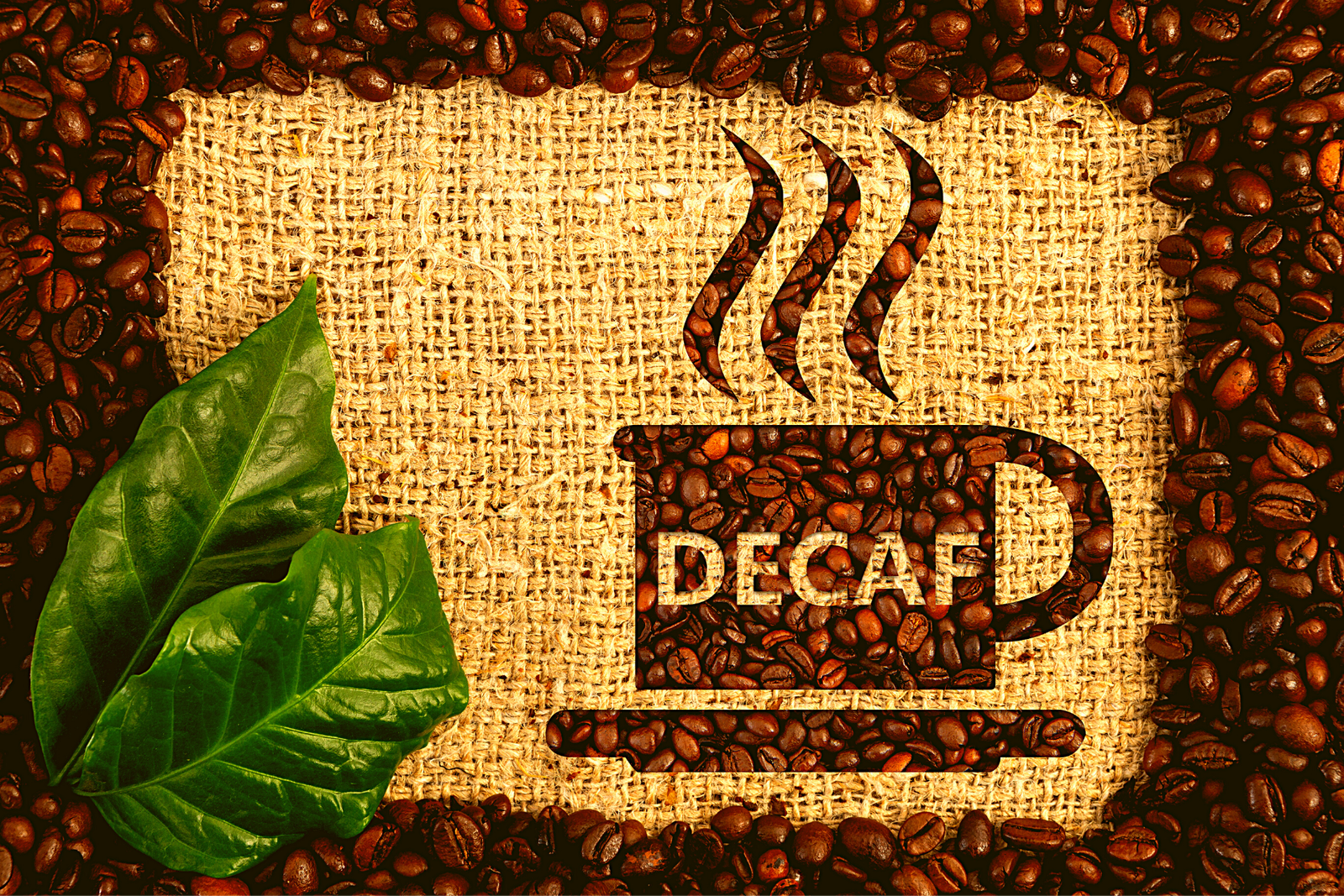 Maybe you're brand new to decaffeinated coffee. Your doctor could have advised you to stop consuming caffeine for medical reasons, perhaps because you suffer from acid reflux, have high blood pressure, or are pregnant.
Perhaps you noticed that you're overdoing it with the coffee, chugging mug after mug of your favorite liquid is interfering with your sleep quality, and you want to be able to continue enjoying your daily ritual minus the caffeine. You may also have been an avid decaf drinker for ages already, but after relying on cheaper grocery store brands, you're ready to step the quality up a notch.
No matter who you are, and why you're drinking decaf, you want the very best decaf coffee available to you — but to get that, you first have to know a few things. All the same, factors that make excellent caffeinated coffee so good apply when you're choosing the best decaf coffee, but in addition, you also have something else to consider. Coffee beans are naturally infused with caffeine, and any decaf coffee has to go through a decaffeination process.
That does not mean that the coffee that results will be completely devoid of caffeine — decaf coffee needs to be 97 percent caffeine-free to be considered decaffeinated, but some decaf coffees will be 99.9 percent caffeine-free. This can be achieved in several ways, and the method used to remove caffeine from green, pre-roasted, coffee beans is the first thing a decaf buyer should pay attention to.
Solvent-based decaffeination methods, which rely on solvents (methylene chloride or ethyl acetate) to remove the caffeine, can be either direct or indirect. Direct contact decaffeination involves first steaming the coffee beans and then rinsing them with a liquid solvent.
During this stage, the caffeine binds to the solvent. To rid the beans of the remaining solvent and caffeine, they are then steamed once more. Indirect contact decaffeination methods instead rely on soaking the pre-roasted coffee beans in hot water over a period of hours, during which time both the caffeine and the coffee's natural flavors are extracted.
The next stage would be to separate the beans from the resulting green coffee extract and to run the solvent over this liquid to decaffeinate it. The beans themselves never touch the solvent in this case. An alternative, chemical-free, decaffeination option is to employ carbon dioxide instead. The coffee beans are first soaked in a bath of hot water, and then exposed to carbon dioxide to remove the caffeine.
The Swiss Water Process, a patented system, offers one of the cleanest ways to decaffeinate coffee. Here, the unroasted coffee beans are soaked and circulated in a caffeine-free green coffee extract solution for up to 10 hours. As with the indirection solvent method, this coaxes out the caffeine content. In this case, 99.9 percent of all the caffeine that used to be in the beans will be gone by the end.
A carbon filter system then removes the caffeine. The Swiss Water Process not only creates the most decaffeinated decaf coffees, but these beans also get to keep their original taste without the use of any chemicals.
If you're after the very best decaf coffee, both in terms of your health and purely for taste purposes, Swiss Water Processed decaf coffees are certainly the ones to look for — and they'll typically come with the hard-to-miss blue Swiss Water Process stamp right on the package.
The decaffeination method isn't the only thing that goes into making the best decaf coffee, of course. Buyers will also want to be on the lookout for:
The whole bean vs pre-ground decaf coffees — while whole beans are more versatile and many whole-bean-only manufacturers will say they're fresher by definition, pre-ground coffees appropriately stored in airtight packaging can be just as good.
Single-origin vs blends — single-origin coffees may come from the same estate or the same geographic region, while blends combine different beans from diverse locations. Because coffee is seasonal too, blends will be available year-round while single-origin coffees won't. In general, though, the more a manufacturer tells you about the origin of the coffee, the better it is.
Light, medium, and dark roasts — lighter roasts are roasted for shorter periods of time, while dark roasts, you got it, get roasted for longer. Light roasts will give you your own personal idea of the best decaf coffee if you prefer a mild taste, while dark roasts are full-bodied, but also lower in acidity.
The best decaf coffee is roasted in small batches, by expert coffee makers — and no manufacturer will miss the chance to point this practice out.
Flavor descriptions, like "orange", "hazelnut", or "chocolate" might not, in fact, match your own idea of a coffee's taste. Sure, you can use these pointers in your search for the best decaf coffee, but you'll just have to wait and see what the flavor is telling you.
The makers of the very best decaf coffee often have such confidence in their product that they'll offer you some sort of taste guarantee — if you're not satisfied, you get your money back.
All in all, today's an exciting time to explore the world of decaffeinated coffee. If you look around a bit, you'll discover that the best decaf coffee isn't one single choice. Rather, you may discover that the best decaf coffee to enjoy as you wake up isn't the same one that's best to enjoy with a friend over a nice lunch, and you've got yet another "best decaf coffee" to wind down with just before bed… because, yes, now you can! The very best decaf coffee is ultimately, however, in no way inferior to the best coffee, minus the decaf part.
Read More: