Who doesn't love coffee?
Not only is it one of the most popular beverages in the world, but also offers that big "oomph" for the rest of the day. Unfortunately, not everyone really enjoys that energy boost.
Coffee contains caffeine. And it's that caffeine content which gives you the necessary "pick-me-up" power that gets you moving in the morning or during a lazy afternoon.
And some people, whether it's a personal choice to reduce their caffeine intake every day or because of health reasons, will think twice about getting a cup from the coffee vending machine.
Fortunately, decaffeinated coffee is a great way for them to still enjoy their cup of joe without the extra caffeine kick. If this sounds like you, then take a tour of our top choice of the best decaf coffee!
Top 10 Best Decaf Coffees
What Is A Decaf Coffee?
Decaffeinated coffees are coffee beans that have been further processed to remove its caffeine contents.
But let's clear up some misunderstanding: Decaf coffee is not totally caffeine-free. Decaffeinated coffees have at least 97 percent of their caffeine content removed, according to the FDA.
Decaf Coffee: History Recap
Like many great things, the decaf coffee was accidentally invented. In 1903, Ludwig Roselius, a German merchant realized that his freight of coffee beans lost its caffeine content but tasted the same after it was soaked in seawater during their transportation.
What should have been a tragedy for his business turned to be a powerful commercial success? In 1906, Ludwig and his colleagues patented the first successful decaffeination process. His commercial method for decaffeinating coffee beans involved steaming the beans with carious bases or acid, then using the solvent benzene to remove its caffeine content.
However, benzene was later found out to be a carcinogen and increase the risk of tumor growth and cancer cells. Since the discovery of benzene, other solvent processes such as ethyl acetate and dichloromethane have taken over.
Overtime, people have tried to discover several natural ways to remove the caffeine from the coffee without solvents, however, it degrades the taste of the coffee. Then in 1933, the water and osmosis-based process of decaffeinating coffee was developed in Switzerland and later commercialized by the Coffex S.A. in the 1980s.
Swiss Water Method, named after its original place of development, was introduced in the year 1988 by the Swiss Water Decaffeination Company in Canada.
4 Methods of Decaffeinating Coffee
As you can see, the process of decaffeinating coffee has evolved for years. And yet, some methods remain including: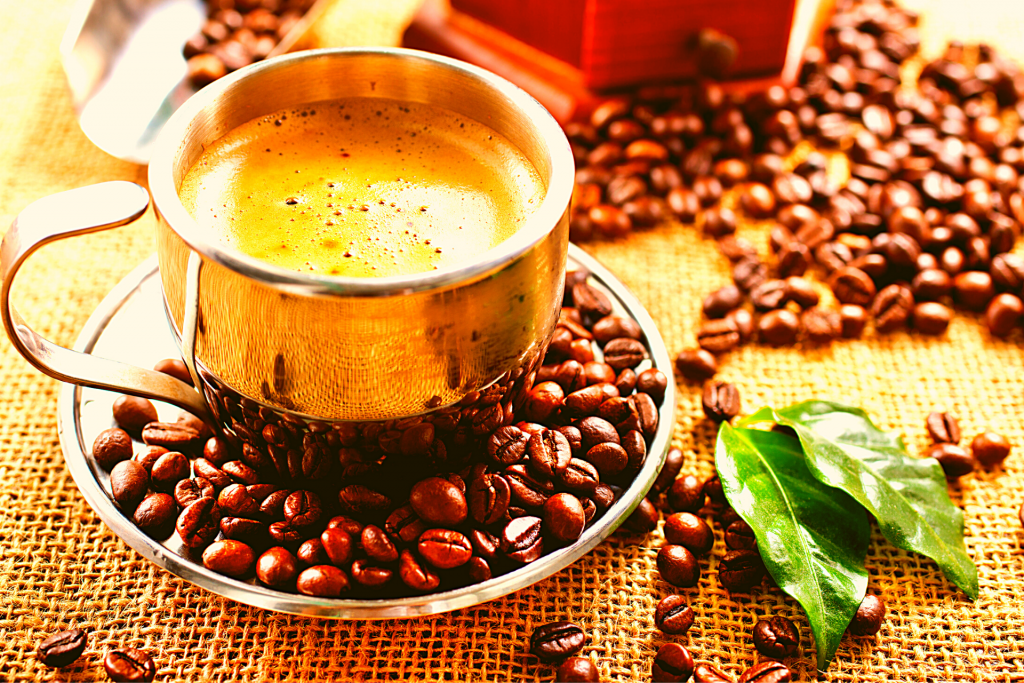 1) SWP (Swiss Water Process)
This is the most commonly used decaffeination process and should be the one you look for when purchasing decaf coffee. This method is known for its chemical-free water decaffeination process. It uses osmosis and solubility to extract caffeine content.
First off, the beans are soaked in hot water in order to remove caffeine. After that, the water passes through the activated charcoal filter which catches the larger caffeine molecules while allowing the smaller ones to pass through.
The main catalyst for the decaffeinating process is the Green Coffee Extract. When exposed to GCE, caffeine leaves the coffee beans which then hangs out in the extract until the soluble material equilibrium is reached. At this point the GCE and caffeine exit the carbon filter, leaving the beans behind. Read More: Best Single Serve Coffee Makers
2) Carbon Dioxide Process
This is the most recent method of decaffeinating coffee beans. Instead of chemical solvents like the harmful benzene, it uses the liquid CO2, acting strictly to dissolve the caffeine.
The water-covered coffee beans are placed in a container called an extraction vessel. Once the container is sealed, liquid CO2 is forced into the coffee with a pressure of 1,000 pounds/sq.in., extracting the caffeine.
The CO2 draws and dissolve the caffeine from the coffee beans but leaves the other content behind. The caffeine-loaded CO2 is then transferred to another container known as the absorption container,
where pressure is released and CO2 turns into gas while leaving caffeine behind. The caffeine-free gas is then pumped back to the pressurized container for reuse.
3) Indirect-Solvent Based Process
Popular in Europe, the indirect solvent-based decaffeinating process is also known as the Euro Prep or The European Method and primarily use methylene chloride.
For this method, the beans are soaked in boiling water for several hours, extracting caffeine and other oils. The water is then poured into another tank, separating it from the beans. After that, the beans are washed in ethyl acetate and methylene chloride for about 10 hours.
The remains of the caffeinated solvent are then heated to evaporate both caffeine and solvent from the beans. Finally, the coffee beans reabsorb most of the coffee oils and flavors by being soaked in the previously separated water.
4) Direct-Solvent Based Process
This decaffeinating process steams the coffee beans for at least 30 minutes, opening up their pores. After that, the beans are rinsed several times with either ethyl acetate or methylene chloride for about 10 hours to completely remove the caffeine.
After that, the chemical solvent that is filled with caffeine is thrown away. The beans are steamed again in order to remove any other solvent residues on the coffee beans. This method is the cheapest, however, there's a possibility that the beans will still contain a small percentage of the harmful solvent.
Decaf Coffee and Its Health Benefits
Despite being demonized in the past, coffee, in reality, is mostly good for you. It has been linked with several health benefits, mainly because of its high antioxidant contents and other active substances. Read Here: Best Espresso Coffee Beans In 2020
Here are some of the benefits of drinking decaf coffee:
Decaf coffees are packed with antioxidants. It has up to 15 percent more antioxidants compared to regular coffee.
Coffee, but not the caffeine, has positive effects on psychomotor and cognitive behavior in aging.
An observational study linked decaf coffee with a reduced liver enzyme level, suggesting the decaf coffee can help in protecting the liver.
Decaf has a small number of nutrients including potassium, magnesium, and vitamin B3. And drinking coffee with or without caffeine has been linked in reducing the risk of type 2 diabetes. Each daily cup can help in reducing the risk by up to 7 percent.
A common side effect of drinking coffee is acid reflux or heartburn. However, drinking decaffeinated coffee can help relieve these uncomfortable side effects. Decaffeinated coffee has been shown to cause less acid reflux than your regular coffee.
Drinking 2 or more cups of decaffeinated coffee daily has also been associated with up to 48 percent lower risk of rectal cancer.
Who Should Choose Decaf Coffee Over Regular Coffee?
There's a lot of individual variability in terms of caffeine tolerance. Some people run on coffee as a car runs on gasoline, upping up to 6 or more cups a day. For others, however, one cup and their hands start shaking.
Excess caffeine can overwhelm your central nervous system which causes anxiety, restlessness, heart arrhythmia, trouble sleeping, or digestive individuals in caffeine-sensitive individuals.
So, people who are highly sensitive to caffeine will need to limit their intake of regular coffee, or they can switch over to tea or decaffeinated coffee.
In addition, those with specific medical problems may also require a caffeine-restricted diet. This includes taking prescription medications that can interact with caffeine content.
Meanwhile, breastfeeding and pregnant women are highly advised to limit their caffeine intake. They should drink under 200mg of caffeine daily which is about 12 ounces cup of coffee. Thus, most nursing or pregnant women can go with decaf coffee.
Lastly, adolescents, children, and individuals currently suffering from anxiety, depression, or having trouble sleeping are also advised to limit their caffeine intake.
Choosing The Best Decaf Coffee
The trick to buying the best-decaffeinated coffee for you to enjoy is to keep a lookout for some crucial factors and have a clear idea of your preferences.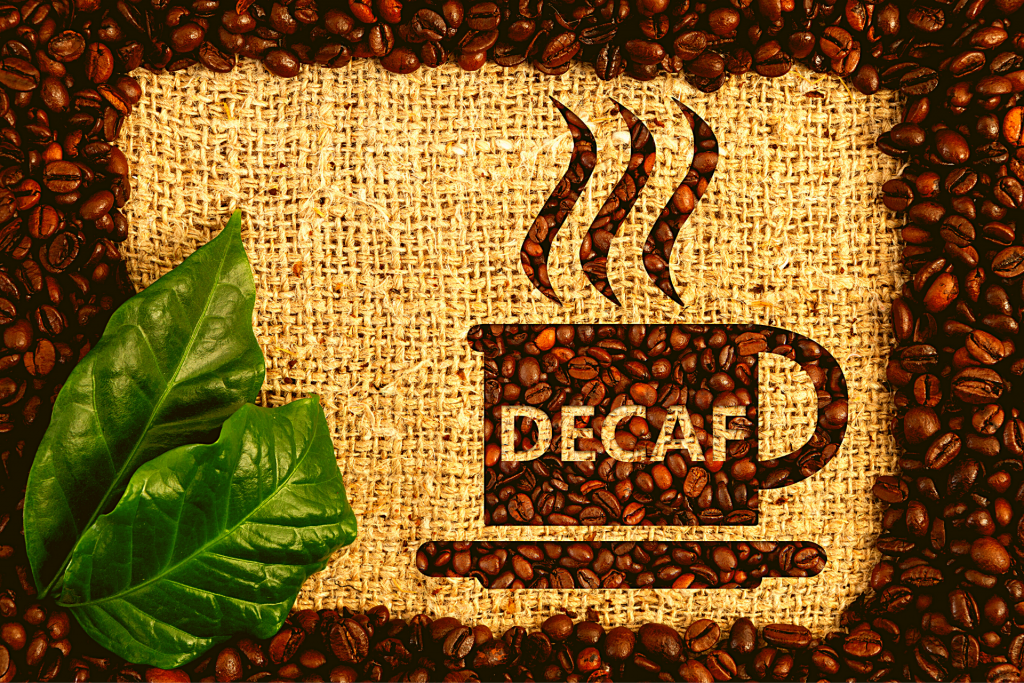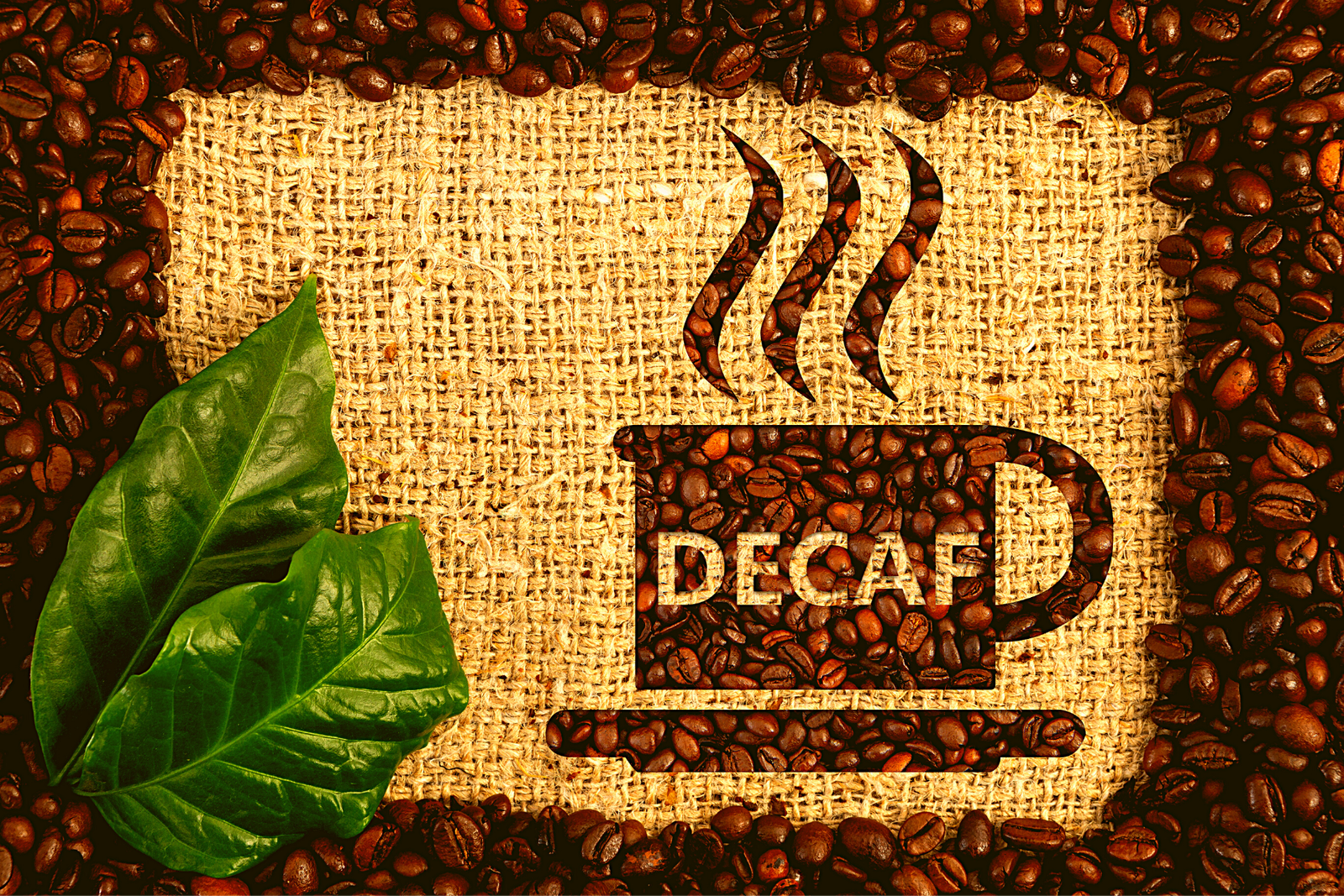 1) Coffee Bean Type
Coffee beans are divided into 4 main types. These include:
Arabica: The most common type of coffee bean taking up to 60 percent of the world's total coffee consumption. Depending on their country of origin, arabica coffees have different flavors and generally have more acidity and less caffeine.
Robusta: The second most used coffee bean type, Robusta are bitter and harsher than arabica due to its roasting process. Thus, they are only great for espresso shots due to their deep flavor.
Liberica: These beans have a floral and fruity aroma with full body and smoky flavor. This type is only grown in the Philippines.
Excelsa: A variety of liberica beans, excelsa only represents 7 percent of the coffee consumption in the world. It offers a tart and fruity body but with dark and roasty notes.
2) Roast
When shopping for decaf coffee, you'll be bombarded with the types of roasts available. Coffee gets a lot of its aroma and flavor from the roasting process, with the duration length of the roasting process affecting things such as acidity, flavor, and the body.
There are 4 types of coffee bean roasts:
Light Roasts: Offers various taste profiles because of their short roasting process and preventing chemical changes from occurring. With light roasts, the original flavors of the beans are more recognizable.
Medium Roasts: This is what the average American coffee drinker drinks. Medium roasted coffee beans offer a balanced flavor with varying acidity and body.
Medium-Dark Roasts: These coffee beans have a richer and fuller flavor with more body and less acidity.
Dark Roasts: Tend to have the sweetest flavors because of the caramelized sugar in the beans. Dark roasts have the longest roasting process allowing the development of richer flavor and full body with a buttery finish.
3) Brand
A reliable and well-known brand of coffee is crucial, especially when looking for decaffeinated ones. Not all brands can go through the decaffeination process properly. So, it is more likely that a renowned or established brand has access to this expertise and technology to offer you the best decaffeinated coffee products.
4) Origin
Soil chemistry, sunshine, altitude, and rainfall all contribute to the coffee bean's flavor. Thus, the origin country of your coffee bean can be an indicator of how they'll taste. Coffee plants thrive along the coffee belt and you might want to start with the coffee beans from famous countries like Colombia, Hawaii, and Brazil.
5) Preparation Method
It is easy to mix up the coffee types available online. Decaf coffees are available in K-cup pods, ground, whole beans, or even instant coffee. So, be careful about what you buy since you do not want to end up with a decaf K-cup pods without a Kreuger.
6) Certification Labels
When choosing a decaf coffee beans, you want only the best. And to find the best, there are certain certificates and labels that might offer you peace of mind.
The most common ones are the Fair Trade and USDA Organic labels or certificates. The latter indicates that the coffee manufacturer adheres to the sustainable practices and the beans are more likely subjected to the Swiss water processing method.
The former shows that the company followed a strict ethical principle. If you buy a non-America brand, they might offer an organic certificate and labels that guarantee quality production other than the USDA.
Tips On Using And Storing The Best Decaf Coffee
Before you start prepping your decaf coffee beans, you need to find the best storage possible.
Once you open those vacuum-sealed bags, your coffee beans start to degrade. Nothing bad against the companies the produce them, however, you do not have the machinery at home to get that same level of tight seal again.
Thus, you need to find a storage solution which can keep your decaf grounds or beans nice and fresh. Get a tight seal canister. Place your coffee there and keep the canister in a dry, dark, and cool place.
Storage is helping with quality. But to get the best brew for your decaffeinated coffee, you also need:
1) Quality Grinder
Grinding your own decaf beans will always provide you a better cup of decaf joe than using a coffee ground from a bag or a can.
This is because ground coffee starts to lose its flavor and aroma right after grinding. So, if you want those aromas and flavor intact until you brew then go with grinding your own coffee.
But, don't just take any grinder you see. You need the high quality, burr grinders. The individual size of each grind impacts your coffee. Coarseness and the size of the coffee grounds change the taste, and this is especially true for the decaffeinated coffee.
2) Use a Kettle
The ideal temperature range for great-tasting coffee sits between 180 – 196 degrees Fahrenheit. Coffee makers have the tendency to burn your decaf coffee. So, it is easier to brew decaffeinated coffee with a kettle.
When it starts to whistle from the water boiling, it should be about 212 degrees Fahrenheit or higher. Open the spout and let it rest for at least a minute or so.
3) Water Filter
Most people use tap water in order to prepare their coffee, particularly if you are making a pot a day. And even if you live in an area with great city water, you will stall want to filter the water.
So, get a pour filter that clips onto your faucet spout or invest in a Brita pitcher to put your tap water into and filter it out. Filtering your water makes a huge impact on the quality and flavor of your decaf coffee.
Frequently Asked Questions:
Q: Is there still caffeine in a decaffeinated coffee?
A: Yes! Regardless of the extraction process, decaffeinated coffee will still have traces of caffeine. And there is no such thing as 100 percent decaf. Caffeine grows with coffee beans and for a decaffeinated coffee bean, there is still a minuscule caffeine percentage that is not going to make you all shaky or cause your heart to jump out of your chest.
The average 10 ounces cup of coffee comes with up to 140 mg of caffeine. However, for decaf coffee, there will only be at least 2 – 5mg of caffeine. And if the coffee is within the FDA standard parameter of 3 percent caffeine content per cup, then you can take up to 10 cups all within an hour period to feel half the jitters of a normal cup of coffee.
Q: Do K-cups come in decaf?
A: Of course! A lot of established brands are now offering decaffeinated whole beans, K-cups, and grounds for each blend or a single origin roast. Take note, however, that there may be slight taste variations if you were to compare a K-cup to the freshly home-ground beans.
Q: Can decaf coffee increases my blood pressure?
A: Caffeine is known to increase your blood pressure; thus, decaf causes the opposite. AS a matter of fact, decaffeinated coffee is known to help reduce your chances of type 2 diabetes.
Take note, however, that each person reacts differently to decaf, so there is no guarantee that the statements above are true for you.
Q: Why does some decaf coffee taste great while others are bland?
A: Just like the process of blending and roasting affects the taste of your regular coffee, the decaffeination processes affect that of decaffeinated coffee in the same way.
AS mentioned earlier, there are 4 main methods of decaffeinating coffee and whether or not an extra flavor is added to it after the decaffeination process depends on the manufacturer.
Q: Can I mix a decaf coffee with my regular coffee?
A: Sure, you can! If you wish to control the amount of caffeine that you are taking, but do not want to limit yourself to just 3 percent, then this is an excellent idea!
You can try out various mixtures and amounts of coffee to experiment with your preference. You can even find labels like half-caff coffee which has 50 percent decaf coffee and 50 percent regular coffee.
Final Thoughts
So, there you have it!
Coffee is one of the healthiest beverages in the world. Loaded with antioxidants and other nutrients, coffee is linked to reducing the risk of all sorts of diseases.
And while not everyone can enjoy the regular cup of coffee, since the caffeine content can cause problems in some, decaffeinated coffee allows more people to enjoy their daily dose of coffee, reaping the taste and benefits without the shaky hands.
You see, while some people take several cups of caffeine to stay awake at night when they're processing paperwork with a nearing deadline, others just want to enjoy sipping on a good cup of coffee without hindering their good night's sleep and feeling like a zombie all day lone!
All in all, we hope that this article helps you choose a coffee flavor and brand that you will love!