Flavored coffees occupy a very special place in most people's lives. It's popular because people always crave something new and different.
In fact, ever since the introduction of coffee as a drink, people have tried adding flowers, fruits, and spices in an attempt to enhance or change the flavors and make it suitable for each individual's taste and preference.
These additions make coffee extra special while complementing its aroma and taste with unusual notes.
And in this modern world, the circle of flavors has expanded greatly and now includes liquors, orange, chocos and so much more.
But, with so many options available, how do you choose the best flavored coffee? Don't panic! We already did the hard part and provided a list of the best flavored coffee in 2020.
Also, we made the initiative to include a buying guide and everything you need to know about the best flavored coffee.
Top 10 Best Flavored Coffee
What Exactly Is A Flavored Coffee?
Flavored coffee is a regular coffee bean made special and extra tasty with flavorings— either synthetic or natural.
And contrary to popular belief, flavored coffee is not a modern innovation. The introduction of various additives to correct complements, or improve the aroma and taste of natural coffee is as ancient as coffee beans itself.
Over time, the advent of new flavors brings rise to a range of their use in coffee.
A History Recap
Flavored coffee became very popular in the 1990s. This type of coffee, however, can actually be traced a few centuries back to the Turks.
Gradually, a lot of people have developed strong feelings about flavored coffee— either they love it or hate it and only wish to drink naturally flavored coffees.
Flavored Coffee: How Is It Made?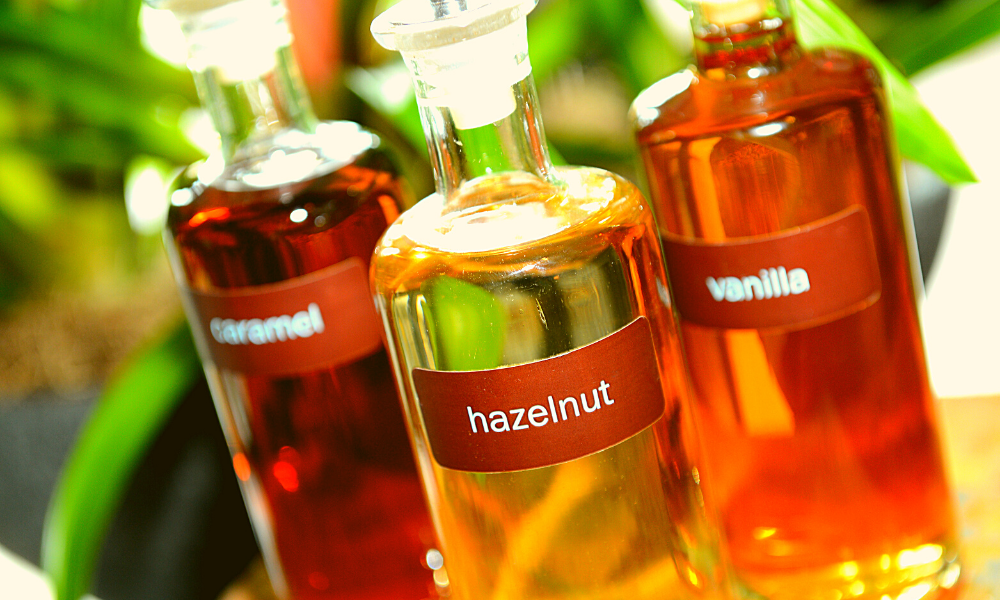 The best flavored coffee is made by roasting the green coffee beans in order to bring the natural flavor and aroma out. The roasting typically takes place in huge tanks that are heated to at least 356 degrees Fahrenheit.
The roasting process takes at least 15 minutes after which the beans are left to cool down. It is during the roasting process that a specific flavoring is added to the cylinder. Then, a big mixer is set in motion.
Manufacturers may use different flavorings and methods. The most common is adding oils and spices to the beans. The most traditional and oldest way to do this is to blend spices in with the coffee beans.
The most popular way is adding a concentrated flavor syrup to the beans, coating the beans while roasting. After that, the coffee beans are packed if they're to be sold as whole flavored coffee beans for you to grind later at home.
Or placed in a rotating cylinder to further process and ground the freshly roasted coffee beans which could be mixed with other roast types and create a unique coffee blend.
3 Basic Flavoring Techniques
Flavored coffee can be created form real food extracts, natural herbs, nuts, and spices or it can be created from synthetic flavors.
Here we breakdown the 3 basic coffee flavoring methods as well as providing some tips on how to identify each method should you consider trying or come face-to-face with a bag of flavored coffee.
1) Real Food Flavoring
Infusing a freshly roasted coffee bean with real spices, herbs, and raw nuts is probably the easiest way to add flavors.
The most common real food coffee flavorings are:
Vanilla beans
Cinnamon sticks
Pecans
Almonds
Star anise
Cocoa beans
Nutmeg seed
Whole cloves
Hazelnuts
Whole peppers
Some real food coffee flavorings like nuts may even be left in the coffee when ground.
Look
The real food flavored coffee beans or grounds may have a slightly strange color because of the flavoring agent or may show the flavoring agent distributed within the unbrewed coffee.
Taste
The real food flavored coffee beans don't display powerful flavoring taste and the flavoring notes are subtle, riding only on the natural flavors of coffee instead of overpowering them.
Aroma
The real food flavored coffee beans don't have a strong scent or aroma. Depending on the flavoring agent, there may not be any flavored scent at all, and the coffee may just smell like regular coffee.
2) Real Food Extract Flavoring
The real food extracts are flavor oils made from real spices, nuts, and herbs. Think of them as the vanilla extracts used for baking. The coffee flavor extracts or oils are highly concentrated, thus have an intense flavor.
These flavoring agents can be made from naturally-grown, organically-grown, conventionally-grown, and/or sustainably-grown spices, herbs, fruits, veggies, nuts, and more.
The real food flavor agents are usually prepared by the professional flavor chemists, generally using vegetable- or water-based solvents and don't contain any unnatural or metallic tones.
Look
The real food extract flavored coffee beans have a slight to rich oil sheen, depending on the roast and shouldn't be cracked. In general, it looks like freshly roasted coffee beans.
Taste
The real food extract flavored coffee beans should have a moderate to subtle flavor that is most pronounced when the coffee is drunk with cream, milk, and some sugar.
Aroma
The real food extract flavored coffee beans should have a clean, powerful, and immediately recognizable aroma. There shouldn't be a metallic or non-natural chemical smell.
3) Chemical Flavoring
The chemical coffee flavors, or more commonly known as the synthetic flavor oils or agents, are created by professional flavor chemists in labs.
These flavors are generally produced from the non-food extracted chemicals such as dimethylpyrazine, acetylthiazole, and dimethyl.
Then, they are often bonded to the coffee beans with propylene glycol, an organic compound with a slight sweetness.
Look
The chemically flavored coffee beans tend to have a shin thick oil residue that will be visible in the coffee bag, on your hands, and in the coffee pot.
Taste
The chemically flavored coffee beans have a very sweet and artificial sugary taste that is overpowering the natural flavors of the coffee beans.
Aroma
The chemically flavored coffee beans have an overpowering and sweet aroma.
Common Flavors Available
Nowadays, flavored coffees come in different, well, flavors to accommodate unique palates and preferences. Here are some of the most common flavors available today.
1) Nut-Based Flavored Coffee
These are the most common and preferred types of flavored coffee with hazelnut flavored coffee being the most popular. There are also other options of coffee blends with distinct flavors including pecan, brazil nut, almond nuts, and macadamia.
Others who like the more complex flavors to their nut-based brews come up with flavored mixtures such as praline flavor and southern pecan coffee.
This coffee blend offers a creamy, caramelized, and sweet flavoring.
2) Fruit-Based Flavored Coffee
The most common fruit-based coffee blends are blueberry, pineapple, raspberry, and coconut amongst others. Other coffee lovers are also daring and inventive enough to try the wild berry flavored coffee which is actually a mixture of berry blends.
For instance, you get raspberry mixed with a cup of pina colada or chocolate for your coffee brew.
Flavored coffees that are fruit-based typically have natural sweet flavors that are much sweeter than other coffee varieties and could be blended with various roasts.
3) Chocolate-Based Flavored Coffee
Probably the most popular flavor amongst coffee aficionados, chocolate-based flavored coffees can satisfy those with a sweet tooth.
Since coffee is an all-time favorite ingredient, its not that difficult to mix and blend it with the classic blends.
For instance, manufacturers can combine it with assortments of other ingredients such as mocha fudge and chocolate mint to come up with a chocolatey flavor.
4) Vanilla-Based Flavored Coffee
This is the simplest variety of flavored coffee but never inferior in terms of rich aroma and flavor. Vanilla-based flavored coffee includes flavors and mixes such as French toast, Irishcream, and caramel.
There are also vanilla-based flavored coffee that are given more varieties and twists to add an extra kick to your taste buds with milk froth and creams.
5) Spice-Based Flavored Coffee
In other cases, coffees are also combined with known spices that are used for culinary arts and cooking.
Spices like cinnamon, mint, and nutmeg among others are added to coffee, providing not only great-tasting flavors but also has the richest and powering aroma ever.
Is Flavored Coffee Bad For Your Health?
WE mentioned earlier about that one ingredient in creating flavored coffee— the propylene glycol. And even the good stud will sometimes have this, especially for the American roasteries.
Propylene glycol is a solvent that is used to increase the effectiveness of adding flavoring into the coffee beans. However, this solvent has been shown to be toxic if consumed in large amounts.
As a matter of fact, most companies that are even remotely ethical or socially responsible require their employees to wear hazmat suits when working around or with this substance.
The small amount of coffee might not cause any real harm, however, if you're one heavy coffee drinker, then we definitely advise you against using these kinds of coffee as your only go-to beverage.
Why Should You Avoid Flavored Coffee?
Unethical Sourcing
You might notice that most flavored coffees out there have a surprisingly low price tag. Although this might seem exciting for you as the consumer, it actually is not a good sign for anyone.
The low coffee prices are a problem for everyone since it generally means that the farmers are not earning enough from their crops. This
also results in poverty-related issues within the farming communities such as lack of healthcare and education, as well as having no chance of getting a better product.
A whitepaper explains that 63 percent of coffee-growing households in the Central American experience food malnourishment and insecurity annually. That statistic has a low to do with the low price tag of coffee crops.
In terms of coffee, the higher prices usually come with harder to grow and high-quality coffee plants as well as the better-growing conditions with more sustainable practices. A farm cannot get fair trade certifications without money to pay for it.
Inferior Beans
Just like how the charred stones of a French roast are used to hide the flavor of a poor quality coffee bean, flavored coffees usually serve the same purpose.
Manufacturers and companies can take coffee beans of an undesirable variety or are close to expiration or have any other defects that can adversely affect flavor and over roasting them and adding synthetic flavoring to make them more marketable.
This means that you're getting a bad product. Also, the low-quality beans are generally cheaper beans, bought from the exploitative and unsustainable supply chains mentioned above.
Thus, it is a lose-lose situation for everyone, except for the middlemen.
Picking a "Good" Flavored Coffee
Although we highlighted 2 reasons why you shouldn't invest in flavored coffee, no one's stopping you from trying it out. Still, you want to buy good flavored coffees that can help maintain a sense of social responsibility.
Flavor Concentration
An important element of the best flavored coffee is its flavor concentration. You do not want a coffee that is overwhelmed by other flavors. Thus, a 1mg – 3mg of flavor per 1kg of coffee is the optimal ratio.
Now, if the manufacturer tries to drown out the coffee beans using aromatization, then it is a sign that the original coffee beans may be of low quality. So, walk away.
Look For The Higher, Fair Prices
Although you should not definitely be spending $50 on a 1-pound bag of flavored coffee, $20 is a much better price range than $5. Know that by paying a little extra, you're also ensuring sustainability and quality.
Find Information
Because it can be quite difficult to choose the best flavored coffee based on the concentration since you were not present at the factory and can't control the flavoring process, you should just look at the roaster's website or coffee packaging in order to find as much info as you can.
In general, higher-quality coffee beans will have several stages of quality checking procedures and must publish at least some info about this online.
These quality checks stretch from the start to the end of the coffee production process, including anything from checking the coffee beans for physical defects to the roast consistency and cupping measurements.
Go Arabica
This tip goes hand in hand with the price point. Arabica coffee beans are significantly more delicate than the Robusta varieties. These beans produce significantly better flavors and quality.
So, consider looking for a 100 percent Arabica blend coffee, ensuring that you're buying high quality flavored coffee beans for your brew.
Ingredients
You can choose the best flavored coffee from a variety of options, based on your taste preference. Thus, make sure to check the ingredients of the coffee.
Also, remember to consider your health status and any intolerances or allergies to particular ingredients.
Trusted Brands
To make it even easier for you in choosing only a good flavored coffee, consider going to the trusted and reputable coffee brands. Here are some of the best brand you can trust:
Probably one of the most recognizable coffee brands, Folgers lead ground coffee sales raking over a billion dollars. With a history stretching back to over a century, Folgers has managed to stay on top of the coffee industry.
Despite being one of the top brands, Folgers use Robusta coffee beans in their traditional coffee products. However, the use of Robusta shouldn't undermine the coffee quality offered by Folgers.
Their reputation is accompanied by a list of certifications that guarantee top-notch products for their consumers.
In terms of their flavored coffees, they don't use any artificial ingredients with some variants using the 100 percent Arabica variety. They source coffee beans that are grown in suitable conditions and processed using the approved practices.
Folgers offers flavors such as Chocolate, Caramel, Chocolate Raspberry, Hazelnut, Caramel, French Vanilla, and Cinnamon.
Also, they have some decaffeinated versions of some flavor such as Lacas, using the Swiss Water process to ensure quality.
Volcanica Coffee provides some of the most creative flavored coffees. Selections include Pines Colada, Jamaican Rum, Butter Toffee, Island Breeze, Amaretto, Island Breeze, and many others.
These flavored coffees are made using the medium roasted coffee beans and adding flavoring using natural ingredients.
Combined with other offerings from various categories such as peaberry coffee, estate coffee, and their blends, Volcanica provides more than 120 unique coffee blends to their customers.
These coffees are covered by various certifications with coffee beans sourced from the best farms across the world using the appropriate cultivation and growing techniques.
In fact, as its name suggests, much of Volcanica coffees are grown and cultivated on volcanic soils. The nutrient-rich soil is suitable for coffee grown and ensuring rich and densely flavored coffee.
They also stand by their commitment to fair business practice and dealing with the environment, treating farmers fairly by paying them at competitive prices for their crops.
Community Flavored Coffee
If you love French vanilla, then you will love the Community Coffee's French Vanilla Coffee. This coffee bran uses 100 percent Arabica coffee beans in all of its productions.
And the technique that they use in making their flavored coffee is over a century old.
With this brand, you have several options to choose from besides their popular French Vanilla including blends of dark chocolate, chicory, pecan praline, caramel, toasted hazelnuts, and more.
Other than that, you can purchase pre-ground coffee in various roasts, brightness, and bodies as well. Community Coffee subject their
products to rigorous testing before it reaches the customers. They have a diverse set of guidelines and follow protocols such as grading coffee beans, evaluating samples, and the necessary equipment to produce their coffees.
The most vital part of their flavored coffee manufacturing is the roasting process where the syrup is added.
The company has a dedicated team of experts handling the entire process, constantly tasting, and smelling the coffee to make sure that they are up to standards.
Lacas Coffee Company offers the more popular Pumpkin Spice Flavored Coffee which Starbucks offers only during the fall season.
However, when compared to the Starbucks version, the Lacas Coffee Company's pumpkin spice coffee offers unique flavors making it a wildly popular purchase and was even featured on CNN.
However, you're not limited to that flavor, the brand also offers Tiramisu, Hazelnut Crème (decaf and regular), Chocolate Raspberry, Swiss Chocolate Almond, Macadamia nuts and Cinnamon Hazelnuts amongst others.
Like Community, Lacas also uses Arabica coffee beans in its production. These beans are sourced from across the world, more prominently in South West Asia, East Africa, and South and Central America.
If Folgers is a popular and internationally acclaimed brand, then Out of the Grey might be a name you do not recognize. This is because OOTG is a small corporation based in Pennsylvania.
However, they do offer over a hundred unique coffee creations of their own along with some fascinating flavor choices.
The more popular selections include Banana Foster, Blueberry, Baklava, Butter Rum Cake, Apple Cinnamon Strudel, French Apple Crumb Cake, and more. Their offerings are on the more expensive side, but it would be totally worth it.
Their packaging is innovative featuring a zip lock and de-gassing valve. They offer various selection of grinds suitable for French Press and even Turkish Coffee. They also use the Fair-Trade coffees as well as having the Rain Forest Alliance certifications.
Final Thoughts
By now, you should have enough knowledge about flavored coffee.
Some of the hardcore coffee specialists might take an issue with what they consider as adultering the natural and organic flavor of a good coffee bean with syrup or another flavoring, but flavored coffee is a concept that is getting popular since it helps match the special taste buds of different individuals.
So, what do you think about flavored coffee? Have you ever tasted one? Share your experience and thoughts on the comment section below!
We hope this buying guide helped you with your search for the best flavored coffee.
Until then, happy caffeinating!