Swiss-made, capsule-based coffee brewers, Nespresso Machines have a worldwide reputation for quality— both in their craftsmanship and coffee.
However, with numerous Nespresso models available today, choosing the right machine with the exact blend of features to meet your requirements can be daunting.
Fortunately for you, we already did the hard part and listed the best Nespresso espresso machines you can find! Here is everything you need to know about Nespresso espresso machines, their history, and some tips on how to use them:
History of Nespresso
This part is divided into two parts: 
The History of Espresso.
The History of Nespresso company & products.
Top 10 Best Nespresso Espresso Machines
The History of Espresso
A popular misconception is that espresso is a different type of coffee beans being used to make coffee. If you have visited a coffee shop, you will know that this is not true. Espresso is technically a process of making coffee. 
The word espresso is directly taken from the Italian word caffé espresso. Directly translating the words, we get the meaning of "pressed-out coffee" – where espresso means "to press" and caffé being short for coffee. 
Though many people believe that the history of Espresso goes as back as the early 1900s through a Luigi Bezzera, the history goes a little further back.
It was around the 1880s that a certain Italian inventor named Angelo Moriondo wanted to capitalize and grow on the coffee industry. 
He thought of developing a steam machine – as was the industry of the times – to allow coffee to be made much faster. Angelo patented his steam machinery in 1884 and was able to develop and improve on his invention.
However, because he was not a businessman, he was never able to commercialize it. It was not until 1901 that Luigi Bezzera decided to take inspiration from Moriondo's idea, improve it, and try to commercialize the brewing of espresso coffee.
Two years later, Desiderio Pavoni bought both Luigi Bezzera and his idea for an espresso machine, and gradually began improving on it. 
Read More:
Gradual Improvement Was Made
In the journey of about 3 years, Pavoni was able to further improve the machine and make it viable to be used in the commercial sector. It was in 1906 that he introduced the world's first commercial caffé espresso to the world.
Because his machine was able to produce around 1000 coffees per hour, it quickly gained success. Although many people tried to mirror his success, none of their inventions could gain the market as much as the original caffé espresso machines did. 
Over the years, many businessmen and inventors were able to hone the espresso machines in many ways: some focused on its appearance while some tried to modify the steam pressure.
There were even pump-based espresso machines that used an electric pump instead of a manual piston. Slowly over the years, espresso machines gained the shape and features they have today.
Some of the current best Nespresso espresso machines were originally inspired to be steam-powered, but it is not a viable solution.
The History of Nespresso Company & Products
Nespresso is a unit under Nestlé, one of the world's biggest food and drinks processing conglomerate corporations. Nespresso was founded in 1984 by the Nestlé Group as an affordable, perfect coffee that anyone could create.
 At this moment, Nestlé has all the rights to use the word "Nespresso". Nestlé introduced its first machines between 1984 and 1994, with the first four models of Grand Cru – its premium variants of espresso coffee.
Over the decade, Nespresso slowly but steadily gained fame all across Europe as one of the easiest and affordable machines to brew coffee. 
By 1995, Nespresso had finally made a brand out of their products that people would recognize. They started focusing on slightly changing their products over the years, and also launched an e-commerce website for online ordering of Nespresso machines.
Many people state that the best Nespresso espresso machines came around the early 90s too. 
The Brand Was The Ultimate Focus
Espresso starts focusing more on its brand, launching the Grand Cru Limited Edition coffee in 2001, and even the boutique concept in 2000. Nespresso espresso machines started gaining fame outside of Europe as well.
By 2006, Nespresso company was revered all around the world as one of the best espresso machine-making companies.
 Nespresso didn't want to lose this chance, so they further commercialized their products with advertisements, sponsorships and even hosting George Clooney as a brand ambassador for North America. 
From their first model in 1986: C100 to their current Vurtuo, Aguila 220, Evoluo, PIXIE Clips models in 2015, Nespresso is officially the most recognizable espresso machine-making company all around the globe. 
How Is The Nespresso Coffee Machine Made?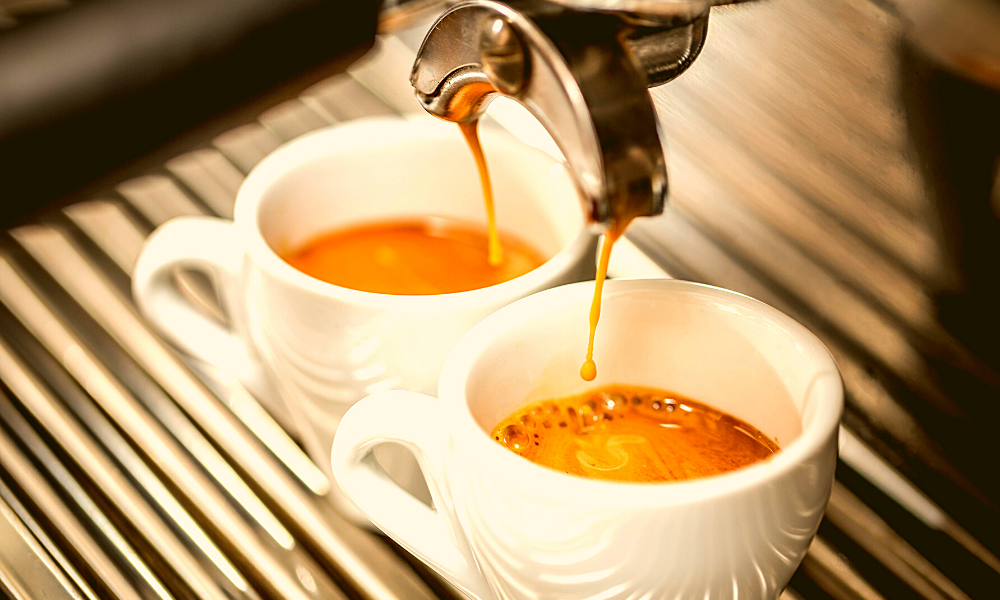 Nespresso coffee machines use the Nespresso's patented "pod" system. This allows them to add a simple capsule into a Nespresso machine to instantly make an espresso coffee.
Most of Nespresso machines are generally made up of plastic, silicon, and aluminum – with some models even dominantly being made from metal. 
Nespresso machines are not made inhouse, however. Most of these machines are branded by Nespresso but are made by other companies like Krups, DeLonghi, Magimix, and so on. 
Many Nespresso coffee machines come with a compatible milk froth tank that can hold, heat up and cool down milk.
Here are some of the materials used in the construction of Nespresso machines:
Aluminum – used because it is cheaper than copper and has very good thermal conductivity while being very resistant to corrosion. 
Stainless Steel – used for the lining of aluminum to improve the healing process and making it more efficient.
Brass – an alloy of copper and zinc that has lower thermal conductivity and is easy to work with.
Plastic – for the overall coating and designing of espresso machines' exterior. Some are made from metal or aluminum – depending on the premium.
Types of Nespresso Machines
There are a wide variety of different Nespresso machines that Nespresso builds. Of course, there are no single but many best Nespresso espresso coffee machines depending on their usage. Here are all of the types of Nespresso machines that you need to know about:
Nespresso OriginalLine
Nespresso's OriginalLine features all of the espresso machines that the original fans of Nespresso's products will adore. Nespresso features a wide variety of products in the OriginalLine, featuring – but not limited to – the following products:
Essenza Mini – the smallest Nespresso espresso machine in the neighborhood but does not lose any features over its bigger variants.
Essenza Plus – comes in two variants: with or without Aerocino. The Essenza Mini is just an Essenza Mini but with a bigger water tank. 
CitiZ – comes in Ristretto, Espresso & Lungo machine variants. Takes around 25 seconds to heat up. Comes with a variant that can hold milk. 
Creatista Plus – complete espresso machine that features the fastest heat-up time of just 3 seconds. Has the largest water tank of 1.5 liters too. 
Lattissima One – comes with an attached milk frother, and available in Ristretto and Espresso variants.
Lattissima Pro – is a simple version that is attached with a milk frother with 11 foam settings. Has a respectable capacity of 1.3 liters.
Lattissima Touch – an advanced espresso machine that offers touch capabilities and comes with an attached milk frother. Can hold 0.9 liters.
Gran Lattissi – the original version available in different variants that can hold 0.9 liters of water and can heat up in just 25 seconds. Has to support for milk frother but does not come with one. 
Nespresso VertuoLine
The Nespresso VertuoLine features all its Vertuo products that use Nespresso's new capsules. The VertuoLine is a lineup of even more premium models than its OriginalLine and can make coffee pods at speeds of about 7000 rotations per minute.
Here are some of the products. All VertuoLine products can support Espresso, Double Espresso, Gran Lungo, Coffee, and Alto Coffee. Here is the complete lineup:
Vertuo – the base model that has all features and comes with a simple heat-up time of 15-20 seconds.
VertuoPlus – the premium version of Vertuo for professionals, that comes with five cup sizes at the touch of a single button.
VertuoPlus Deluxe – an even more premium version of VertuoPlus. Has a bigger water tank.
Vertuo Next Classic – models that come by Breville and features a smaller 1.1-liter water tank.
Vertuo Next Classic with Aeroccino – an advanced version of Vertuo Next Classic that comes with more features. 
Original Models
Some of the original Nespresso models are listed here that do not fall in either the VertuoLine or the OriginalLine. Some of these are:
Aeroccino 3 – a simple machine that does not brew coffee but is a container for milk froth. Can heat up or cool down froth.
Aeroccino 4 – a better version of Aeroccino 3 that comes with can hold both cold and hot milk froth and has different levels for hotness. 
Pixie – a simple, petite version of the average coffee brewing espresso machine that is used for general purposes. 
Nespresso Expert – holds some of the best Nespresso espresso machines lineup with advanced features and minimalistic design. 
Inissia – hailed for being very easy to use, Inissia is an affordable machine for first-time coffee addicts. 
KitchenAid – a metallic version of any other espresso machine that looks stunning in the kitchen.
Prodigio – Prodigio is Nespresso's take on smart-devices and comes with Bluetooth functionality. One can easily brew coffee through their smartphone. 
Nespresso U – A lineup that was made to offer solid machines for the home. Nespresso U offers great features for a person who has to brew their coffee and some of its models are the best Nespresso espresso machines per price.
Nespresso Maestria – For people who love to act like a maestro or a barista, the lineup of Nespresso Maestria makes the perfect combination. 
Materials used
An espresso machine can use various kinds of materials, ranging from what you are going to make. There are also different kinds of capsules from Nespresso themselves, as well as independent capsules that are compatible with Nespresso companies.
The best Nespresso espresso machines allow multiple materials to be processed. Here is a list of some of these materials:
Aluminum – Nespresso capsules are made of aluminum for longevity and other reasons. Nespresso is trying to make biodegradable capsules though.
Plastic – third party companies are trying to make Nespresso capsules out of plastic to ease up on cost, and to make it easier to reuse. 
Water – used as a solvent for coffee. Many experts recommend using lukewarm water to improve the taste of the coffee.
Milk – an extra additive that can be added in the form of milk froth to make many variants of espresso.
Sugar – both brown and white sugar is added to hide the bitter taste of the coffee.
Toppings – different kinds of toppings can be used in the making of espresso depending on the person who has to drink the espresso. 
Little Tips On How To Use Nespresso
Here are some tips that can help you brew the perfect cup of espresso: 
1) Practice
Yes, we know how hilarious it is that a tip can be to practice. Coffee brewing is an art, and you can only learn the art through loads of practice. Practice until you can make your cups of espresso without having to rely on internet recipes. 
2) Use pod once
All Nespresso coffee pods are meant to be used only once. Using them more than once will ruin the experience for you. Don't make the mistake of saving up money. You will indefinitely scar your taste buds. 
3) Use an espresso glass
Espresso glasses are specifically designed to help you figure out the perfect amount of solvent materials that you will need for the perfect brew of coffee.
Using an espresso glass can also bring out the best visual appeal of your brewed-up espresso coffee.  Some of the best Nespresso espresso machines may even recommend using a certain espresso glass.
4) Preheat the machine
Nespresso machines work best when they are preheated. Heat the machine several times over before putting a pod in. This also clears up any extra residue and makes sure you always have a new experience with your coffee.
5) Learn to program your machine
All espresso machines can be programmed for different recipes depending on the user's requirements. Scour the internet and you might find a program that works the best for you.
Many of the best Nespresso espresso machines also offer the ability to save these programs.
6) A good barista has good eyes
It is good to know coffee brewing, but even the best baristas rely indefinitely on their eyes to make good coffee. Observe the color of your brewed coffee, and everything that is happening.
Over time, your eyes will help you figure out what time is good enough for the perfect blend of coffee.
How To Brew Nespresso Coffee?
Because of how the general concept of making espresso machines, the best Nespresso espresso machines can brew coffee for people who are in an absolute rush and need their daily supply of caffeine. Read Here: Best Espresso Coffee Beans
There are many ways to make espresso in Nespresso. We have compiled a small list of some recipes that you might be interested in:
Espresso Macchiato
Here is a small list of ingredients that you will need:
20 ml fresh milk – cold milk is preferred because it will add to the taste.
Nespresso capsule – Roma, Origin Volluto Grand Cru or India are all compatible.
White sugar – preferably crushed (optional).
Chocolate flakes – or any other flavor that you would love to add on your espresso coffee. (optional).
110 ml of water – lukewarm is recommended.
Ritual water – for obvious reasons.
Here is how to make an Espresso Macchiato:
Convert milk into milk froth using the steampipe of your Nespresso machine. Let the froth sit for a little while you prepare for your capsule.
After preparing your capsule, add in sugar or any other sweeteners if you want. 
Put the capsule into the espresso machine with water and let it sit until its ready.
Take the espresso out and pour in as much milk froth as you would like.
Sprinkle with chocolate flakes or any other flavor of flakes you would like to enhance your experience. 
Iced Lungo Macchiato
A great recipe for the best Nespresso espresso coffee machines is the Iced Lungo Macchiato. Here is how you can get yourself a gourmet espresso that you will love in the hot summers: 
Prepare a capsule of Vivalto Lungo or Deaffeinato Lungo. While it is being prepared, fetch 5 tablespoons of crushed ice, milk froth, brown sugar, and optionally chocolate powder.
Brew your espresso coffee with as much water as you would like. 
Optionally add brown sugar. 
Take the brewed espresso out of the machine and put in milk froth if you would like. 
Add in crushed ice to bring out the iced flavor. 
Top the crushed ice in your espresso with milk froth or chocolate powder depending on your needs. 
Latte Macchiato
A simple, but effective recipe for best Nespresso espresso coffee machines revolves around milk. Here is a simple guide:
Prepare your capsule of simple espresso, depending on what flavor you love the best.
Completely prepare milk froth and add it in a large recipe glass once ready.
Brew your espresso coffee and optionally add sugar for taste.
Add in as much cold milk froth as you want, and you should be done with your latte macchiato. You can also mix the milk froth for a unique experience
Reasons To Get Yourself a Nespresso Machine
Here are some reasons why you would love to get yourself a Nespresso machine:
They heat up quickly
Nespresso espresso machines have some of the quickest heating times, usually around 20 to 30 seconds. The best Nespresso espresso machines can even heat up faster than that. There are even models that heat up in less than 4 seconds. 
You don't have to stand in a tall line
By having your Nespresso espresso machine, you don't have to stand in Starbucks' line all day in the morning. Wake up, brew yourself a cup of espresso in literally minutes, and you are good to start for the day.
Cheaper in the long run
Nespresso machines and their capsules may cost a bit, but they are extremely affordable in the long run. Of course, this also means that you don't have to go into a public restaurant/gathering when you can make your coffee at the comfort of your home.
Make your coffee
Coffee is that one drink that you just can't rely on anyone to mess it up. Who can you trust more than yourself? This is probably the biggest reason you might want to invest in a Nespresso machine.
Frequently Asked Questions
We have compiled a small list of some frequently asked questions from our customers. Here are some of those:
Q. Do you need to maintain your espresso machine?
A. Yes, just like any piece of electronics, the espresso machine needs to be maintained. But unlike most machines, maintenance is cleaning the machine and using it in a clean environment. 
Q. Can you reuse a pod of the X brand?
A. Yes, you can, but we would never recommend it. Using the same pod to brew a coffee twice will seriously degrade the quality and taste of the second cup of coffee. 
Q. I have an issue with my Nespresso machine. Where do I start?
A. You can either contact your seller or head over to Nespresso's website. Their 24/7 customer service is open every day of the year – even the holidays. 
Q. How many cups of espresso should I drink in a day?
A. Department of Health recommends a diet of no more than 250 to 300 mg of caffeine per day. An average Nespresso capsule contains 50 to 80 mg of caffeine. We would recommend drinking no more than 3 to 4 cups of espresso a day. 
Q. Can I make sweet/sour espresso?
A. You can add any kind of additive – be it sugar or spice – in your coffee blend after you are done preparing it in the machine. 
Q. I have another question, where do I go from here?
A. You can call Nespresso or your retailer or contact them through Amazon. 
Final Thoughts:
With all this knowledge in hand, you now have the perfect conversation to start with a fellow coffee lover. We hope that our informative guide on the best Nespresso espresso machines was able to sate your thirst for knowledge and black drink.