If you have ever dreamed about creating restaurant-quality coffee at home, then you know that you need the right quality coffee maker to do it. Coffee making is an alchemical art, consisting of twisting knobs and making changes until you get exactly what you need and have that wake-me-up liquid in your cup.
Well, the Breville BES870XL is a machine that should always stick with you if you decide to take a stab at creating your favorite coffee drinks at home. Here's what the Barista Express gives you when it is time you make your coffee.
The machine stands at 16 inches tall, 13.5 inches wide, and 12.5 deep. It's about twice the size of a compact coffee maker, but it really looks like a premium-issue machine. It has a stainless-steel chassis, a steel portafilter and handle, and a large bean hopper. It comes with several features you see on a premium coffee maker.
The Breville Barista Express delivers third wave specialty coffee at home using the 4 keys formula and is part of the Barista Series that offers all in one espresso machines with integrated grinder to go from beans to espresso in under one minute.Grind Settings : 16 precision grind settings, Tamping : Manual removable magnetic tamper,.Pressure Gauge : Extraction Feedback pressure gauge. Interface : Simple button control.
DOSE CONTROL GRINDING: Integrated precision conical burr grinder grinds on demand to deliver the right amount of freshly ground coffee directly into the portafilter for your preferred taste with any roast of bean
OPTIMAL WATER PRESSURE: Low pressure pre-infusion gradually increases pressure at the start and helps ensure all the flavors are drawn out evenly during the extraction for a balanced tasting cup
PRECISE ESPRESSO EXTRACTION: Digital temperature control (PID) delivers water at precisely the right temperature, ensuring optimal espresso extraction
MANUAL MICROFOAM MILK TEXTURING: The powerful steam wand performance allows you to hand texture microfoam milk that enhances flavor and enables creation of latte art
ESPRESSO MACHINE WITH GRIND SIZE DIAL: Simple and intuitive, giving you control over the grind size no matter what type of bean you're grinding
ESPRESSO MAKER WITH BUILT-IN COFFEE GRINDER: Innovative grinding cradle allows any at home barista to grind directly into the espresso portafilter for the perfect espresso
INCLUDED ACCESSORIES:Razor Dose Trimming Tool, 54mm Stainless Steel Portafilter, 1 & 2 cup Single & Dual Wall Filter Baskets, Coffee Scoop, Integrated Tamper, Stainless Steel Milk Jug, Cleaning Disc, Tablets, Brush Tool & Allen Key, Water Filter & Holder
CAPACITY & SETTINGS: 1/2 lb Bean Hopper; 67 oz Water Tank; Single or double shots; Adjustable Grind Amount and Manual Override
WARRANTY: 1 Year Limited Product Warranty; Power: 1600 Watts; Voltage: 120 Volts
Breville BES870XL Features
Semi-Automatic
The main thing that either puts people off this coffee maker or endears them to it forever is the fact that you can control the outcome. The Breville BES870XL is completely semi-automatic. This means that it has a learning curve, and you need to do some of the work yourself. You need to learn about grinding, dosing, tamping, and more because you are going to be brewing the shot.
Automatic coffee machines are focused on popping in a pod, pressing a button, and then releasing a perfectly brewed drink after a few minutes. Sure, it's much easier, but you have no control over the outcome, meaning that you need to keep buying pods and packets if you want a specific type of coffee for different mornings and moods.
There's a learning curve, but you can get an idea of what a semi-automatic coffee machine can do for you. It's much better than an automatic coffee maker, that's for sure, especially if you like to have total control over your brew and what goes in it.
Under Pressure With The Control Panel
The Breville BES870XL Barista Express gives you a large pressure gauge that shows you exactly how much pressure is going through the internal pump, which means that the hot water is flowing through the coffee grounds in a good range. If there's too little pressure going through the grounds, you get weak coffee that is lacking in flavor. If you have too much, you are going to get a bitter tasting coffee.
Being able to monitor the use of hot water and the pressure that it is exerting when it flows through your coffee beans helps you analyze the performance of the machine and the taste of your coffee.
You can also change the power, filter size, and can set the amount of coffee grounds that the grounder can produce. You've got total control over this coffee grinder, and that's not even the tip of the iceberg.
Just Pull Back!
The Breville BES870XL Barista Express is fairly easy to use, and you just need to follow the instructions inside the detailed manual. While it might seem overwhelming to have everything about the coffee making process under your direct control, you can set and forget a lot of things, and just focus on filling the bean hopper, filling the basket, and grinding your coffee.
By using the included pressurized baskets, you don't need to perfectly dial in the shot but can still tinker around with the settings. The non-pressurized baskets allow you to control the shot yourself, giving you amazing quality espresso.
There's enough control to make good coffee out of your botched shots, but the machine is semi-automatic, so you need to learn to use everything yourself and help the Barista along. Still, after a few tries, you should be able to make your favorite cup of coffee without any difficulty.
Milk and Water
The Breville BES870XL comes with a hot water nozzle so you can add more hot water directly to your cup, and the steam boiler heats up in just 20 seconds to give you perfectly steamed milk. You'll be able to get the perfect froth on your coffee in no time at all. Plus, the boiler can run for a very long time, unlike some of the competitors which tend to burn out.
Very Easy To Use
The first thing to look at is the included coffee grinder, which gives you access to the 16 grind settings that can get you your perfect shot. You can use your fresh coffee beans and get the rich and natural taste of freshly brewed coffee. Everything about making the coffee is just easy, and it's great fun climbing up the learning curve as you try more and more advanced tricks.
Pros and Cons of Breville BES870XL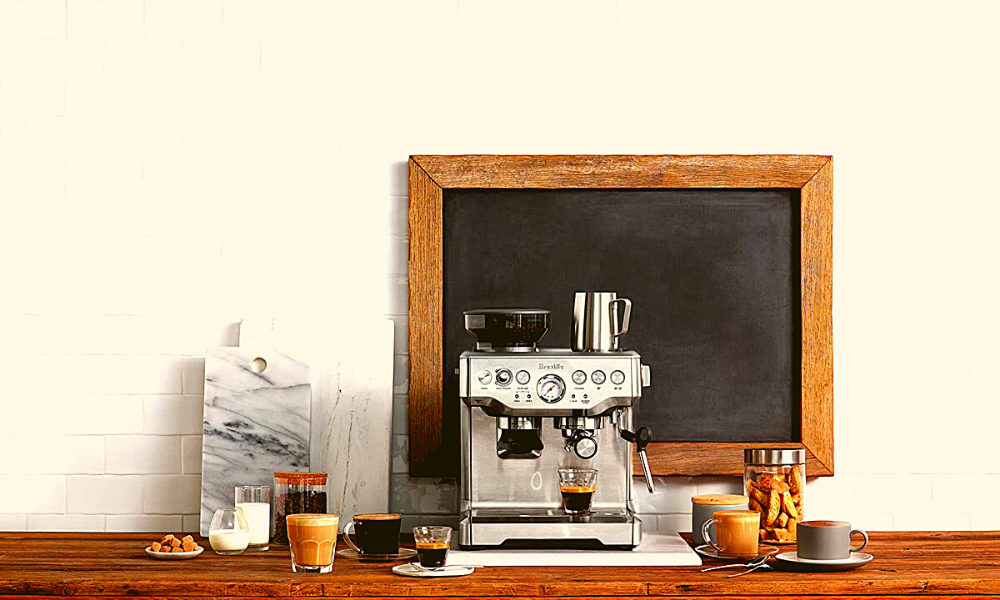 Pros Of The Breville BES870XL
The Barista Express has pros and cons that make it different from all the other espresso machines out there. Here are just a few of them.
Professional Design
The stainless steel coffee machine not only looks great but also comes with several accessories that you would typically find in a more professional barista's kitchen. These include dose control grinding with the inbuilt grinder, optimal water pressure that you can monitor on the pressure gauge, a digital temperature control, and a powerful steam wand.
Good Quality Coffee With You In Control!
With all of the controls and things to monitor about this machine, it can be tough to forget that you are in total control of the coffee that comes out. You might want an espresso, a cold brew, or a perfectly designed latte with frothed milk.
Guess what, you can make it with this machine! It does have a learning curve, but soon you are going to be able to make custom coffee that is just as good if not better than the restaurant quality ones.
Cons Of The Breville BES870XL
There Is A Steep Learning Curve
This machine is not for the faint of heart, and certainly is not a press button machine that is going to do all the work for you. You need to read the manual included with the coffee maker, understand the manual, and then attempt to make coffee using the pressurized barrels and learning the machine piece by piece.
You need to make a lot of rough cups of coffee before you get your hands on making some really good cups, which leads directly into the second point.
It Takes Work
You won't be able to program the machine the night before and have it make some good coffee while you sleep. Instead, you need to get up and start the coffee machine every single morning. While you can eventually 'set and forget' a few things and make the process easier, at no point is it going to become automatic.
If that sounds like something you are interested in, then the Breville Barista Express might be the coffee maker you want to buy. If not, then you may need to look somewhere else for your coffee maker.
Cleaning the Breville BES870XL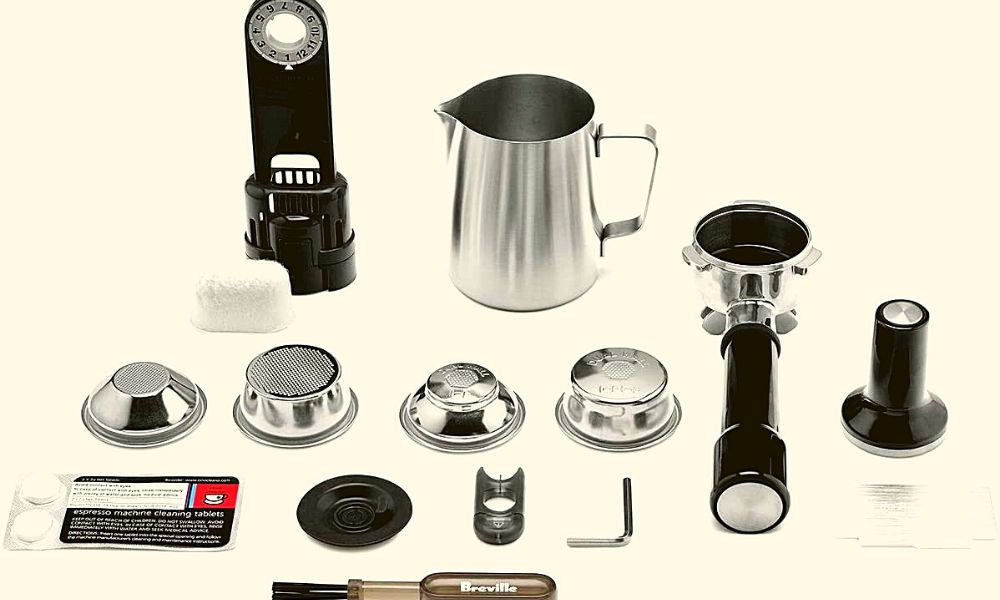 The Barista Express is actually pretty easy to clean, with several smaller features that help to make the cleaning process much easier for most people. For example, instead of digging around to get into the deepest parts of the machine, you can remove the bean hopper with a few twists, and the same goes for the water filter and water tank.
It just takes a few wrist movements and then the items are open and ready for you to clean. Then you just throw them all back in after they are cleaned. Additionally, while it is a bit hard to see, the Breville BES870XL Barista Express has a clean me light built into it, so you won't need to worry about timing your cleaning times. Instead, watch the light and clean when necessary. There's even a small notification that tells you when to clean the tray of all of its sludge.
Final Thoughts Of Breville BES870XL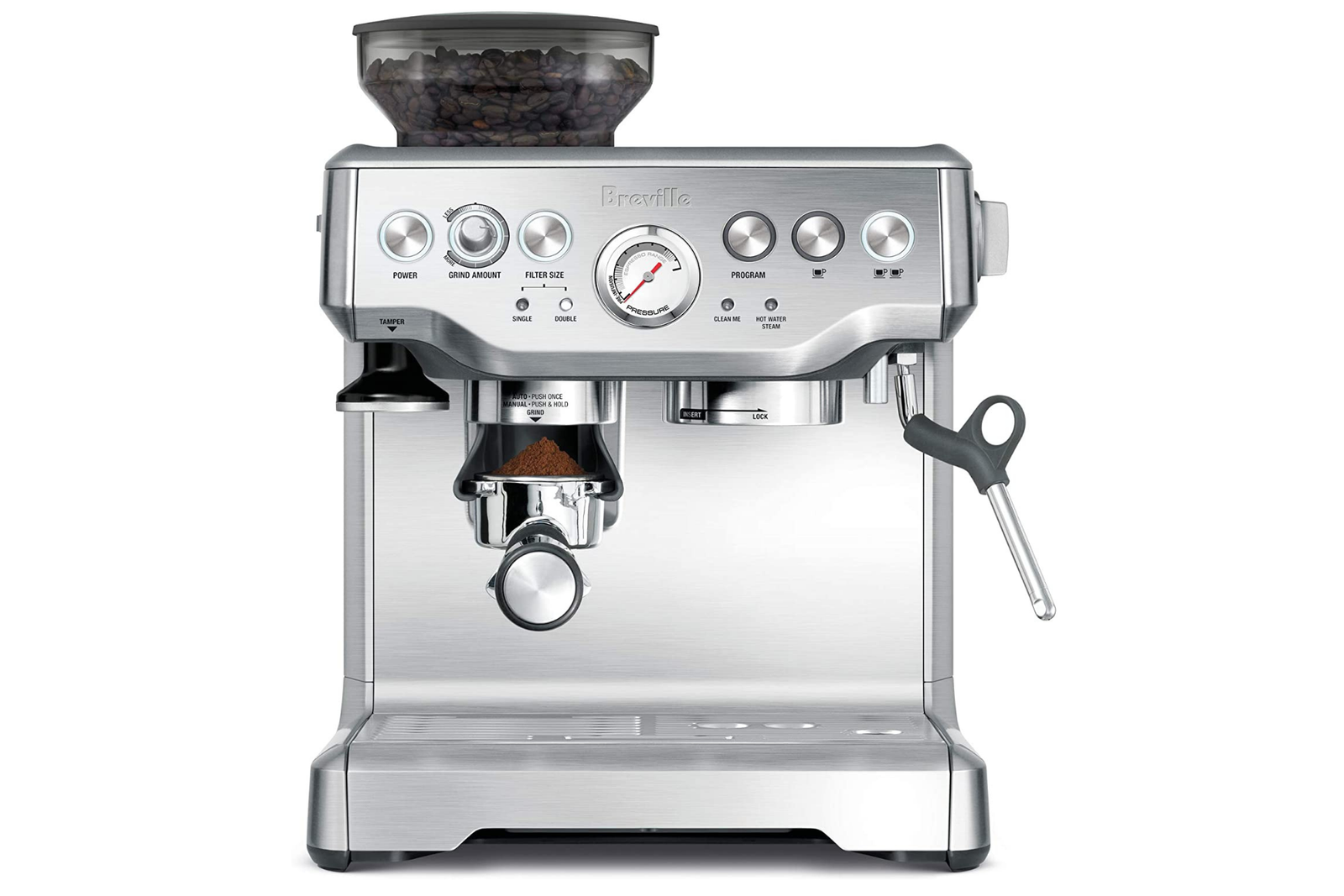 The Breville BES870XL is the type of machine that can replicate the finest coffee tastes in the world. If you are sick of spending money on restaurants and coffee houses to find your perfect brew, then this is the coffee maker for you. There's a lot to keep both the newcomer to the coffee grinding world and the advanced grinder invested in the coffee maker.
While the coffee maker is a bit pricey, there's still plenty of reasons to look past that and purchase this item. Having total control over everything you brew is nice, and you are able to create your own personalized coffee at the touch of a button. Plus, there's a lot of utility in this maker once you get the learning curve down.
All in all, it is a good coffee maker that is a good jumping-off point if you want to brew your own morning pick me up. It can take a bit of time to learn the learning curve, but after a while, everything should come as if it was second nature all along!