Everyone seems to have a different level of caffeine they want for the morning. You might wake up fired up and want to grab a cappuccino. A Chai Latte might be your desire for a lighter drink, and other times you might just need an espresso to get through the day.
You don't need to go to a Starbucks or your local coffee shop for the wide variety of coffee drinks available, and instead, you can use the Ninja Hot and Cold Brewed System. This coffee maker wants to give you the ability to make and drink your coffee without the need to leave your kitchen, and we've reviewed it to see if it can do that. Spoiler alert, it can!
The Ninja Brewed system is the combination of various coffee-making machines that not only give you a perfect coffee brewing system but also make sure that you only have one machine clogging up your kitchen and not a dozen different coffee makers. The machine has six brew sizes, a fold-away milk frother, five brew styles, and of course the ability to brew hot and cold coffee.
It also comes with two permanent filters that can brew both coffee and tea separately. The system recognizes which basket to use to prevent cross-contamination, so if you have to deal with the ongoing coffee vs tea debate, this system can settle it once and for all!
COLD BREW: Brew tea or coffee at a lower temperature over ice for smooth, naturally sweet flavor in 10 to 15 minutes..BPA Free : Yes. Cord Length : 2.5 ft
SEPARATE BASKETS: Keep flavors separate with different baskets for brewing coffee and loose or bagged tea.
SMART BASKET RECOGNITION: System recognizes what's in the basket and automatically displays coffee or tea options.
6 BREW SIZES: Brew anything from a single cup to an XL cup, travel size, XL travel size, and half or full carafe with your coffee maker.
5 BREW STYLES: Choose your style with Classic, Rich, Over Ice, Cold Brew, or Specialty.
TEA TYPES: Select your tea type, and the system will know the right temperature and number of steps needed.
KEEPS IT HOT: The 50 oz. (10-Cup) Thermal Carafe is double-walled to keep your coffee and tea hot for up to 2 hours. No warming plate required.
FOLD-AWAY FROTHER: Turn hot or cold milk into silky-smooth froth in seconds with the Hot and Cold Frother. Flips into the machine when not in use.
DISHWASHER SAFE PARTS: The water reservoir, frother whisk, brew-through lid, coffee and tea permanent filters, removable filter holders, flip-top lid, and scoop are all top-rack dishwasher safe. Thermal carafe should be hand-washed only.
WHAT'S INCLUDED: Ninja Hot & Cold Brew System, 50 oz. (10-Cup) Double-Walled Thermal Carafe, Separate Coffee and Tea Brew Baskets, Coffee Permanent Filter, Tea Permanent Filter, Removable Water Reservoir, Ninja Smart Scoop, & Fold-Away Frother.
Ninja Hot and Cold Brewed System Features
 The two baskets that are for coffee and tea are both color-coded and are completely separate from one another. They each have their own filters, and the internal computer sees which basket you are using and can show the associated brew options on the screen. This means that you are going to get the perfect brewed cup of coffee, every single time.
The Ninja Hot and Cold Brewed System can give you six size choices. Are you serving multiple people in smaller mugs or do you have an extra-large one for yourself? You are able to select your brew size right on the screen and watch your cup fill up every single time.
Figure Out Your Brew Style
 There's nothing more frustrating than brewing coffee over ice and then drinking what amounts to poorly coffee flavored water. Steep time and temperature are very important to consider, especially if you are depending on the flavor to get yourself awake in the morning! The Ninja system provides all of these different settings to make sure that you'll have the correct level of coffee no matter what.
The Classic brew: The weakest in terms of strength, but does pretty well in terms of flavor
The Rich Brew: A strong brew that isn't bitter
Over Ice: This brew requires no ice, but it still makes a strong cup of coffee
Cold Brew: While the feature doesn't take as long as a traditional cold brew, it still gives you a smooth deep flavor
Specialty Brew: This brew is a ninja signature setting, and gives you a perfect blend to mix lattes and cappuccinos
You can select all of these brews from the screen and then let the machine do all the work for you. If you happen to be drinking tea, then you can easily make the five types of tea with the press of a button. Whether you want oolong, green, black, herbal, or white, you can have it in no time!
The Extendable Frothing Arm
 The Ninja System has a retractable frothing arm that can extend when you need it and retract when you don't. It doesn't heat your milk up for you, but the froth it does provide is cafe quality. If you want a hot froth, heating the milk up first is recommended. You can get your froth on and then put the arm back in place when you no longer need it.
A Few Other Features
Of course, this machine comes with a few other features that make it worth your while. One of the best is the electronic selection screen, which gives you the ability to tap a few times on the screen and then create your perfect cup of coffee or tea. Instead of having to worry about knobs or buttons that get weaker with every single use, you just have to maintain the screen.
It also comes with a built-in coffee scoop, so you don't have to rummage around in your kitchen drawer every single time you want a cup of joe. Instead, you can use the scoop, which also has little marks that let you gather the right amount of coffee for any sized cup. It's a very unique tool that stays tucked away inside the machine when you are not using it.
Perhaps the most useful feature in the Ninja system is the programmable brewing feature. Instead of having to wake up extra early just to get a head start on your coffee, you can set your coffee up the night before.
Just program the time that you need into the machine, and your coffee should start brewing when you need it. Who doesn't like that? No more struggling or trying to get your coffee done before the alarm goes off, instead, you get a perfectly brewed cup on time! Every time!
A Quick Cleaning Notification
No one likes it when they have to clean out the coffee maker, but it does build up residue with every single use. This can not only slow down the performance of your machine but can also ruin the taste of your coffee!
Unlike other coffee makers, which surprise you when the maker needs to be cleaned with some bad tasting coffee, the buildup is detected by the Ninja, and you are alerted with a tiny little button on the display.
Pros and Cons of Ninja Hot and Cold Brewed System
This machine has a lot of pros and cons that can certainly influence your purchasing decision. Here are all of those pros and cons, listed out, so you can analyze them and see how they match up against your own personal needs.
Pros Of The Ninja System
The first major pro in our eyes is the compatibility with tea. Instead of having to use a tea kettle and a coffee maker, the Ninja uses both. The smart basket recognition recognizes the basket that you place inside of it, and then the screen displays your coffee or drinks options for your selection.
It is also compatible with any brand of coffee or bagged tea, so none of your favorite beverages are left out. This is also great for people who have both coffee and tea drinkers in their household.
It also comes with six brew sizes and five brew styles. Whether you want a single cup of rich coffee or a travel sized cold brew to start your day, the Ninja system can help you make it in the morning.
Plus, it only uses ground coffee and not those coffee pods, reducing plastic waste. If you care about the environment while you take in a good cup of coffee, then this is the best system for you.
Cons Of The Ninja System
One of the only cons of the Ninja System is that it does not have a warmer, and there's a hole in the filling lid that lets the heat of the coffee escape. This means that you need to drink your hot coffee fairly quickly before it gets cold.
You can easily create your own warming cap to hold in the heat out of countless products around the house, so it isn't the end of the world.
Just be aware of the small defect before you order the Ninja system and make plans to create your own heater. That's about the only con that people are reporting, which is a testament to how well made this system is!
Maintenance of the Ninja System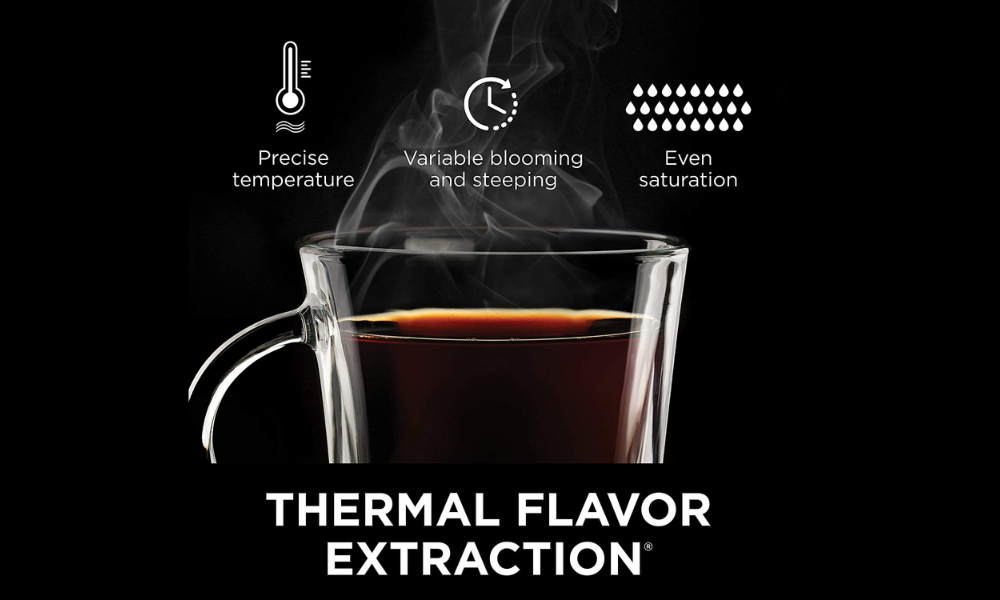 Like all coffee makers, this one gets dirty and filthy with every single use. Unlike other coffee makers, this one tells you when it starts to get really dirty. Instead of having to figure things out yourself or get reminded that your system is dirty whenever you drink bad-tasting coffee during the morning, you can get a notification.
It sits on the screen and remains there until you do a deep clean of the machine. Other than your standard deep cleaning tips, you don't need to do much else to keep this coffee machine fixed up and ready to go!
Clean the filter, fill the reservoir with distilled white vinegar and water, and scrub any hard-to-reach places with a toothbrush. You should have it clean and ready to go after that.
Final Thoughts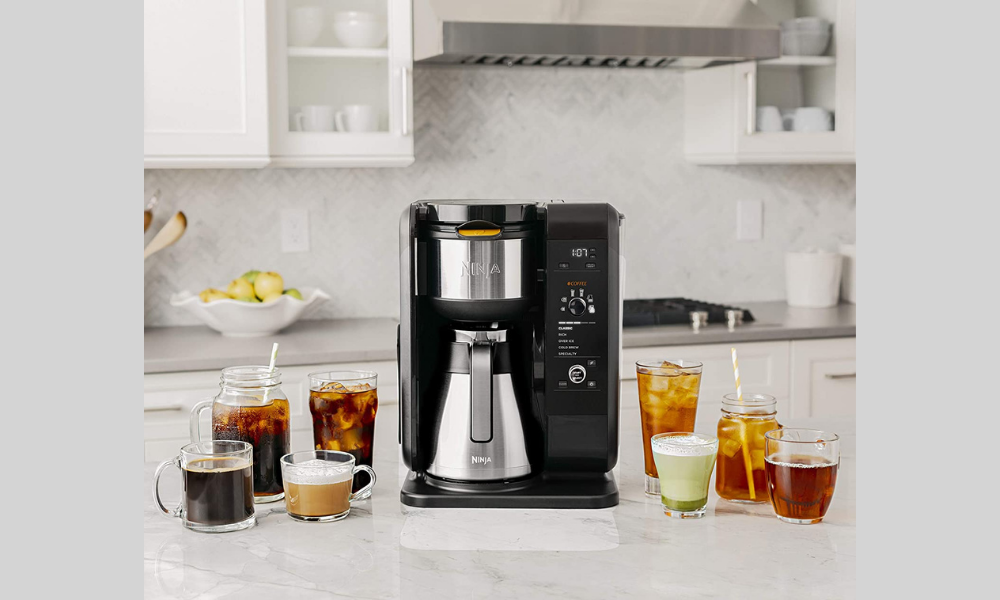 Above all, the Ninja Hot and Cold Brewed System is one that can always stick with you and have your back whenever you need a cup of coffee in the morning! If you want tea, hot coffee, or cold brew, this machine can make it with just a few taps of a button!