Pour over drip coffee makers have been in use over a hundred years ago, and are still being used in making or brewing coffee.
Loved by the long-time coffee fanatics and those who are just getting addicted to the stud, a pour over coffee maker offers you robust and rich taste that is noticeably better than the cup of joe you'd get from drip machines.
With its slow process— making one cup of brewed coffee at a time— it is definitely a lot trickier than just pressing the brew button. Plus, you need to get the temperature tight to make the coffee "bloom". Then the art of pouring the water in a circular motion.
But, let me tell you this:
The rich, deep, and flavorful result you get in the cup is totally worth it. You will need the best pour over coffee maker to make it, of course. So, we looked at the top best pour over coffee maker the market has to offer!
Top 10 Best Pour Over Coffee Makers
What is a Pour Over Coffee?
Pour over, or once known as filtered, is by far the easiest way to make a cup of coffee since all you ever need is a cone-shaped paper filter, a plastic funnel, coarsely ground coffee, and a mug.
Once set up, it is simply a case of pouring nearly-boiled water slowly in a circular motion over the coffee grounds. The water will drain through the coffee and filter and into the mug or carafe.
For this, pour over is also known as the drip coffee or filter coffee, although the terms also include the batch brewers.
However, what sets pour over coffee apart from the batch brewers is that it's made by hand pouring the water over your coffee. Thus, you may hear it called manual brewing or hand brewing.
The pour over technique has been commonly used in Europe since the 90s and elsewhere for much longer, however, was rediscovered by the specialty coffee movement in recent years.
Perks of a Pour Over Coffee
If you have ever met someone who drinks pour over coffee regularly, then you will notice that they are probably a bit obsessed with the brewing method.
This is because the brew is rather unique and requires a bit more finesse and practice than other brewing methods. Thus, a quality finished pour over coffee is nothing to scoff at.
Pour over accentuates the intricate flavors and aromas of the coffee when compared to the other brewing methods. This makes it an excellent choice for the single-origin coffees because it allows the aromas and flavors to shine.
It also offers a consistent, clear, and clean coffee. This is because the water is allowed to extract the coffee fragrances and oils in its own consistent time and pressure.
The filter then catches a lot of oils, which results in a clean cup of coffee. And since this is an infusion method, it's a bit more efficient at extracting the coffee soluble than the immersion techniques such as the French press.
The immersion methods cause the water to become saturated, whereas the pour overs use a constant supply of fresh water.
Read More:
How To Make A Pour Over Coffee?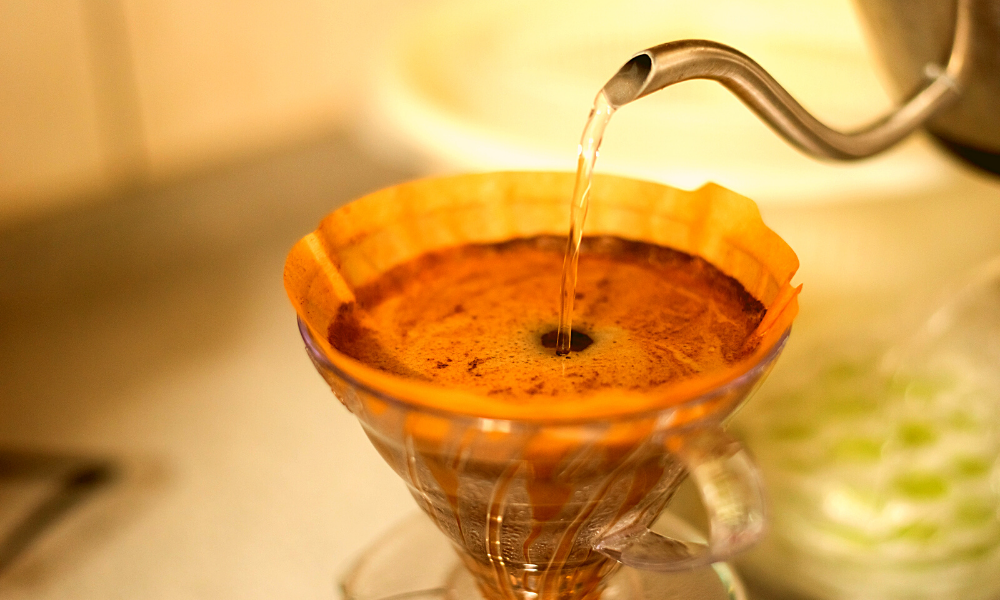 The Works
First of all, you will need to gather all the needed supplies and equipment. The key to a tasty and successful pour over is precision, so you do not want to skimp on your kit.
For a pour over coffee, you will need:
The best pour over coffee maker
Gooseneck Kettle (electric or stovetop)
Coffee grinders (freshness matters)
Whole coffee beans
A tumbler, cup or carafe
Kitchen scale
Once you've gathered everything you need, the process goes something like this:
Grinding: First, you need to get your whole coffee beans ground to medium-coarse or medium-fine.
Filter Prepping: This one is optional. You only need to pre-wet the paper filters.
Water Heating: Go for anywhere the range of 195 – 210 degrees Fahrenheit.
Setting Up: Place a pour over on top of your carafe or cup. Then put it on the kitchen scale. Put in the coffee grounds and scale.
Bloom The Coffee Grounds: Evenly wet the grounds, prepping them for extraction. Wait for at least 30 seconds.
Water Pouring: Slowly and gently, pour the hot water in a circular motion from the outer edge to the center. Check the scale to measure how much water you're using.
Enjoy!
The perks of a pour over are that you get to decide to change up just about every step in the brewing process. Every little tweak can have an impact on your final coffee brew.
This way, you have complete control over the entire process. Once perfected, it will feel like you have created something specially crafted for your palette.
The Brewing Technique
When you first start to brew coffee with the pour over method, you might want to avoid watching too many videos of the pouring techniques.
It can quickly get overwhelming. So, start simple and be consistent in how you pour and learning the more advanced techniques of blooming, agitation, and pulse pouring in order to achieve an even extraction. Read Here: Best Espresso Machines Under $1000
Most people pour in concentric circles, helping you maintain a consistent flow of water. From there, you can work your way up to the more detailed methods or break the rules when you are familiar with the basics to find your unique pouring technique that works for your taste.
1) The Bloom
This is the quick bubbling up of the water which happens with the first pour. Blooming is caused by the degassing of carbon dioxide which is built up in the roasting process. Fresh coffee and light roasts are likely to produce a bigger bloom since they contain more gases.
The carbon dioxide can prevent an even extraction since it repels water with disturbed grounds and can sit at various heights. Thus, you need to first let the gas escapes to attain a consistent extraction.
Pour twice the measure of coffee in water over the grounds. Then wait for 30 – 45 seconds until the bloom finished and the grounds settled.
2) Continuous Pouring VS. Pulse Pouring
Pulse pouring simple means using multiple pours of specific amounts of water. Experiment with the volume of water as well as the number of pours. Pulse pouring helps prevents channeling or the grounds rising up on the side of the filter.
It gently disrupts the grounds, causing them to move and creating an even contact with water. Meanwhile, continuous pouring is when you pour water at a constant flow rate without stopping.
Continuous pouring keeps the saturation and flow as even as possible while pulse pouring is varied intentionally.
3) Agitation
This is just the mild disturbance of the coffee grounds during brewing. There are various ways to agitate the coffee including swirling and stirring the brew.
Agitation helps disperse coffee grounds which can be left high and dry on the filter via channeling. Also, it helps break up any dry clumps inside the coffee bed. Agitation aids even extraction by ensuring that all grounds are saturated.
The Taste
The common description for pour over coffee is "crisp" and "clean". The delicate brewing process on paper filters makes for an intricate light cup, bringing out the complexities of your favorite coffee bean varieties.
In general, pour over coffees tend to have lighter taste since the lack the oils gathered from other brewing methods. Plus, there's no added pressurization for a more intense extraction.
So, if you're looking to get the full-bodied brews with a heavy mouthfeel, then you're in the wrong place. However, if you're looking for the lighter coffees without grittiness, then you're going to want to get your hands on the best pour over coffee maker available.
Pour Over Compared To Other Brewing Methods
Oftentimes, questions of how pour over coffee fare against other at-home brewing tools are asked. So, here's a quick summary so you can determine if making the switch to pour over is the right move for you!
Pour Over Vs. Drip
Drip machines are the traditional American way of brewing a cup of coffee. In fact, if you walk into any home across the American states, chances are you will spot a drip coffee maker loyally stationed on the kitchen counter.
The perks of drip brewers are that they're easy, fast, and super convenient. Also, you get to brew enough coffee for your whole household— or for a whole party, if needed— without breaking a sweat.
However, the ease-of-use meant you lose some quality control. Pour overs, on the other hand, allow you to have complete reign over your brewing.
You get to control the saturation of the coffee ground, the water temperature, the brewing speed and so much more. With the standard drip brewer, you can only change the brew volume at the most.
Pour Over vs. French Press
French Press, like the best pour over coffee makers, are manual tools. Thus, they both need a bit of practice and time to perfect. Although most, people think that the French Press is much easier to master.
Because of these similarities, most coffee enthusiast dispute over which is the better brewer in terms of taste preference. As you notice from our list of the best pour over coffee makers, most machines need paper filters.
These filters are known to absorb heavier oils of the brew, creating a lighter mouthfeel. In addition, it helps prevent grit from getting in your coffee.
Meanwhile, most French presses feature built-in metal filters, so their brew usually has heavier bodies. In addition, with pour overs, you use finer grounds than with French Press.
Thus, the difference in the grind size affects what and how the flavors are extracted.
Pour Over Vs. AeroPress
Both coffee makers use paper filters. AeroPress, however, uses pressure instead of gravity to brew. These brews will offer a similar mouthfeel; however, their strength and flavor will differ. Pour overs provide more complex profiles but AeroPress offers intense flavors.
If you want a coffee with a nice, concentrated flavor and is straightforward to use, then AeroPress is your best choice. However, if you want to master and perfect your brew, then the Pour over is your best bet.
Selecting The Best Pour Over Coffee Maker?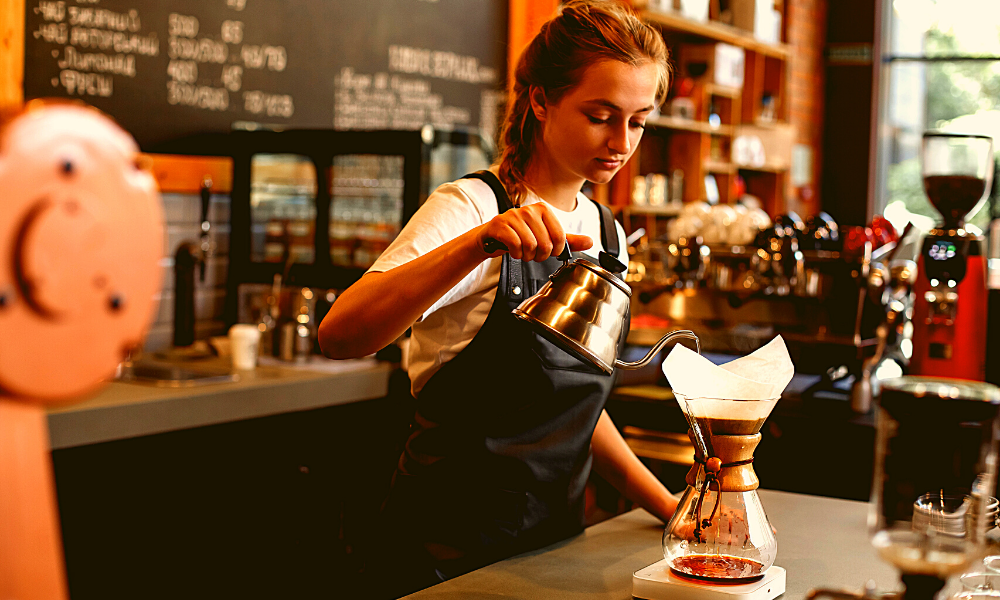 1) Flat Bottom VS. Cone-Shaped Drippers
Some individuals claim that it is easier to brew with the flat-bottomed drippers compared to the cone-shaped ones, mainly because there is some flow restriction going on.
However, in our opinion, beginners are best suited with the cone-shaped brewers since they're more likely to brew darker roasted coffee. Both shapes have their own pros and cons.
The cone-shaped drippers can provide plenty of deep flavor and profile. Meanwhile, the flat-bottom drippers offer a neutral, clear, and balanced flavor, providing high-end light roasted coffee.
Which dripper to choose will prefer on your coffee taste cravings and the beans that you currently have.
In general, coffee beans that need extra oomph will need the cone-shaped drippers since it can increase acidity and provide a complex aftertaste.
If you have premium, freshly ground coffee beans, then you enjoy light-taste with the flat-bottomed drippers.
2) Material
Pour over coffee makers are usually made out of the following 4 material. Each has its own pros and cons, so you need to keep these in mind before making a decision.
This is the most popular material in terms of pour over coffee brewing. It will not add any additional unwanted taste to the coffee since ceramic is chemically inert.
In addition, ceramic also acts as a great insulator, keeping your coffee warmer. Not only that, but it is also heavier and generally thicker than glass, so they are quite sturdier and more durable.
Speaking of glass, these types of pour over coffee maker is another favorite. Like ceramic, glass is also chemically inert and will not add any unwanted taste or flavor.
However, for best results in using glass pour overs, you need to preheat it in order to keep the blooming coffee grounds at a suitable temperature. Plus, glass looks really great in any countertop, but it is not for the clumsy home barista.
This can be a great alternative to ceramic coffee drippers as it weighs less, but highly durable. Now, if you plan on bringing a pour over coffee to your travels and road trips, plastic pour over coffee makers should be your choice.
Although plastic has been seen as inferior compared to other materials, in recent years, coffee experts started recommending plastic drippers since they do not steal any heat from its brew bed.
Metal pour overs, especially copper, is a great option if you are looking for lightweight and durable coffee dripper. Take note, however, that metals such as stainless steel do not hold heat well.
Since it does not insulate well, it also affects how well the extraction goes because your coffee grounds will lose their temperature quickly.
3) Filter
Some models come with a built-in mesh type filter. IF you ask any pour over enthusiast, you'll know that they don't make the best pour over coffee since they allow a lot of oils to enter your cup.
Thus, they tend to produce coffee with less clarity and acidity— which is the most distinguishing trades of a premium cup of pour over coffee.
Paper filters are still the best in creating the excellent qualities and taste of a pour over coffee. They are easy to use and disposed of after use, so you don't have to worry about cleaning.
Thus, they can be wasteful and the cost of constantly purchasing new paper filters is not a great idea for budget-conscious and eco-friendly coffee lovers.
In addition, paper filters come in white or brown color. The unbleached, brown paper filters can make coffee taste more like paper. However, if you're one who doesn't mind the difference, then unbleached paper filters are cheaper and generally eco-friendly since they need less processing.
Now, if you don't like the lightness of the coffee brewed with paper filters and want a full-bodied coffee, then you can go with the permanent filters usually made of metal. They produce less waste and most filters are generally easy to clean with some dishwasher-safe.
4) Skill Level
You must understand that not all the best pour over coffee makers are made equally in terms of your skill level. Most models are quite easy enough for the beginners to use, while others need a bit more effort.
Before buying, take the time to honestly assess your skill level. It's also important to work out how much effort you're willing to make in order to get the right pour over brew.
Size Matters
There is some pour over coffee makers only provide a single serving while others can make multiple cups. It is crucial to consider your coffee needs, before buying a pour over coffee maker. This way, you can make sure that you get a model that meets your requirements and needs.
Individuals who live alone might be satisfied with just the single serving pour over coffee maker. However, if you're one to entertain visitors and guests, then you will need something considerably larger. However, keep in mind, that larger pour over coffee makers can take a while to finish brewing.
If portability is an important factor for you, then you need something that can easily fit in your bag and does not need any special tools in order to brew a good cup of coffee.
You can go with the stainless steel or plastic pour over coffee makers. Glass and ceramic pour over coffee makers or the other hand are way too fragile for the constant traveling and only suitable for home use.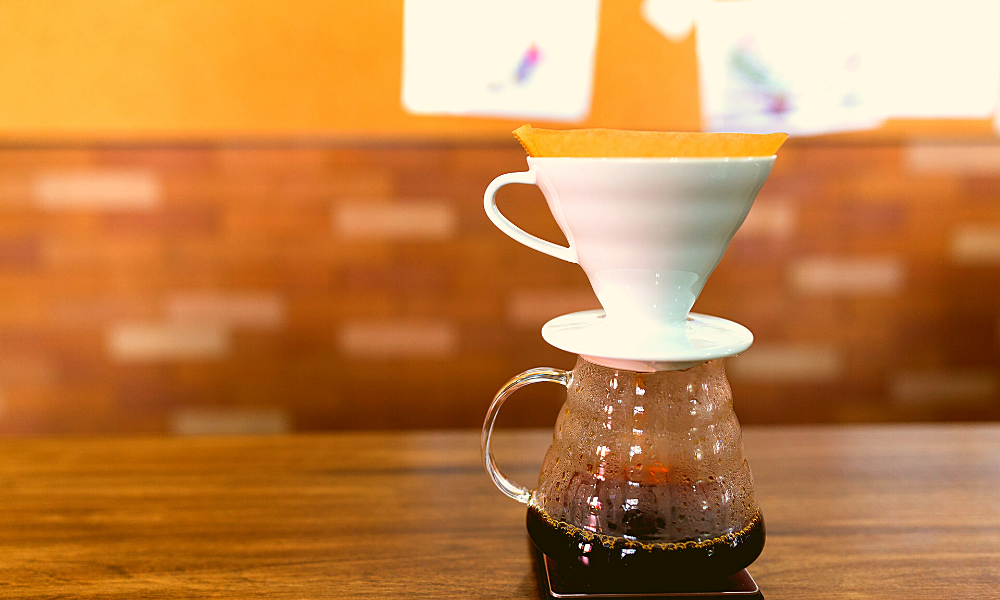 Frequently Asked Questions
Q: Why is a pour over slow?
A: The finer the grind size, then the faster the extraction since there is a high amount of surface area. However, since brewing coffee in a pour over is a gravity fed process, it is recommended to use the coarse grind size that takes longer because of the less surface area, extracting the flavors and fragrances slowly.
Q: How much coffee should I use in a pour over?
A: This will depend on the amount of coffee you are wanting to brew or the device you have. Most coffee experts will recommend a ratio instead of giving a volumetric measurement.
The most recommended water to coffee ratio lies between 17:1 – 15:1, to allow lots of room for experimentation.
Q: How do you make a pour over coffee stronger?
A: You can make a pour over coffee stronger in 2 ways: try a single origin coffee from a different region with a more powerful and stronger flavor or you can increase the brew ratio with more coffee grounds but using the same amount of water.
Q: What are the challenges of brewing pour over coffee?
Manual methods are prone to bad pouring techniques and human error. For instance, all infusion methods run the risk of channeling. This is where the stream of water finds an easy route around the coffee ground.
This usually happens when the grounds are unevenly distributed or when there are clumps of coffee, which means that some of the coffee does not get extracted.
Final Thoughts
There is a reason why pour over is the preferred brewing method at the high-end cafes. It is a simple way to make coffee with intricate taste and flavors that you won't get from a machine.
And for the best results, you need to start with the best pour over coffee makers. WE hope that you find the best pour over coffee maker from our above list to start your journey into the relaxing and flavorful world of pour over brewing.
You will soon discover your deep and inner Zen barista with this old-fashioned coffee brewing method, along with a new way of slowing down to enjoy your cup of great-tasting coffee!