There's nothing more convenient than the best single serve coffee makers.
Pop in a pod, push some buttons and then a minute or two later, you can smell the heavenly aroma of freshly brewed coffee right into the mug of your choice.
So, it's no wonder why the best single serve coffee makers are one of the most popular brewing methods across the world.
But with the hundreds of single serve coffee markets available on the market today, how can you find the best one?
Well, we already did the hard work for you and listed the top 10 best single serve coffee makers.
Top 10 Best Single Serve Coffee Makers Reviews
Single Serve Coffee Maker vs Regular Coffee Make
With the best single serve coffee makers, you will get exactly what their name promises— brewing just enough coffee for one person.
Meanwhile, the regular coffee makers can vary on the amount of coffee they can brew.
However, there are some exceptions to this with some machines offering combinations of the single serve convenience along with the option of making full carafe of drip coffee.
How Single Serve Coffee Makers Work?
To brew a cup of coffee on a single serve coffee maker, the user needs to fill the reservoir with water. After that, you will only need to pop a coffee pod in and brew.
Here is where the magic begins. You'll hear the wurrr noise as the coffee maker starts to push water through the machine. In most machines, this pump consists of a small motor with an uneven roller on it.
The uneven roller causes the flexible rube to move in a pumping action and sucking water through. For most coffee makers, however, there are no pumps or moving parts. They use a check valve which allows water flowing in one direction.
The water will flow through the check valve because of gravity to the heater. Then the heater will heat the water and creates a difference in temperature between the reservoir and the heated water.
Such differential causes flow from the water reservoir to the heater with the check valve keeping the water moving in a single direction. The principle allows most coffee makers to operate with tubing and a heater.
The next step of the process is the heating element.
More often, coffee makers feature a coiled copper tubing that gets heated, increasing the surface area of the water that is in contact with the heated metal and speeding up the process.
However, other coffee makers use heated reservoirs, the most common is the coiled heated tubing. The heat is generated via electrical resistance. The current tries to flow through the metal that presents significant resistance to the energy flow.
These heaters are usually 1,500 watts and can bring the water to 185 degrees Fahrenheit. The resistance then transforms the electrical energy into heat energy and bringing the water to the optimum temperature.
Now that the water has been pumped and heated to the top of the machine, it is time for the final steps. At the end of the tube, there's a narrow, hose-like nozzle that increases the pressure of the water.
This high-pressure water is pump in and through the pod and exiting through the small hole poked in the bottom when you placed it into the coffee maker.
This pressurization of the water guarantees that the flavor of the whole pod is used, and that water made it all the way through the coffee capsule.
After that, it passes through a final layer of filter paper which keeps your cup of coffee from being full of grounds and finally into your mug for you to enjoy.
Read More:
Advantages of The Best Single Serve Coffee Makers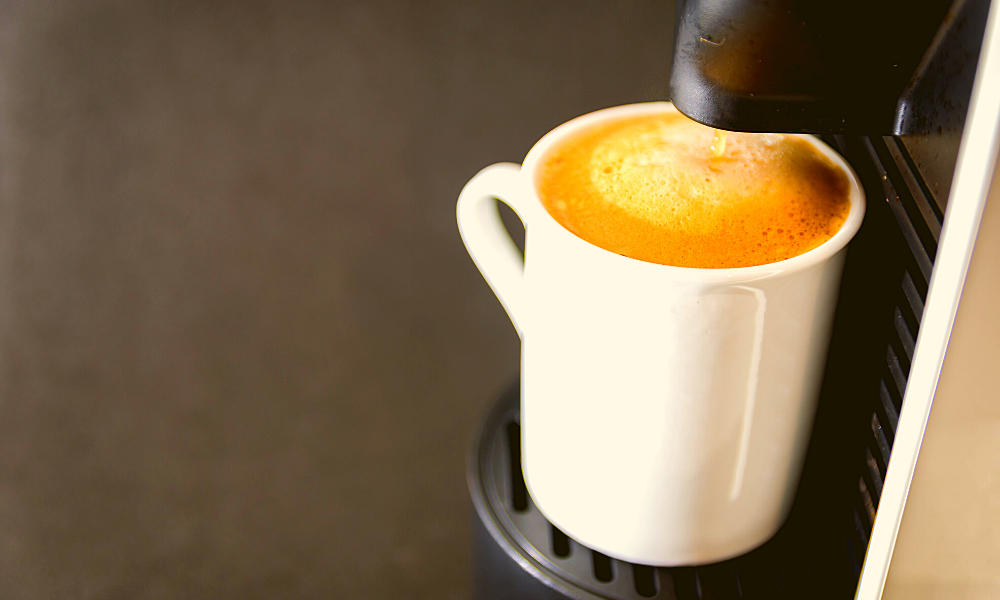 No Waste
On average, you're wasting a cup of coffee by not drinking the total amount that you brew. This is not going to happen with the best single serve coffee makers.
You're inserting a pod to create a specific amount of coffee. Then you choose the desired brew size.
So, for someone who lives along, single serve coffee makers are a great option and helps save money since it allows you to brew the exact right amount of coffee.
Convenience
Single serve coffee makers offer the most convenient way to brew a cup of coffee. You only need to insert your favorite coffee pod or refilling there usable filter that the machine support then presses the brew button.
In just a few minutes you'll have a coffee to enjoy.
Easy Cleaning and Management
Most manufacturers of the best single serve coffee makers offer advanced descaling features that allow you to conveniently and easily clean the machine. In addition, most features have a drip tray that catches spills and coffee drops.
Compact and Portability
Since they only cater for a single serving, these machines are generally compact and portable. You don't have to keep them in the same place and allows you to take it with your travels.
Consistency and Versatility
AS long as you're using the same coffee pods or K-cups, you're going to have the same cup of coffee every time.
In addition, most single serve coffee makers offer versatility in the beverages you can make. You can go with hot chocos, teas with other models allowing you to make your own lattes and cappuccinos.
How To Pick The Best Single Serve Coffee Makers
1) Electric vs Gravity-Powered
Single serve coffee makers can be broadly divided into 2 categories— the gravity-powered machines and the electric options.
The former allows for air pressure or time to percolate your ground coffee and aid extraction, while the latter works with electricity.
Before you decide one or the other, here are a few things you should consider:
For camping trips or travel without the risk of breakdown, go for the gravity-powered machines.
For the easiest to operate, go with the electric single serve coffee makers.
For the machine that heats water for you, electric is the choice.
2) Coffee Capsules vs Coffee Pods
Although some brands tend to use the terms interchangeably, they refer to 2 distinct coffee ground containers.
The coffee capsules are the small plastic cups by Nespresso and Keurig amongst others. When placed into the machine, the machine pierces them then runs hot pressurized water through the capsule.
They are sealed and very convenient, with their contents stays a bit fresher for longer periods of time.
So, if you're a sporadic coffee drinker, then go with coffee capsules, preferable the reusable ones.
Meanwhile, coffee pods are round bags of ground coffee that looks like bigger tea bags. They're often biodegradable and available in a standard size which can be used with various machines.
However, since they contain coffee grounds exposed to contaminants and air, they lose their flavor faster than the coffee capsules.
3) K-Cup or No K-Cup
K-Cups revolutionized the single serve coffee game in both negative and positive ways.
Its biggest advantage is providing consistent brewing with numerous flavors. However, they offer poor quality coffee and have a large negative impact on the environment. Plus, they tend to cost more.
A great alternative to the K-cups or pods is to go with the refillable insert such as the My K-Cup. These allow you to fill your own coffee capsule with coffee or grind of your choice.
4) Brewing Time
You might also consider the amount of time it takes to brew your coffee, especially if you always find yourself hassling every morning. Most of the best single serve coffee makers can brew a cup of coffee in less than a few minutes.
5) Water Reservoir Capacity
Although single serve coffee makers brew a cup of coffee one at a time, it does not mean that you also need to fill its water reservoir every time you need to brew another cup.
Most single serve coffee makers have a water capacity of up to 5 – 8 cups, so you don't have to refill every now and then. Furthermore, make sure to opt for models with a removable water reservoir for easy refilling.
You need to consider how many people will be using the coffee maker and whether the cup options are suited for everybody. The brew strength can be adjusted by choosing a different cup option, which is a nice feature.
6) Convenient Features
The features that single serve coffee makers can vary from one model to another. However, some of the most common and convenient features you need to look for include:
This is a very convenient feature for saving both your energy and time. With this feature, you don't have to spend your weekends cleaning complicated machinery.
Most manufacturers include this auto-clean feature that automatically cleans the machine by itself and prevents odor, rusting, and mineral build-up on your coffee maker, enhancing functionality, safety, and longevity.
There is a range of coffee makers out there that allow you to customize the strength settings of your brew to prepare a dark or light cup of coffee just the way you like.
So, if you have control of your coffee's strength, then make sure that the coffee maker you're looking at have this.
To brew a delish and perfect cup of coffee, temperature plays a crucial role. For the average coffee drinkers, they won't be able to notice the differences at all, but not for the coffee addicts and enthusiasts.
So, if you wish to brew your coffee at the perfect temperature, hitting that wonderful flavor, you need to pick a single serve brewer that allows you to customize the brewing temperature.
If you are one of those who like to wake up on the aroma of a freshly brewed coffee, then a single serve coffee maker with a programmable timer is a valuable feature. This way you will always have an energizing cup of coffee at the perfect time without waiting for a few minutes to brew.
This feature automatically shuts down the coffee maker after some time of idling, helping save energy.
7) Physical Size
You also need to be clear on the amount of space you have in your kitchen countertop to accommodate your new single serve coffee maker.
Ideally, you need to place a single serve coffee maker on a stable surface that is close to your faucet for easy refilling as well as a near electrical outlet for convenience
Weight is not an issue here since you will normally place the machine and leave it in place. In addition, you also need to consider the height of the area where you will be placing your new coffee maker.
Typically, there are about 17 inches between the upper cabinets and kitchen counter, and that is usually enough for most single serve coffee makers.
While most single serve coffee makers have a compact design, there are some models that are tall with a wide footprint, so you need to carefully consider your options and counter space.
8) Coffee Brewer Accessories
You might also want to choose a coffee maker with convenient accessories and ad-on. One of the most common accessories isreusable filters which allow you to brew your own ground coffees more economically.
Keurig, for instance, offers the My K-Cup reusable filter for their home brewing system, allowing you to brew your own ground coffee and save money instead of always buying the one-time use K-cups.
Other convenient accessories you might want to look for are the water filter replacements as well as the recommended descaling solution.
Starting supply of K-cup or pods are also welcome, providing you with assortments of flavors for you to try with your new coffee maker as well as Vue carousels and racks also provide convenience and easier access. Read More: Best Keurig Coffee Makers
9) Warranty
You don't want to end up with a coffee maker that will not last a week or month. Thus, you need to keep an eye on product warranties. Most coffee makers will have at least a 1-year warranty backing them up, while others can go up to 3.
Also, some manufacturers also offer a money-back guarantee for a few days to protect customers from defects and dissatisfaction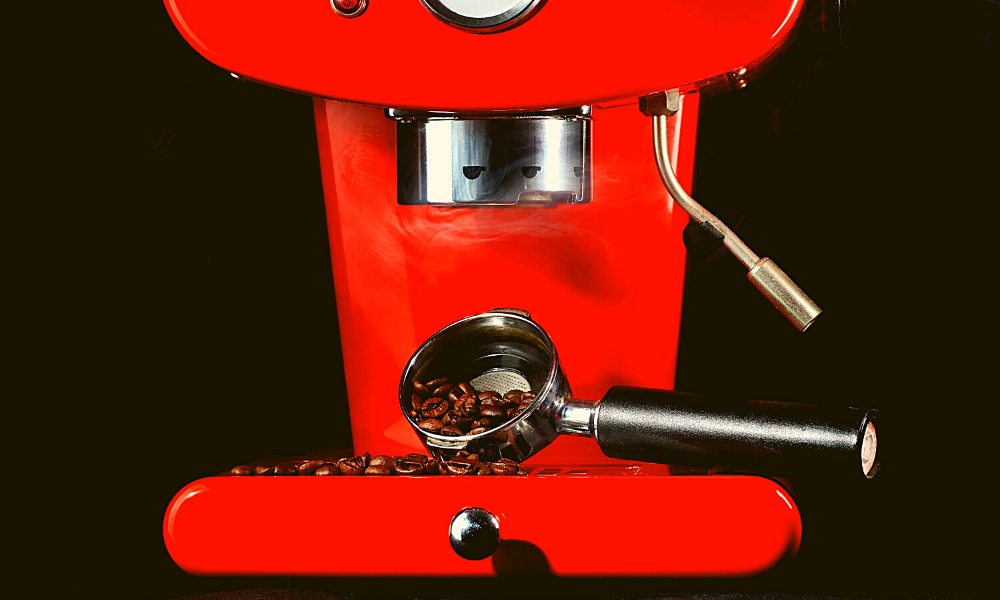 How To Clean A Single Serve Coffee Maker?
There has been a lot of issues these days over the single serve coffee makers and all the germs that may be breeding in their inner workings.
Fortunately, a simple cleaning process should be able to take care of these germs and hard water deposits that may have accumulated and left your coffee maker chugging and brewing a bit slowly.
Start by unplugging the coffee maker and removing all the removable pieces, including the K-cup or coffee pod holder, water reservoir, and the tray where your mug sits.
Wash these pieces with warm, soapy water. Let it sit to dry.
Using a damp microfiber cloth, wipe the entire exterior of the coffee maker. You need to take extra care around the coffee pod basket to get all those stubbing minuscule grounds that sit there.
Get those pieces that you just washed. Reassemble the machine.
Plug it back in.
Fill the coffee maker's water tank reservoir with one-half cold water and one-half white vinegar.
Turn the machine on and run a brewing cycle without inserting a coffee pod.
Discard the resulting solution.
Repeat the step until no vinegar and water mixture remains in the water tank.
After that, you need to fill up the tank with cold, fresh water.
Once again, run a brewing cycle without coffee pods.
Dump the water and repeat the process until no vinegar smell remains.
Daily Cleaning Tips
Although you might need to deep clean your coffee maker a few times every year, we suggest you do the following tips for ongoing cleaning and maintenance.
Use filtered water when brewing in order to reduce the hard water deposits.
Use a coffee pod only once.
Let the coffee maker "air out" by leaving its lid off.
Empty, clean, and refill the water reservoir every day.
Replace the filter according to the recommendations of the manufacturer.
Always wipe down the exterior of the coffee maker as well as the surface it sits on in order to prevent dust and debris from settling inside.
Frequently Asked Questions
Q: How do I clean a single serve coffee maker?
A: To clean a single serve coffee maker, refer to the cleaning instruction in its manual. Or you can just use vinegar and water to clean the machine.
Fill the water tank with a 1:1 water-vinegar solution. Then run a brew cycle without inserting a pod or a capsule. Then run a few more brew using just water in order to remove the vinegar residue.
Q: Can I use a coffee pod in a regular coffee maker?
A: Yes. Coffee pods can be used in a regular coffee maker since they are not designed for a particular brand. You can even use these pods without a coffee machine with the pour-over or drip brew method.
Q: How often should I descale my coffee maker?
A: You need to descale your coffee maker every 1 – 2 months in order to ensure consistent flavors and longevity of the machine.
There are some coffee machines that include an automatic descaling feature, notifying you when it is time to perform deep clean.
Q: Can I put K-cups in a regular coffee maker?
A: No. K-cups are not designed to work with any machines other than the Keurig machines.
Q: How fast does a single serve coffee maker brew a cup?
A: This depends on the coffee maker. However, in order to properly brew a coffee, it takes up to 45 seconds.
Final Thoughts
So, there you have it!
We hope you find this article informative and help you find the right single serve coffee maker for you.
Whether you prefer to use freshly ground coffee or like to try a pod-based machine, most machines we explored in this article give you the chance to use both methods.
Then, we've also thrown in some manual solutions, perfect for your traveling and camping trips!