Cuban coffee is a coffee that originated in Cuba and has now become a very popular option for most. Because of its unique and powerful taste that coffee gourmets enjoy, Cuban coffee is becoming a go-to option for many.
Cuba produces some of the finest Arabica coffee beans in the world in the Sierra Maestra Mountains. The beans produced a coffee that was full-bodied with a mouth-watering fragrance and a rich flavor that was unequaled anywhere in the world.
Here is everything you need to know about the best Cuban coffees. 
Top 10 Best Cuban Coffees
History of Cuban Coffees
As the name suggests, Cuban coffee originated in the country of the Republic of Cuba itself. Coffee has been growing in Cuba ever since the mid-18th century.
This translates to around 1700 A.D. The first official coffee plant in Cuba was set up by a pioneer 'José Antonio Gelabert' in 1748. It was not until 1791 that coffee became more popular in the region. 
Viva la Revolucion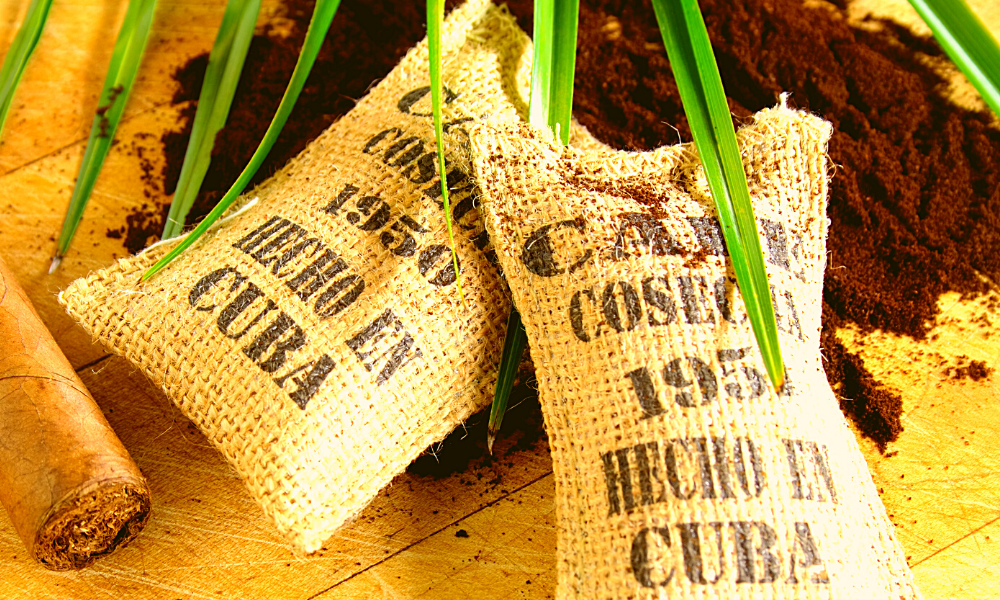 The French colonists introduced better coffee production methods to Cuba while they were fleeing during the Haitian Revolution. These French farmers not only boosted the productivity of coffee production in the republic but also expanded the range from western plains to mountain ranges in the region. 
During the 19th and early 20th centuries, the cultural landscape had become extremely fertile and suitable for growing agricultural crops like coffee plants. The coffee production peaked at more than 20,000 metric tons of export per year during the mid-1950s. 
Revolutions aren't always great
The Cuban Revolution was a turning point for many in the region. It resulted in the overthrow of the dictator Fulgencio Batista's government, the establishment of the revolutionary government, and led to many post-revolutionary foreign policies that resulted in global repercussions. For Cuban Coffee too, this proved to be a great negative impact.
The collapse of the country led to the government also led to many coffee farms being destroyed in the process. This also led to an incentive to demote small farms. The Cuban Revolution did somehow, however, lead to the nationalization of the coffee industry.
In the upcoming years, coffee only began to decline until between 2007 and 2009 – during the Great Recession. 
Current Cuban coffee facts
Around 3000 to 3900 metric ton is still exported by the Cuban republic, but this is nowhere as close to the all-time high. Some of the reasons for this include excessive rainfall in the region which is firmly followed by droughts and poor roads.
Access to efficient vehicles is also limited because of poor roads and the country still facing poverty issues. The 3k metric ton figure is expected to rise dramatically in the upcoming years, however, due to the Cuban Coffee becoming popular and new best Cuban coffees being drafted regularly. 
How it is made
Cuban coffee is made through various means but there is a common element to all of them. Here is a brief guide on how the best Cuban coffee is made in the country:
Traditional Italian or Spanish roasts are used to make the best Cuban coffee. Darker roasts are a common element to Cuban coffees and any dark roasts can be used in the process. 
The shot is sweetened with demerara sugar – a special type of sugar produced from sugar canes and consisting of large grains. These brown-like sugar elements are what make the coffee taste texture-y. 
Demerara sugar can be added into the vessel through various means and methods, depending on the one who is brewing the coffee. Different methods can yield different tastes. 
When the coffee is properly heated, demerara sugar is combined with water to produce hydrolyzing sucrose – a kind of sugared water. This sugared water tastes unique and as we mentioned earlier, different ways of blending this sucrose can lead to different tastes. The longer you leave the sucrose to boil, the stronger the taste will be. 
In some types of Cuban coffee, people love to add a spoon of creamy foam called espuma or espumita. This can thicken the Cuban coffee – almost like espresso, which is what some people prefer over the generic coffee. 
How to make a cup of Cuban coffee
Here is a brief guide on how to make a cup of the best Cuban coffee in town: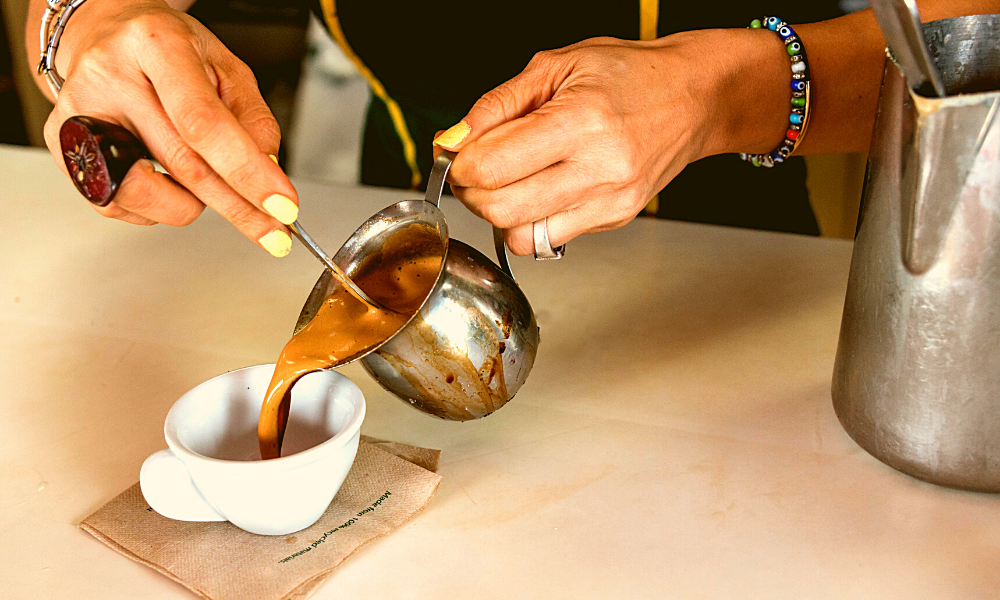 Fetch a 'Moka' Pot – a traditional stainless-steel pot that is used all across Europe, Caribbean, and most of America – as well as Cuban-style ground coffee, water, demerara sugar, and a mixing spoon. Never confuse 'Moka' with 'mocha', as they are different things. 
Add water to the Moka pot until the bottom chamber of the pot is full. 
Put a filter over your Moka pot if there isn't one already and start slowly adding coffee to the filter until it is filled. 
Heat up the Moka pot until it starts boiling a little. 
Fetch cups that you want to drink the best Cuban coffee in. Fill them with as much sugar as you want. 
As soon as the water has boiled, you will have coffee in the top chamber. Stop heating the Moka pot once this happens.
If you want to make a thicker Cuban coffee, mix equal amounts of coffee with sugar in the cups until they are thick and frothy. 
Pour in the rest of the coffee and enjoy at your pace. 
Types of Cuban Coffees:
There are several types of Cuban Coffees. The four major types of the best Cuban coffees include: 
Colada
Colada is a type of tall mixed drink of rum and fruit juice. However, if you ask for Colada coffee, it is entirely different. Similar to the mixed drink of rum and fruit juice, Colada is a type of coffee that is served a very large cup.
It is extremely potent: it contains between four to six shots of sweetened espresso in a single cup – but it does come with small cups to share with peers. 
Cortadito
Cortadito literally translates to 'cut with milk'. Because many people prefer drinking coffee with milk, this variant is for those. It comes with thick, whole or evaporated milk. It also has a thick layer of espresso. Cortadito is often enjoyed in cafes although it can be difficult to find a shop that can make a good Cortadito. 
Café con leche
For people who like milk more than coffee, or who are new to this culture, the café con leche is a great choice. It is usually made with 80% milk and 20% coffee in mind. It also has a great amount of sugar to get used to the taste of this savory drink and a pinch of salt to spice things up. 
Cafecito
Alternatively known as 'Bucci', Cafecito can technically refer to a 'small drink' in the local dialect. It is a single shot of Cuban espresso steamed milk. People who don't want something complex will savor the taste of a Cafecito for days. 
Materials used in Cuban coffee:
Various materials are used in the making of the Cuban coffee. To make the best Cuban coffee, some of these materials include, but are not limited to: 
Grounded Cuban beans
As the name suggests, Cuban beans are beans that come from special coffee trees that are grown in the Republic of Cuba. The coffee from these beans is generally more potent and offers a darker complex. Most of the Cuban beans are arabica and robusta.
Arabica coffee beans are said to be the earliest found types of coffee beans in the world. Robusta beans are usually found in the central and western sub-Saharan Africa and are known for their strong flavor. 
Demerara sugar
Demerara sugar is a special type of sugar that is made directly from the extract of sugar canes. Since it is not refined much, it retains much of the taste of sugarcanes, while also providing texture to whatever liquid they are poured in. Demerara sugar is one of the key components of Cuban coffee for various reasons. 
(Optional) Milk
Milk is added for those who want the cortadito, café con leche, or Cafecito. Milk not only makes the flavor of coffee less strong but also helps make it thicker for people who want to savor the weaker taste for longer. 
Water
Water is a necessity when it comes to making coffee for obvious reasons. It acts as a solvent and is what makes the hydrolyzing sucrose with demerara sugar. Water also helps chug coffee down the throat. 
(Optional) Rum
For people who are looking for a pure Cubano experience, adding rum is a great way to savor the taste of both an alcoholic drink as well as coffee itself. For people who can't survive without a chug of great rum every day, blending it in Cuban coffee lets them stay sane for the rest of the day until they get the necessities of life out of the way. 
Tips to Make Cuban coffees. 
Cuban coffee is exquisite and rich in taste, and are you aware that you can make that taste a whole lot better? These following tips are essential to make our cup of Cuban cup of coffee delicious. 
Choose the perfect cooking vessel:
You don't have to choose a cooking vessel because Cuban coffee is brewed in a cooking gadget called the Moka pot. The Moka pot comes in two types, the first is the electrical Moka pot, and the second is the stovetop Moka pot. 
The coffee is Brewed with steam; the boiling water lets vapor pass through, and thus, we get our expresso.  You should get the electric kind of Moka pot because they are easier to handle and brew coffee through.
Coffee is all about convenience, so it would be better if you use the electric Moka pot, don't break a sweat, the taste will remain the same. 
Choose the right sugar:
When it comes to Cuban coffee, they are known to be sweet, extremely sweet. But the richness and the taste of Cuban coffee lyes in the sweetness of it. 
If you want to experience the authentic taste of Cuban coffee without visiting Italy, then we have the right tip for you, you should use brown sugar instead of cane sugar. 
Brown sugar has a rich caramelized taste, which is essential for Cuban coffee. The brown sugar also gives Cuban coffee a rich and deep flavor.
Espuma is the way to go:
Creamy and frothy, that's the way to go when it comes to Cuban coffee. But are you thinking of using regular milk or creamer to bring color and taste to the Cuban coffee? 
Well, that would be stupid because when you are working so hard to make sure that your Cuban coffee is just perfect. Then why would you mess up in this part? 
You should not use regular hefty milk or even creamer; the only thing you should use to bring color and that sweet taste to your coffee is espuma. Espuma is the bubbly and delightful blend of sugar and milk. 
The actual definition of espuma is "foam," but this foam is obtained after a lot of whipping, then you would add the first drops of brew from the Moka. 
The first drops are the hardest; you mix them nicely with the "foam," and you are good to go. Then you can adjust the taste of the Cuban coffee according to your liking if you want to make it hard then add more brew, and if you would like it to be a little more sweater, then add more espuma. 
What to serve in? 
Because of the sweet and bubbly taste, it would be better if you serve the coffee directly into small cups. The essence of tasting coffee in small cups in minor sips would be fulfilled. Cuban coffee is a creamy delight in itself, but making it the right way would just turn the taste up a notch. 
Reasons to use Cuban coffee:
Regular coffee and a standard brew are perfect, but there are many reasons because of which you should use and have Cuban coffee.
Let your skin shine:
We are not going to tell you that coffee is going to take care of all your skin issues, and it's going to make your skin glowing and brighter. Come on, people; it's coffee, not a beauty cream.
But Cuban coffee is for sure going to penetrate your skin cells and exfoliate them, which means that no cancer cells would ever be able to get inside your skin. Also, Cuban coffee is excellent if you are getter old; it has anti-aging benefits that would help support your skin. 
Prevention from diabetes:
Cuban coffee is excellent when it comes to prevention from sugar or diabetes. We don't know if it's because it's bitter or because if the components inside it. But it surely does work because the people who take Cuban coffee daily, we're protected from diabetes as compared to people who didn't make it. 
No Parkinson's disease:
The type of caffeine that a Cuban coffee has is relatively different; it is said to prevent you from Parkinson's disease. The Parkinson issue is harrowing, and nobody would like to have something like this. 
Studies showed that a male who didn't have Cuban coffee was more likely to be attracted to these diseases rather than a male who has Cuban coffee every day. 
Give your reproductive system some strength:
It's proven that Cuban coffee is excellent if you want to improve the performance of your reproductive organs. It makes sure that men stay away from prostate cancer, and it helps a woman stay away from endometrial cancer.
It's good for your brain:
Coffee is something that keeps you woke; it makes sure that your brain is awake for all the essential functions. Having coffee regularly in the morning will make sure that you are fresh. 
Cuban coffee, on the other hand, is not just great because of the factor that it will help you keep awake but it's also a better option because it takes care of your brain's health. 
Coffee also helps in relieving excellent stress; you can feel fresh and refreshed after having one cup. If you want to make sure that you stay away from depression and a grey area in your mind, then have a cup of frothy Cuban coffee. 
It's great for your insides:
Did coffee ever make you feel like you have to visit the bathroom immediately, this is because coffee is diuretic, and it makes sure that your colon is clean from everything. So, if you are having constipation then make sure to brew yourself a cup.
It takes care of cellulite 
Have you lost weight but your skin is still lost? Have Cuban coffee, it will take care of all the loose skin at once. So, these are some of the solid reasons which shows why you should take Cuban coffee.

Brewing method:
Preparing a perfect cup of Cuban coffer is very easy. Here is a step by step guide you need to follow.
Take a Moka pot and fill it enough water that it will reach the safety valve.
Have a spoon full of ground coffee and add it to the filter. Wait until it reaches the top. Level the coffee using your finger but avoid compressing the coffee ground. 
Attach the filter to the bottom chamber of the pot and screw it properly.
Place your pot on medium heat. Do not let water get hot quickly because you will not get the robust brew that you enjoy.
Take a demitasse or espresso cup and add 1 tsp of sugar or as much as you like.
Boil the water so steam will apply pressure that will push water up through coffee grounds. The coffee will collect in the top chamber. 
Once brewing is complete you can remove the pot from heat. Ass 1 tsp of coffee into cup and stir quickly to made espuma. Assure that it is slightly frothy and thick. 
Pour your coffee into the cup.

Serve coffee while its hot and enjoy.

Frequently asked questions

The following are some of the important questions which can be asked by you.

Q: Does Cuban coffee have a strong taste?

A: Cuban coffee is famous for its sweet and strong taste. It goes perfectly with a meal. So, it doesn't have a taste which will be bad for you.

Q: Should I add sugar is Cuban coffee?

A: The traditional way of making Cuban coffee is by adding sugar to dark roast coffee. However, you can change the quantity of sugar. 

Q: Can I prepare Cuban coffee at home?

A: Yes, you can prepare the Cuban coffee at home. You can prepare it in any pot you like but having a moka pot will give you a perfect blend. 

Q: What is espuma on Cuban Coffee?

A: Espuma is created when you mix the first draw of espresso with sugar and blend it vigorously to get a foam-like texture. 

Q: Can I prepare Cuban coffee with brown sugar? 

A: Yes, you can use brown sugar while making Cuban coffee. It is the most commonly used sugar in Cuban coffee. 

Final thoughts

This above was a complete guide about Cuban coffees. It is a very good coffee. You can have many health benefits by using this coffee. It is made of good material and its working methods are easy too.

Normally you don't find such health benefits in other coffees which you are finding in the Cuban coffee. The only thing you need to keep in mind is to use it in a normal way.

Excess of everything is bad so make sure you don't have it in an over the way. If you still have any questions about Cuban Coffee you can read the above guide once more to finish all your concerns.