There is plenty that you are going to need to consider when it comes to deciding what machine you are going to want to use to brew your daily beverages. The Nespresso and the Keurig are both single pod brewing machines and these can not only give you a delicious cuppa, but they can also be extremely convenient. However, it can be hard to decide exactly which model is going to work for your needs and that means doing the research.
The process of choosing a machine that will brew your daily cup can be complicated and full of questions, especially if you haven't ever purchased one before. However, you don't need to do the research and if you have narrowed it down to these 2 models, then we can help you. Here is our comprehensive review of the models, including what they offer you and how they are going to work, so keep reading on to find out more.
Single Serving Coffee
These machines have started to gain more and more in popularity over the years because they are extremely user friendly and efficient. They use the grounds that are inside the capsules or pods, which are normally produced by the machine brand.
However, there are plenty of options to pick and choose from when it comes to the pods so that isn't a big problem. You should be aware of how these machines work and they pierce both ends of the pod and then the water, which has been heated up is run through this pod.
This then allows the brew to drip directly into your mug, no matter what size it is so that you can enjoy it. There are many ways that you can enjoy these brews and there are some pods that are perfect for enjoying black or there are some that are better for other types of beverages.
Overview of the Nespresso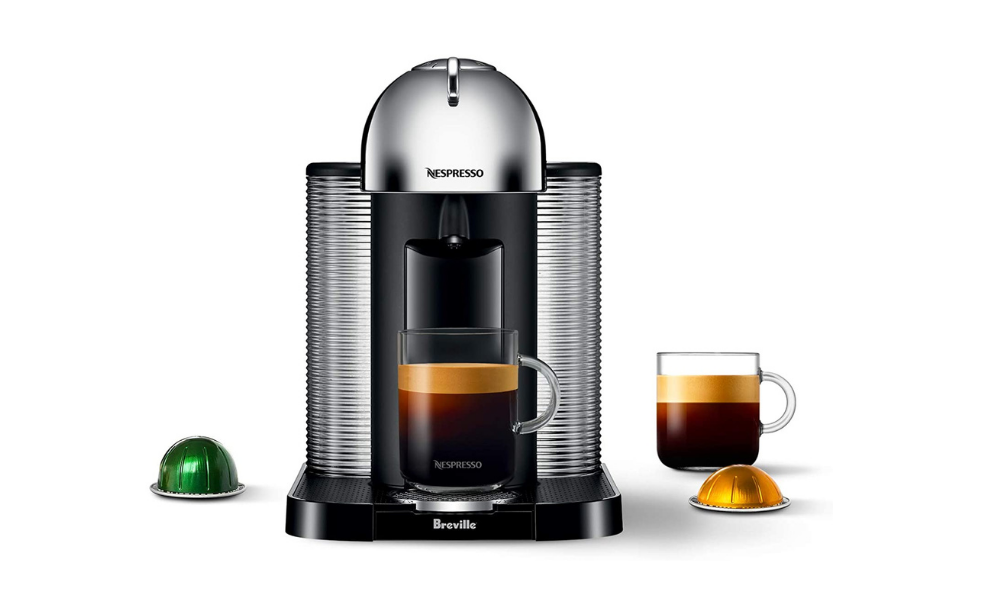 This machine comes from the Nestle Group, which is based in Switzerland and they don't have a huge presence in marketing in the United States. However, they are extremely popular all over Europe and there are 2 different types of machines that you are going to be seeing, including the VertuoLIne or the OriginalLine. There is a lot to think about when it comes to this, including some of the major differences like:
No 3rd party competitors that make the VertuoLine compatible capsules
VertuoLine was created for the North American and Canadian markets since they prefer to have their brew in larger servings
Vertuo machine uses "centrifusion" to brew, which means the pod is going to be spun in order to blend or infuse the water and beans in a more thorough manner
The pods and machines use barcodes to automatically know how each pod needs to be brewed.
These machines have been called Nespresso since 2000, but there are also other brand names that have paired with them. These include Philips, De'Longhi, and Breville, which means the quality of these machines is going to be impeccable.
This means that if you are looking for a higher quality machine over the variety of pods or blends available, then the Nespresso might be better for your needs.
Overview of Keurig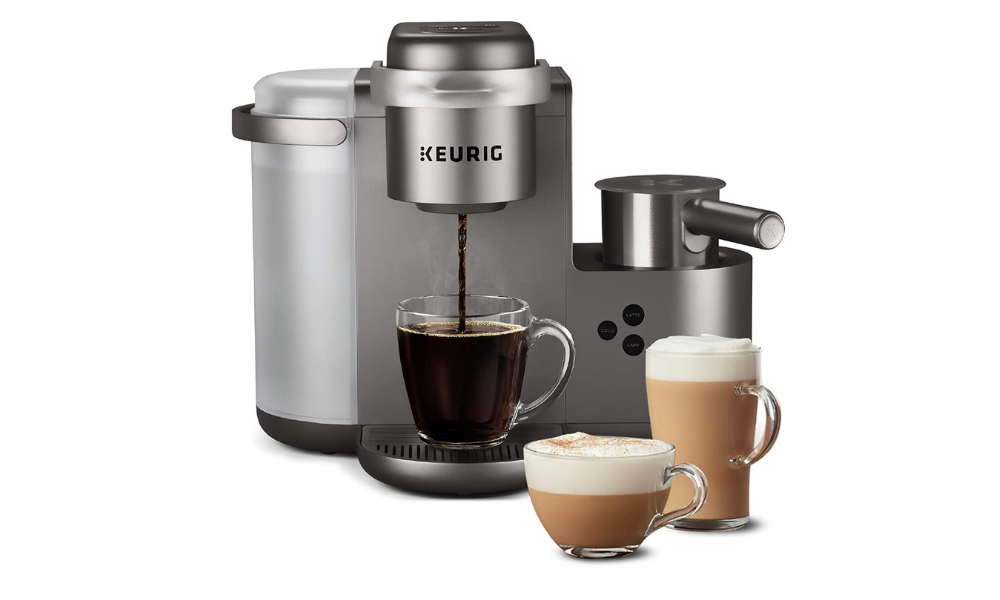 Keurig is just part of the 3rd biggest company for beverages in North American and the conglomerate started marketing these products for use in the offices before going into homes.
Keurig partners up with a wide variety of other brands in order to create and produce the pods, which means there are over 60 various brands for the K-cups. This allows for a wider variety of options for brewing no matter what you taste it. There are also 50 different variations of the machines that means that no matter what you are looking for you will find something with them.
Factors to Consider When Choosing a Coffee Machine
Another thing that you are going to want to think about when you are trying to decide between the two is the factors that you need to check out. There is so much that you are going to want to think about when you are trying to decide upon a model and it can be confusing. However, it can be made easier if you know what some of the more determining factors would be that you should use in your decision.
Some of the top factors that can help you with making the right decision include:
Pods – It is important that you are thinking about the pods and the variety that you might have. The Nespresso machine has 4 various varieties that you can choose from and they are all produced by a proprietary brand. These are high-quality pods, but this means that you aren't going to have as many options as others. Also, the pods come with aluminum bodies and you can create waste if you don't dispose of them correctly.
The Keurig comes with hundreds of options for pods that come from a huge array of brands from all over the world. This doesn't mean that you are going to be limited to the beverage choices that you want since there are pods for nearly every hot beverage that you might dream of. The pods for this machine are made using a paper filter, aluminum top, and plastic body, which makes it easier to throw away.
You also want to consider how easy it would be for you to throw away or recycle the pods and it can be a bit hit or miss here. If you go with the Keurig ones you can simply throw them in the trash and not worry about them because the majority is plastic.
However, with the Nespresso ones they are made of aluminum, so you are going to want to consider recycling them and it might take a while to get rid of them depending on how much you drink.
Price – Another major factor to consider is the price and you need to know what your budget is going to be. If you have a smaller budget, then the Keurig is definitely going to be the one to go for since you can get more of the bells and whistles without spending a lot of money. However, if you do go for this machine, then you might be sacrificing the quality of your brew a slight bit.
Nespresso works with some reputable manufacturers as their partners, which means there is extra money that is being spent on making sure that the design and highest quality materials are being used. It might seem like the more you are spending on this machine the less you are getting, but it will give you a higher quality and reliable machine for a bit more.
Brew – This is the biggest factor that you will want to look at between the machines since the Keurig can't give you a simple espresso, but some of the Nespresso models can give you a regular brewed coffee. Keurig is trying to get into the market, but there wasn't a huge enough demand, and those K-cups were discontinued.
The Nespresso models have the ability to brew you a plain cup of joe depending on the model that you choose and there are even some that can make you an American. However, if you are someone who loves to have more flavor options, then the Keurig will give you a wide variety in terms of brewing.
These are only a few of the top factors that you are going to need to consider when you are starting to think about which of these machines is going to fit your needs the best. Make sure that you are considering all of these and that you are taking them into consideration when you are making the final decision.
Materials Needed to Brew Coffee
When you are brewing your beverage using either of these options you are going to want to make sure that you have everything ready. This is plenty that you are going to want to have handy so that you can be prepared, such as:
Pods – Make sure that you have the pod that you want to enjoy ready so that you can place it into the machine. Ensure that the ones you have are compatible with the machine that you have purchased and that they have the right flavor and strength that you are interested in.
Mug – You are also going to need to have the right-sized mug to place under the machine. This can be any type of mug, including a travel one if you are going to be taking it with you when you are leaving the home.
Container – If you are using the Nespresso machine you are going to want to make sure that you have a container nearby to hold the pods. This will allow you to either throw them away at a later date or even recycle them when you have a good number of them gathered.
Creamer and sugar – Depending on how you like your brew you are going to want to make sure that you have the creamer and sugar handy. This could be any type, so make sure that they are ready so you can easily mix them in and enjoy your hot beverage.
Make sure that these few items are handy when you are getting ready to brew yourself a cup of joe so that you can get it done quickly. You are going to want to make sure that everything is handy so you can finish your cup as you like, throw away the pod and get going.
FAQ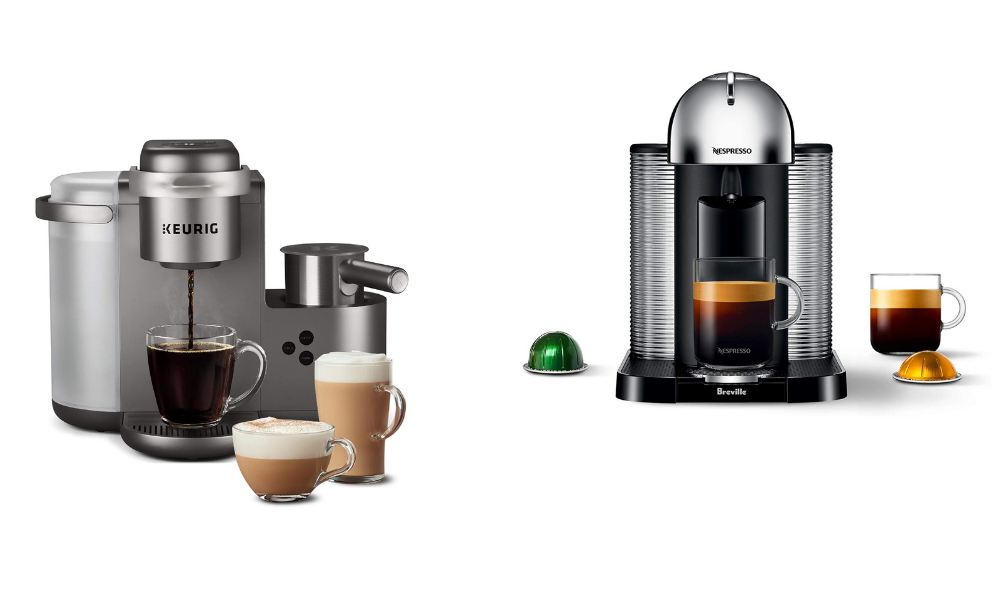 There are also going to be plenty of questions that you might have while you are trying to decide what machine would work the best for you. Here are some of the top questions that you are going to want to know the answers to, such as;
Which model is going to be more environmentally friendly?
This is a tough question since both of them are friendly to the environment, but if you don't recycle the pods for the Nespresso properly, then there will be a lot of aluminum building up. If you don't want to worry about recycling, but still want a good cup of brew, then the Keurig pods would be easier to just throw away since they are mostly plastic.
These pods are just inserted into the machine on the top and the machine has a needle that would pierce both ends of the machine. This then allows the hot water to drop into the pods and go through the ground beans to create the brew that would then drip into your mug.
Which model has the highest number of pods available?
If you are looking for something that would have a larger variety that would allow you to explore the world of hot beverages, then the Keurig would be the best option. This has over 60 different types of pods that you can purchase and that doesn't include the options that are made with the beans.
I have a smaller budget, which model would work the best for me?
For those who have a smaller budget, then the Keurig would be an ideal model. This is much more affordable and it will allow you to also have a wider availability of pods that would match your tastes and preferences no matter what they might be.
Final Thoughts
It is important that you are considering which of the many machines and models are going to fit your needs and that also depends on what you are looking for. If you are searching for one that can give you fancier brew or a wider variety in terms of flavored blends, then the Keurig is going to be the one for you.
However, if you want something that will be reliable and have a smaller blend selection, then the Nespresso will be ideal. It all comes down to what you want and how much your budget is going to be.