Starbucks coffee company started as a small regional roaster and turned into a household word with over 30,000 locations in 70 countries.
Being a perennial giant in the coffee industry, it is able to churn out a huge amount of really wonderful coffee, offering lots of options that most people love!
All these options are available as both whole and ground bean. Starbucks sells all its products in both varieties; however, it is generally easier to order bags of whole beans from them.
And the good news is that Starbucks is more than happy to grind the beans for. And even if you do not purchase them in the shop, then feel free to bring the bag in and they shall grind it, free of charge.
This article shall walk you through some of the best Starbucks coffees that you can find!
Top 10 Best Starbucks Coffees
Starbucks Fact
As mentioned before, and we will say it again, Starbucks is one of the largest companies in the coffee business.
What started as a single store that sells some roasted coffee in Seattle, flourished into being one of the giants in coffee franchising in the world.
As a matter of fact, Starbucks has over 30,000 stores globally with a total of over 15,000 Starbucks coffee shops in the US alone.
Whether you're a fan of the Starbucks coffee or not, you simply can't deny its exceptional popularity. The mission of Starbucks is not to only sell coffee, but also bring people closer together and creating a sense of community.
With over 75 million customers visiting its US stores on a monthly basis, Starbucks is equivalently selling 1 cup of coffee in every 50 seconds.
So, How Did It All Start?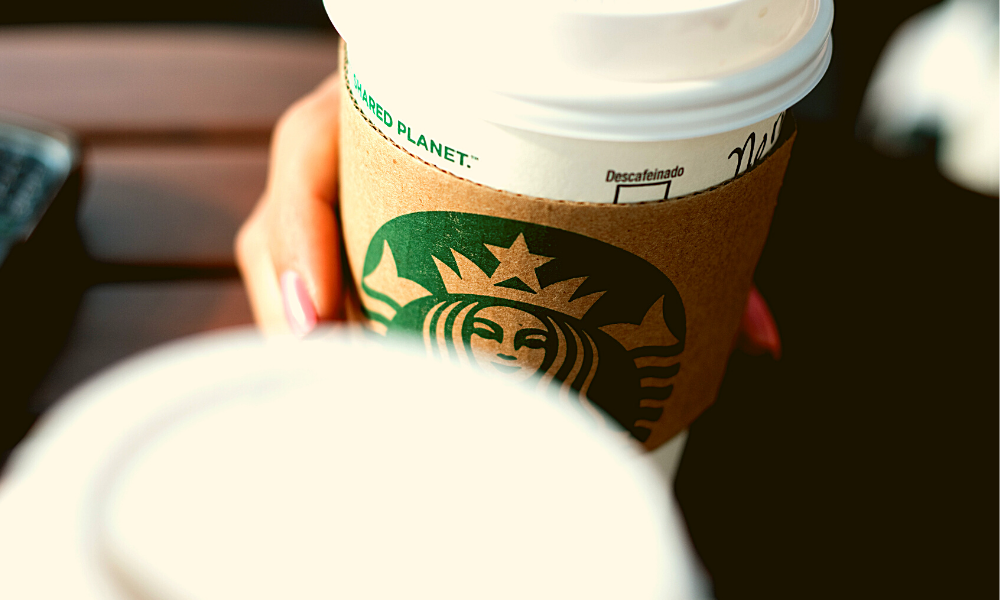 The very first retails store of Starbucks opened its door to Seattle in 1971. It was teamwork by 3 friends— Zev Siegl who was a history teacher; Gordon Bowker, a writer; and the English teacher Jerry Baldwin.
All 3 were studying in San Francisco and got the idea to sell the best coffee beans after they learned some tricks of the trade from a coffee roasting entrepreneur named Alfred Peet.
In 1971, the very first Starbucks store opened its doors and sold roasted whole coffee beans until the year 1976. Over time, they also shifted their store nearby and started selling espresso coffee until 1986.
In 1987, Howard Schultz bought the company from the others and started expanding the business by opening new store outlets outside of Seattle.
In just 2 years, there were more than 46 new stores and the company ended up roasting over 2 million pounds of coffee beans annually.
Later on, Schultz started to feel the pressure to open more stores as demanded by the public. Thus, in 1992, the company opened over 135 outlets with an annual revenue amounting to about $72 million.
That very same year, Schultz put up the Starbucks name or the Initial Public Offering on the NASDAQ Stock Exchange.
Soon, the market value of Starbucks rose to over $271 million. Thus, Schultz sold 12 percent of the company for $25 million in order to raise the revenue needed for doubling its store outlets.
The company was then able to open its very first store outside America in 1996 in Tokyo, Japan.
Schultz then bought the Seattle Coffee Company for $83 million in 1998. In 2003, Starbucks acquired Seattle's Best Coffee and the Torrefazione Italia for about $72 million.
In light of this action, Schultz was able to establish at least 150 stores to work with. In 2012, Starbucks opened its first coffee store in Russia.
And by 2013, it was operating worldwide with a renewed priority of opening Stores in the South Asian and South American countries.
After being popular for selling different coffee varieties worldwide, the company started selling other cold and hot beverages, pastries, snacks, and sandwiches.
With a focus on the local culture and flavor, the company also started selling films, ice creams, music, and whichever was locally available.
From selling roasted coffee beans way back in 1970 to having a billion dollars of net income, Howard Schultz has significantly contributed to the aggressive growth rate for Starbucks to reach where it is today.
And Starbucks has experienced a growth rate of at least 38 percent in 2012 and hasn't shown any signs of slowing down.
The Secret To Consistent Taste of Starbucks Coffee
Unfortunately, despite all its popularity and glory, some people often associate it with a burnt and bitter taste.
This is mainly because Starbucks use dark roast for their coffee. This kind of roast is much dominant in the US to a degree that it can be seen as the only coffee that American people know.
Although dark roast is mainly dominant in the US, if you were in Costa Rica or Kenya, this coffee flavor would taste completely different.
In terms of using different roasts, the tasting notes also become different. Even when you are using the same coffee beans. The light roasts are acidic and fruity while the medium roasts are sweet and balanced.
They both demonstrate a lot more flavor profile from the coffee cherry since these tasting notes haven't been burnt away.
And this comes with a price and inconsistent taste.
Although the lighter roasts are flavorful, if you taste coffee beans from 2 different farms within the same region, the taste will greatly vary.
This isn't useful if you wish to have a consistent flavor profile across tens of thousands of stores across the globe.
In contrast, the predominant flavor of the dark roast is burnt, bitter, and strong. And because a lot of the flavors are lost during the roasting process, using the lower quality coffee beans does not make a huge impact on the coffee flavor.
And this is why Starbucks mostly uses the dark roast for their coffee.
Why Starbucks Coffee?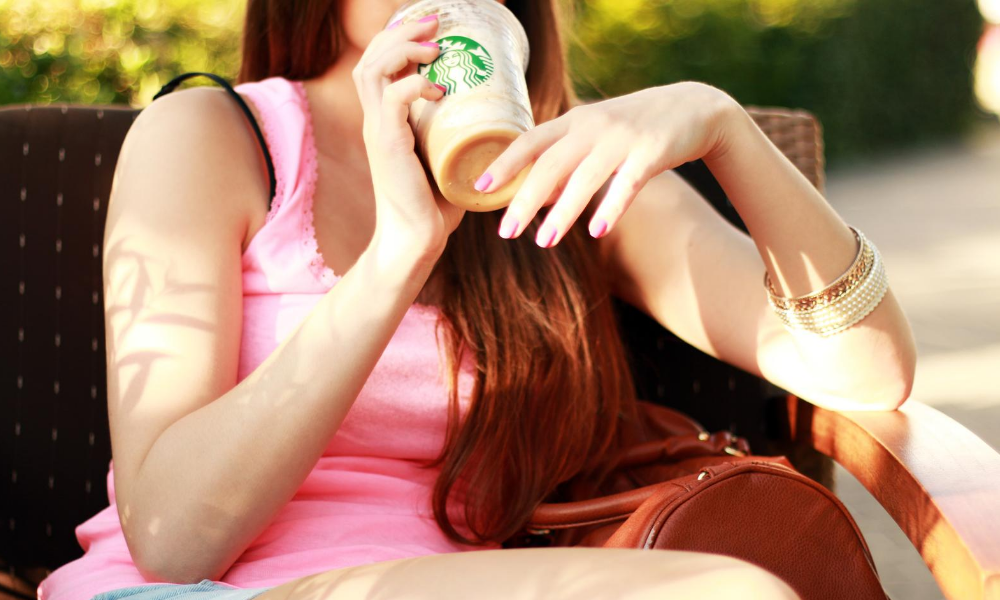 But, before you dismiss Starbucks coffee beans as too bitter, you should realize that thanks to the uniform taste of their dark roast, they have managed to build one of the most trusted and impressive coffee brands in the world.
Ever since its opening in 1971, Starbucks has dedicated itself to earning the trust and respect of their employees, partners, neighbors, and customers.
Positive Impact To The World
Other than generating a huge capital, Starbucks also works extra hard in order to make a positive impact on the world. The company believed in the importance of caring for the planet and is encouraging others to do as well.
Starbucks supports sustainable farming and direct trade policy with the farms. Not only that, but they also encourage eco-friendly processing and packaging, investing in water conservation, agricultural, and reforestation practices.
In terms of recycling, Starbucks is also making a huge effort as they are currently trying to develop cups that are eco-friendly and working hard in order to expand its recycling program in order to reduce waste.
The company is working to become an energy-efficient firm and is committed to the further reduction of energy usage and making use of renewable energy sources.
In addition, for every pound of coffee beans sold, the company plants a coffee tree in one of the countries that are most impacted by coffee rust. On top of that, Starbucks treats its employees and staff as well as it does its customers.
Excellent Coffee Bean Quality
In terms of coffee beans, Starbucks believes that the secret to an exceptional cup of coffee lies in an exception coffee beans.
With that said, they try to secure only the finest and best coffee beans that they can possibly get their hands on in order to fulfill your coffee cravings.
In addition, the Starbucks arabica coffee beans differ from the regular ones since the company ensures that these beans meet the highest standards of quality at every step.
Also, they choose the denser beans that have more complex flavors so that you get to taste all the flavors and undertones of the coffee.
As a matter of fact, a batch of coffee needs to undergo tasting for at least 3 times before it can be approved for sale.
Innovative and Service-Oriented
Starbucks has never stopped developing. The company introduces new coffee drinks and beverages, high-quality coffee beans, in addition to the advanced mobile solutions in order to provide an enhanced and unique experience for the customers.
Whatever your mood is, this coffee shop has you covered. The year-long menu contains coffee bean varieties and even drinks that will satisfy all your cravings.
Not only that, the multiple sandwiches, and muffins, coupled with the comfy chairs and cozy atmosphere, Starbucks has also become a nice place to study and mingle around.
Furthermore, the company also has a reward system, where you rack up stars for every purchase you make after downloading the official Starbucks app.
In addition, Starbucks also debuts a new drink every couple of months. Plus, you get the option to choose between limited-time offers like the molten chocolate drinks and the tuxedo collections.
The company is always creating new beverages and drinks and making sure that its customers will never run out of options or even get bored.
Well, that doesn't sound bitter now, does it?
The Starbucks Coffee Menu
Starbucks has various types of coffee to choose from. Some of the most common ones are:
This coffee variety has been collected from the wonderful Andes mountains, a landscape that is surrounded by volcanoes.
Colombian variety provides a very robust flavor with a juicy feel which is the testament of the richness of volcanic soils. Your coffee will have a remarkable finish with small hints of walnuts.
This coffee bean roast is a robustly bold and sweet coffee. It's made from the most ethically-sourced Arabica coffee beans. You don't have to spend your time in brewing it. 
All you need to do is just tear out the packet and pour in some hot water. Once the coffee is brewed, you can just wait for 10 seconds, stir, and enjoy a good cup.
This is probably the most loved coffee blend in Starbucks. Starbucks Kenya is instantly recognizable to most fans staying true to the qualities of an authentic Kenyan coffee.
It features a very citrus flavor, mostly grapefruit but with lemon and orange tart as well. This bright acidity makes it perfect for the summer months as you indulge in iced coffee.
This blend variety of coffee is one of the best blends that most people enjoy at home. A single-origin offering, Starbucks Sumatra has a full body and buttery flavor without the acidity.
Its intensity and flavour tend to linger in your tongue. Also, it has an earthy aroma with concentrated herbal tones.
Starbucks India Estates Blend
This coffee variety will bring you the taste of India. It's the first coffee from the country and cultivated in Karnataka's lush coffee farms. It features a distinctive complexity— chocolatey mouthfeel with lush herbal notes and hints of citrus.
This is definitely one of the best Starbucks coffee varieties you can find.
Things To Consider Before Buying The Best Starbucks Coffee
If you're not accustomed to buying coffee beans, then it might be a bit daunting the first time you visit a Starbucks store and order one.
Don't worry though, you'll soon master the art. In the meantime, here are some of the most important factors that you need to consider when choosing the best Starbucks coffee.
Go Arabica
Arabica is probably the most popular variety of coffee in the world. You might have even heard coffee lovers raving about how good it is.
And the truth is that Arabica deserves all the high praise.
The best and high-quality Arabica coffee beans have a rather sweet flavor. It features undertones of nuts, chocolate, and caramel that add even more exquisite flavor to the coffee.
You also might be able to detect hints of berries, depending on the origin. Not only that, but arabica coffee also has slight acidity as usual with a bit of bitter taste. However, neither acidity nor bitterness is overpowering.
Starbucks mainly sources high-quality arabica beans and uses them in their coffee drinks and beverages offering.
Roast
The next thing you need to look for is the roast of the coffee bean. Roasting is a process by which the green berries are turned into the brownish coffee beans that you're thinking of.
There are different kinds of roasts and brands that characterize them very differently. And Starbucks is no exception. Here are the main roasts you can find:
Light Roast
These coffee beans have a light brown hue and tend to have a sour taste. At Starbucks, this is called the Blonde roast. The coffee can be mellow and light-bodied, yet still flavorful.
Medium Roast
Medium roast coffee beans come with specific aromatics; however, the taste of the coffee is still distinct. Medium roasts coffee in Starbucks yield and balanced and smooth flavor that packs a punch.
Dark Roast
Now, this roast tends to be darker and richer. The flavor of the coffee is supported by the caramelized notes. Dark roasts coffee from Starbucks are bold and full-bodied, boasting robust flavors.
Origin
There are specific coffee-growing regions that are more popular than the rest. And Starbucks tends to source 100 percent arabica coffee from the ethical sources.
Starbucks mainly sources its coffee beans from the 3 key coffee-growing regions. These include Africa, the Asian Pacific, and Latin America. Starbucks gets most of its signature coffee blends from the Asian countries.
In addition, some of their blends can have a single origin, while others are mixed origins. If you try their signature blends, then you can detect the characteristics and unique flavor profiles of different regions.
This is because the growing conditions of coffee dictate the flavor. For instance, Colombian coffee has slightly fruity notes with floral aromatics. Meanwhile, Sumatran coffee has aromatic, green woods, and earthy notes.
Apart from the said regions, Starbucks also owns a 240-hectare farm on the Poas Volcano Slopes in Costa Rica and growing its coffee there. In addition, it also imports more than 14,000 bags of coffee every year from China.
Tasting Notes
When you take your first sip of coffee, you'll be able to taste beyond the expected coffee taste. Most of the best Starbucks coffee beans have extended undertones that can help the flavor of the coffee to stand out more.
You might like a slight note of cocoa in your coffee or prefer a sweet caramel sweetness infused with your coffee. Either way, Starbucks will have something to offer.
You can go for the Starbucks Komodo Dragon Blend if you want an herbal or earthy note. Go with the Starbucks Espresso roast if you want something sweet and caramelly.
Or go with the Starbucks Caffe Verona Dark Roast if you want the distinctive notes of dark choco.
The Best Starbucks Coffee Tips and Tricks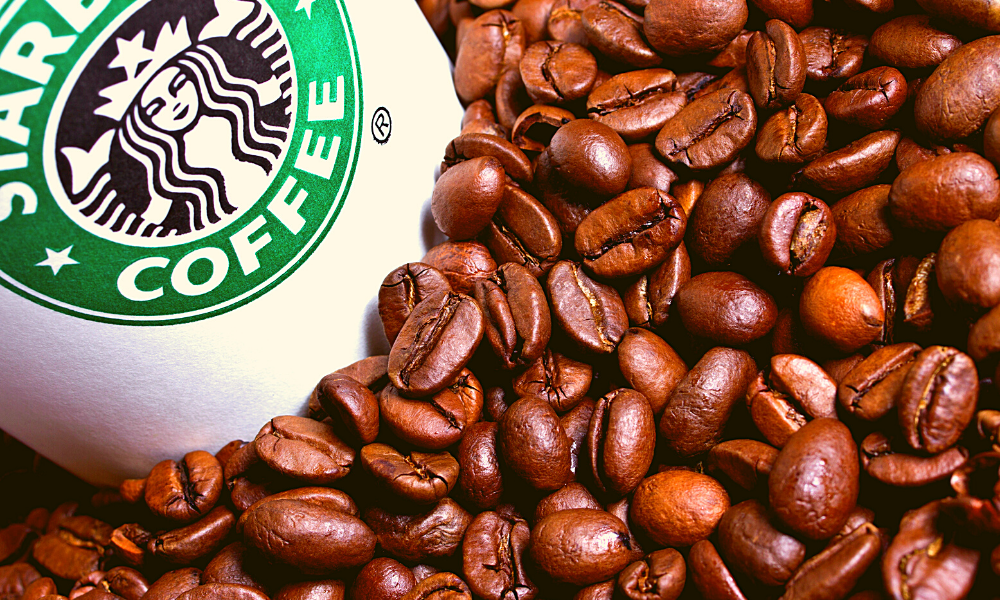 Storage
If you wish for each cup of coffee to be rich in flavor, then you must store it properly. Coffee doesn't like moisture, heat, light, and strong odors.
Consider using an airtight glass or ceramic container that keeps the beans from coming in contact with air. You need to keep the coffee in a cool and dark location away from a heat source and the sun.
Grinding
In addition to proper storage, you also need to grind it properly. Use a high-quality burr grinder and try to maintain a certain grind consistency in order to get a smooth coffee.
If you are using a French press or a percolator, then you will need the coarse grind. For the flat-bottomed drip coffee makers, you'll need a medium grind. And if you have espresso machines or drip coffee makers, then go with the finer grinds.
Pre-Ground Coffee
It is always a great idea to go with whole coffee beans. However, if you don't have a premium grinder at home, then you can go with the pre-ground coffee. Starbucks will be happy to grind your whole coffee bean for you, free of charge.
Just make sure that you buy coffee in small batches so that it won't lose its freshness and you'll end up having a less satisfying cup of joe.
Frequently Asked Questions
Q: Do Starbucks sell decaffeinated coffee?
A: Sure, they do! Although you might not find a decaffeinated version of all your favorite coffee blends, Starbucks does make decaf coffee for many bean varieties.
Q: Which has more caffeine? Light or dark roasted coffee?
A: The dark roast coffee usually has more coffee. Although caffeine remains fairly stable when the coffee is roasted.
However, since dark roast coffee beans are less dense, it's technically true that the darkly roasted coffee beans have more caffeine. But, if you measure your coffee using scoops, then light roasts will have more coffee since the beans are denser.
Q: Why is Starbucks so famous?
A: There are various reasons as to why Starbucks is so famous. These include the endless list of coffee drink and beverage, including the specialty ones, they have the most recognizable cups in the world, Starbucks is also famous with celebrities, innovative creations, ethical sourcing, and so much more.
In addition to selling coffee beans in its store, the company is also a known supplier of coffee beans to many bars, coffee houses, and restaurants.
Final Thoughts
It can be exciting to experiment with your local coffee shop or sip craft coffee whenever traveling. However, if you want something reputable and reliable, then Starbucks will never disappoint.
We hope that this article gave you a wider horizon on the best Starbucks coffee. Other than the signature dark roast that most people think of as too bitter, Starbucks offers a broad option with different flavors and complexities,
And surely, they will have a bag of coffee beans that can satisfy any coffee lover. Hopefully, this article helped you in finding the best Starbucks coffee.
Stay caffeinated!