4 Cup coffee makers  are one of the best innovations in the coffee industry. It seems like manufacturers are creating bigger and better coffee makers.
But the truth is, most of us do not need a huge coffeemaker. It's just that manufacturers know they can charge more for the bigger models.
So, if you are like most people who have no need for the giant and expensive coffee makers, then you will definitely love our list of the best 4 cup coffee makers!
Not only that, but we have also included a comprehensive buying guide and everything you need to know about the compact and efficient 4 cup coffee makers!
Top 10 Best 4 or 5 Cup Coffee Makers
Reasons To Choose The Best 4 Cup Coffee Maker
A lot of people are probably asking, why choose a 4-cup?
Why not go with a machine that makes a single cup or goes with the more convenient ones that can make 8 – 12 cups at a time?
Well, this boils down to a matter of personal opinions. But we think that 4 cups will allow you to enjoy the best of both worlds.
Here are 5 benefits of the best 4 cup small coffee maker: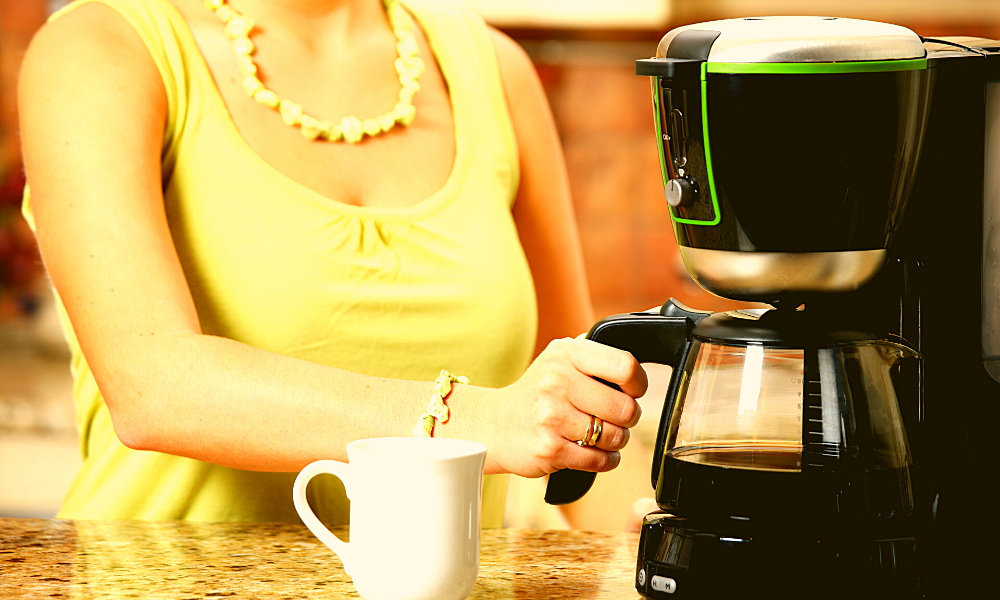 1) Compact Sizing
Probably the most obvious benefit of a 4 cup coffee maker is the fact that they are compact and sleek.
So, if you live in an apartment, a small house, dormitory, or using a tiny office, then the best 4 cup coffee maker will be a perfect choice.
Thanks to its sleek and small body, counter space and storage are not a problem at all. When you're not using the coffee maker, you can easily store it in a cabinet thanks to its small size.
Also, unlike the bulkier coffee makers, the best 4 cup coffee maker won't use a large counter space.
2) Convenient
With just a single push of a button on an automatic 4 cup coffee maker, you can immediately enjoy a fresh cup of coffee without having to do it manually. No need to blend and scoop ground coffee maker, sugar, and creamer.
Plus, if you are having house guests, a 4 cup coffee maker can save you effort and time with its ability to serve coffee quickly and easily. Since its maximum capacity is 4 cups, the waiting time is significantly minimized.
You don't need to wait for a long time before your coffee is ready. Because it only brews in small batches, the water heats up pretty quickly and your cup of joe will be ready before you know it.
3) Saves Money
If you would compare the money, you're spending a month on coffee shops to the cost of buying the best 4 cup coffee maker to brew your own coffee at home, you'll surely see a huge difference.
Most people come to coffee shops to get their daily morning caffeine fix; however, the best automatic 4 cup coffee maker can also do the job for you, without the excessive price tag for just a single cup of coffee.
4) Good For The Health
Coffee has a lot of benefits. Other than that, brewing your own coffee with the best 4 cup coffee maker can spare you the unwanted calories that you can get from coffee shops.
You would be surprised if you figure out how much sugar you're consuming with a Starbucks drink. With the best 4 cup coffee maker, you can brew your coffee and have full control of your calorie intake.
5) Promotes Creativity
When you choose to get your own 4 cup coffee maker, you also become creative in your coffee flavors. You get to practice your brewing skills and mixing things like a barista.
If you find 2 different coffee varieties that you really like, then you can brew them together and have your own unique blend of coffee.
How To Choose The Best 4 Cup Coffee Maker?
If it is still confusing to make the final buying decision, then we have got just the right buying guide to help you figure out which of these options is right for your needs.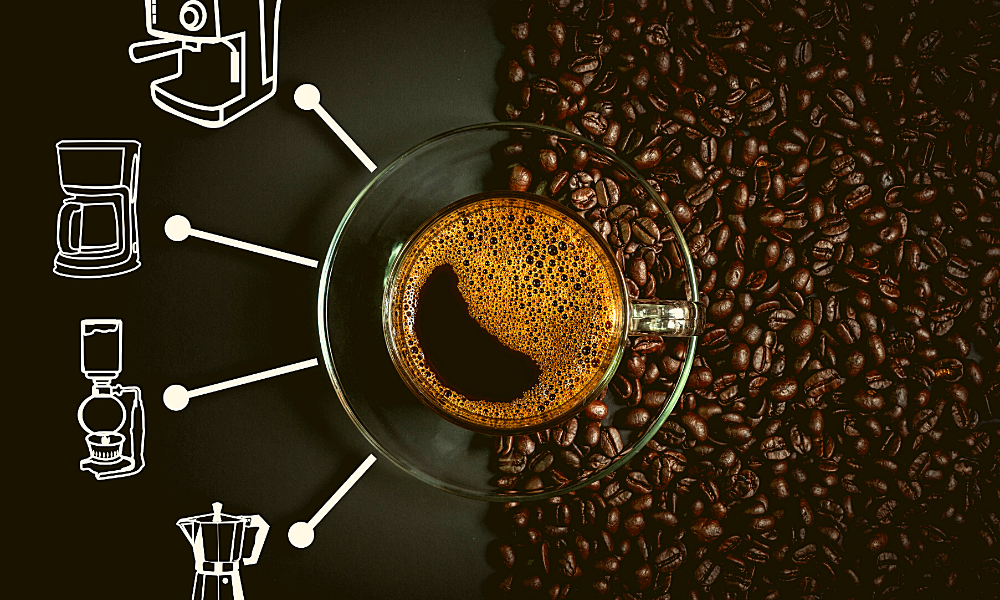 Size
Although all the models on our list are 4 cup coffee makers, they still vary in shape and size. And when you are shopping online, it is not always easy to tell if you are buying a model that will perfectly fit in your kitchen.
Thus, it is a good idea to take the measurements and consult the listed dimensions of the product before buying.
You will want to pay extra attention to the product's height since some models have a narrow base but can be really tall that you will not be able to easily open them under the standard cabinets.
Another crucial thing that you need to keep in mind is that a 4 cup coffee maker really makes only 2 cups of coffee by most American standards. It is not misleading advertising because there is no universally accepted standard for the size of a cup.
If you wish to get a full 4 cups of coffee, then you might want to upgrade to the 8-cup models.
Carafe's Material
The best 4 cup coffee makers will usually feature a carafe. And carafes come in various materials including stainless steel, glass, or the heavy-duty plastic ones.
Each material types have their own pros and cons.
Glass carafes usually give more classic and elegant visuals. Not only that, but glass is also popular among coffee aficionados since it does not add any off-flavors to your cup and is rather easy to clean.
Plus, its transparency allows you to see the coffee level inside during the brewing process. Unfortunately, glass is known to be fragile and requires extremely careful maintenance.
Plus, it will not keep your coffee warm for long. Stainless steel, on the other hand, is a great option thanks to its high thermal resistance that can keep your coffee hot for longer.
Not only that, but stainless steel is also known for its high durability and sturdiness as well as its classy and premium look. However, you won't be able to see what's inside and it can sometimes add a metallic taste to your coffee.
Lastly, plastic appears to be a lot cheaper than the rest, however, its only real benefit is that it is more robust than glass. Unfortunately, it won't be able to keep your coffee hot and is not as sturdy as stainless steel.
Design
It is a key factor to consider the design when buying any kitchen appliances. And a coffee maker is never an exception. Having a nice coffee maker will always be a pleasure and makes a great impression.
Don't hesitate to consider the appearance of a 4 cup coffee maker before buying. You should always choose a model that looks elegant and perfectly fits your whole kitchen's look and match up with other cookware and kitchen appliance.
Filter Types
Another thing to consider when buying the best 4 cup coffee maker is the kind of filter that it uses. Filters can be either a reusable metal mesh or a disposable paper filter.
Let's take a look at each in terms of:
The reusable metal filters are not fine enough to catch everything that's poured into them. Thus, metal filters allow important elements through the filter and into your cup including micro-fines and oils.
Coffee has been accused of raising cholesterol, specifically, it is said to raise LDL. However, it is the oils that sneak through the metal filters that you should blame. Not only that, but these oils can also carry tons of flavor which alters the taste of your coffee.
Meanwhile, the micro-fine are minuscule granules of coffee that are small enough to slip through the holes of the filter, giving your coffee a darker and more cloudy appearance. Plus, you'll end up with a gritty cup of coffee.
Paper filters, on the other hand, are much finer. Thus, they trap the micro-fines and most of the oils. The result is a brighter cup of coffee both in flavor and appearance.
Coffee that's brewed with a paper filter is often described as fruity and sweet and it is generally more translucent than the metal-filtered ones.
As far as cleanup goes, the paper filters are the easy way out.
Metal filters are messy to clean. First, you need to remove it from the brewer, dump the grounds to the trash cans, get as many coffee grounds as possible out since you do not want to wash it down the drain and then wash it.
And even if you have a dishwasher-safe filter, the cleaning process can still be a hassle.
Paper filters, on the other hand, are one-time use. You use them and dispose of them. However, some paper filters require you to actually rinse them so you can reuse them a few times more before throwing them.
In terms of cost, there's also a significant difference o in terms of cost of using metal filters over paper filters. Metal filters can last for years and only cost between $5 and $60.
Meanwhile, paper filters usually cost several cents each, between $0.01 and $0.10. However, since they are single-use and assuming you brew a single cup a day, paper filters can cost from $18.25 – $36.50 a year.
And those numbers can easily go up if you brew more than once a day.
Spout and Handle
To provide the utmost convenience, a 4 cup coffee maker should have a fairly large handle for you to hold and carry it around easily.
Additionally, the spout design needs to be able to make a smooth and dripless pouring at any time and prevent a messy kitchen.
Brewing Time
Human beings, by nature, are impatient creatures and want their coffee machines to have a fast brewing mechanism.
If this sounds like you, then consider looking for a 4 cup coffee maker that can brew in just a few minutes. Fortunately, most 4 cup coffee makers have a really fast brewing time.
Thanks to the advancement of technology, companies have been successful at creating machines that brew faster and lets you enjoy your cup of coffee in just a few minutes.
Temperature Retain
The ability of a 4 cup coffee maker to maintain or retain temperature is another important thing to consider. Make sure that you choose a coffee maker that can help keep your coffee hot even for longer periods.
This way, you will be able to enjoy a cup of coffee for several hours.
Settings
Like any appliance, the best 4 cup coffee maker should come with various features and settings.
Here are some of the most important settings and features you should consider:
Another feature you might want to look at the best 4 cup coffee maker is a timer. A programmable 4 cup coffee maker can allow you to set up coffee brewing the night before and starts brewing in the morning so that your cup of coffee is ready when you wake up.
This is particularly beneficial if you always have a hectic morning or too lazy to brew coffee upon waking up.
This is crucial for those times where you just cannot wait for the entire pot to brew. This feature allows you to sneak a cup of joe mid brewing.
If you are not buying a 4 cup coffee maker with the thermal carafe, then you will want to make sure that the machine has a keep-warm function.
This function will keep the coffee warm and allows you to have several cups hot over a longer period of time, of simple to keep the coffee warm until you are ready to drink it.
Extra safety is something that a reliable kitchen appliance should provide. And coffee makers have that in the form of auto shut-down feature.
With an auto shut-down feature, the coffee maker shuts off after a certain period of idling, saving in energy as well as preventing all kinds of dangerous situations that may happen such as electric explosion or burning if the machine keeps on running.
This way, you do not have to worry when in the middle of the traffic you remembered that you forgot to turn your coffee maker off.
Ease of Use and Cleaning
Another factor that you need to consider when choosing the best 4 cup coffee maker is how easy it is to use and clean.
A good coffee maker needs to be intuitive with easy to read buttons and/or screens. The best 4 cup coffee maker should not make it too complicated to brew coffee, especially during a drowsy Sunday morning.
Also, you don't want a coffee maker that takes forever to clean. Thus, you should go looking for models with removable parts for easier cleaning.
Some coffee makers will have removable filter baskets that make it easy to clean. You only need to throw away the paper filter or wash it off for the reusable filters and you are good to go.
Some models also feature easy-to-clean and non-stick hot plates that save you a lot of time cleaning in the long run. Other components that are dishwasher safe include the filter basket, the lid, carafe, and the water reservoir.
So, if you are a busy person, then it is best to choose these easy to clean features as they will save you more energy and time in cleaning.
Durability and Warranty
Like any appliance that you buy, it is important that you choose one that will last for years to come. To ensure durability and sturdiness, the best 4 cup coffee maker will usually come with a warranty.
Not only that, but it is also recommended that you take into consideration the reputation of the brand for making durable coffee makers.
Tips on How To Clean 4 Cup Coffee Makers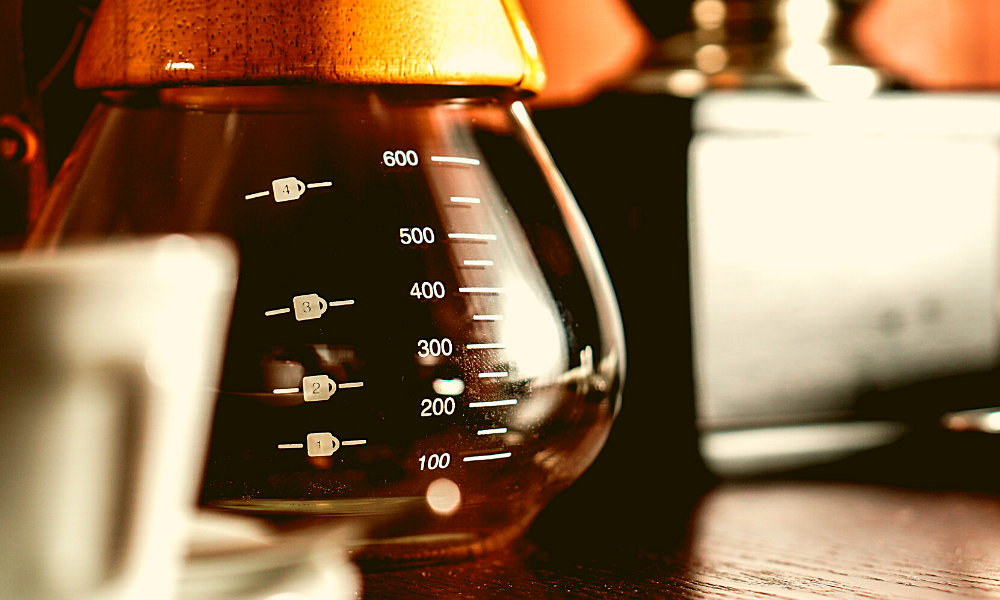 When your coffee suddenly tastes bad or brewing slower than usual, then it might need some cleaning. Limescale from the tap water can quickly build up as well as debris from the beans can start clogging the machine.
In general, coffee makers should be deep cleaned once a month if you use it on a daily basis.
Here are our top tips on how to clean the best 4 cup coffee maker.
Always Wash The Removable Parts After Every Use
It may sound obvious but if you are in a rush, then cleaning your coffee maker can sometimes be skipped or forgotten.
However, all the removable parts of your coffee maker should always be washed with warm soapy water ever after brewing.
Now, if they are dishwasher-friendly then you can just pop them in the dishwasher on your way out.
Use White Vinegar
Coffee makers also need to decalcify in order to stop the built-up of the hard minerals from water. Using vinegar can help in keeping your coffee maker in tip-top condition.
The best way to clean this mineral build-up is white vinegar.
Just fill the water tank with half water and half vinegar. Set your pot up to brew and use the coffee maker as if you were making a cup of coffee.
When the cycle is finished, you can repeat the process using warm soapy water. After that, tun another 2 brew cycles but with just water this time.
This makes sure that all vinegar and soapy residues are gone.
Try Lemon Juice
This is a good alternative to vinegar and even contains the same level of acidity. Run a brewing cycle with water first in order to remove any
residues and leftover coffee. Then fill the water tank with half water and half lemon solution.
Let it sit for at least 15 minutes. Put the filter in and then turn the machine on. Once the cycle is complete, then finish the cycle with fresh water 1 – 2 times.
Use Rice On Carafe
Even if you clean your carafe after every use, they can still get a little grubby. If you want to make the carafe shine, then use rice.
Add warm soapy water and a bit of rice to it. Swirl the mixture in order to loosen any built-up dirt. You can also use a sponge and give it a nice rub down with the mixture.
After that rinse it properly and you will have a carafe that looks like it has just been taken out of the box.
Frequently Asked Questions
Q: How is a 4-cup model different from others?
A: The best 4 cup coffee maker is different in terms of size and convenience. A 4 cup coffee maker has a small footprint and is usually enough for a small family. They are convenient in terms of brewing time and storage.
Q: How much ground should I add in a 4-cup coffee maker?
A: In order to make a full 4 cup pot, the ideal quantity to fill in is 8 tablespoons of ground coffee into the filter basket and 24 ounces of water in the reservoir.
Q: Why does my coffee taste bad?
A: This may be caused by several factors including the brewing time, the water you use, the kind of brewing you do and so much more. However, sometimes a rarely cleaned coffee maker can also be the culprit for bad-tasting coffee.
Q: Why is my 4 cup coffee maker brewing slowly?
A: The most common reason for the speed degradation of a coffee maker is that it requires cleaning. IT is likely that the build-up of mineral deposits from your water and coffee grounds that may have stuck in the system.
Final Thoughts
So, there you have it!
As you can see, 4 cup coffee maker is convenient for the small family or those living in a small home or apartment. Thanks to their small and compact size, they can fit in almost counter space but should be able to make enough coffee for the whole family.
We hope you find this article helpful in your journey to finding the best 4 cup coffee maker. Don't forget to share this article with your friend and family.
Until then, happy caffeinating!