Instant coffee is very popular as one of the ready-to-drink beverages. You simply have to add hot water and you instantly have your coffee ready to drink.
We all love to start the day with a steamy, aromatic cup of Joe, right? And every committed home barista has their own preferred method of brewing.
Some love the traditional French press, while others like the more modern AeroPress brewing.
Many would love the all bells and whistles of an espresso machine, while a few likes to be an expert in the art of siphon coffee brewing or a fan of pour-over coffee.
But sometimes, we always don't have the luxury of time of dealing with brewing your favorite cup of joe.
And sometimes, you just want to sip on an energizing cup without the hassle of brewing it yourself or making a detour on a coffee shop and spending $5.
If this sounds like you once in a while, then go for the best instant coffees then!
And while serious and snub coffee enthusiasts will recommend that you stay away from instant coffee and just try out new brewing methods, we'd like to say that there are some great instant coffee options you can find!
Beware:
Some instant coffees can be a nightmare, while others, not so-so.
Unlike the whole bean coffee, where a bad bag typically means it is flavorless or too mild, the quality range of instant coffee has a very broad spectrum. At the bottom, you will often find it super acidic and bitter.
But, when you find the top, you will find the brands that are smooth, flavorful, and rich, almost in par with a freshly brewed cup of coffee!
So, how do you find the top?
Check out our list of the best instant coffees! Plus, you can gain more knowledge about instant coffees from our comprehensive guide below!
Top 10 Best Instant Coffees
Instant Coffee: A History Recap
Folgers and Nescafe are the big-name in the industry of instant coffees. However, they were not the very first to invest the drink. As a matter of fact, instant coffee has a long history that dates back to the 1700s.
It is said that the first version of instant coffee dates back to 1771, approximately 200 years after coffee was introduced to Europe. Britain issues a patent for the coffee compound.
In the US, the earliest experiments with instant coffee go back to the Civil War when the soldiers sought out the easy-to-carry energy boosts. It inspires the development of instant coffee cakes for soldiers.
Then, the modern instant coffee was first patented by Frenchman Alphonse Allais in 1881.
But it wasn't until the mid-to-late 1800s that the version of Camp Coffee would hit the market in the UK. In 1903, a Japanese-American chemist named Satori Kato invented a stable instant coffee.
Six years after, the Red E Coffee becomes the very first mass-produced instant coffee brand.
Following a world oversupply of coffee beans in the 1930s, Nestle started tinkering around with the process of making reconstituted and dried coffee. And in the year 1938, the company launches its very first instant coffee.
Then, the rest is history.
Nescafe has pretty much taken the instant coffee market and holding about 70 percent of sales.
Instant Coffee: What Is It and How Is It Made?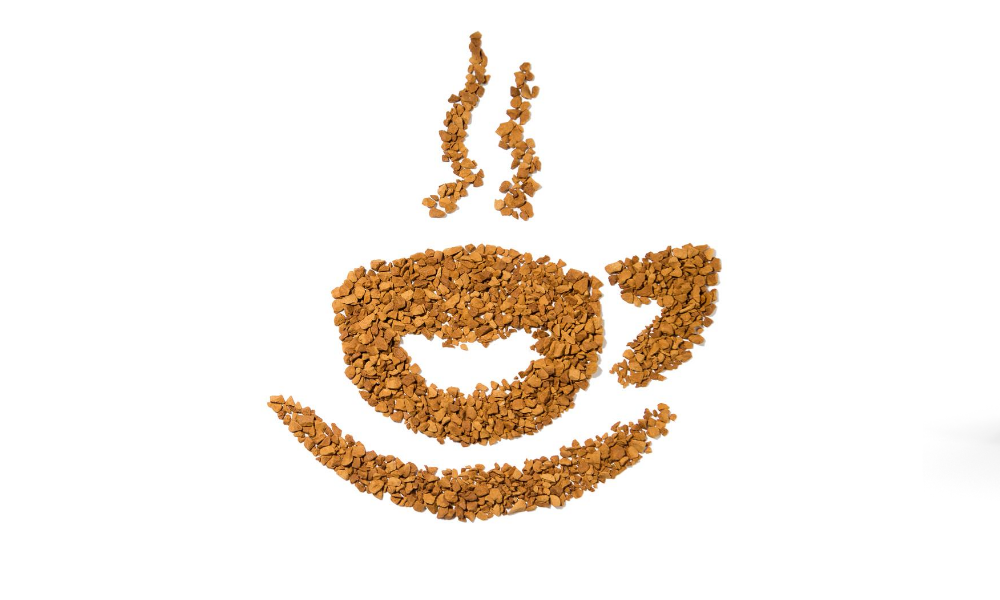 Instant coffee is a regular coffee. The coffee beans are ground and brewed as usual. However, the brewing happens in an industrial caffeinating kit that draws out as much flavor and taste as possible.
Controlling both the water temperature used and the pressure applied to the coffee is essential at this stage in the process. Once the brewing is finished, the water is removed from the coffee and leaving behind the pure coffee extract.
From there, coffee extraction can be carried out in several ways:
The centrifuge spins the coffee, leaving the denser coffee extract behind and removing all water.
The coffee is frozen then the water is extracted.
Heat evaporates the water, leaving behind the coffee extract.
The resulting extract is then dried and turned into a granular or powder form. Drying is usually carried out through spray-drying or freezing.
Spray Drying
When the moisture has been removed, the pure coffee is sprayed through 480 degrees of hot air.
This action takes place at the top of a huge tower, where the coffee mist is then transformed into fine powders that fall and accumulate at the bottom of the structure. And there you have the spray-dried instant coffee.
Freezing
The process of freeze-drying is subjecting the coffee extract to a temperature of about 20 degrees Fahrenheit. After that, the frozen coffee is placed onto belts and is allowed to cool down further until the temperature of at least 40 degrees is attained.
The process changes the coffee extract into ice and then shattered into the smaller particles and then dried to disperse the remaining moisture.
Lastly, during the packaging process, the oils and compounds that give the coffee its taste and aroma are put back into the granules.
And The Result?
Well, when you compare your regular brewed coffee with the way instant coffee is created, it is easy just how fragile and damaged the aromatics of the coffee bean.
That is why most of these brews taste bitter, flat, and uninspiring for the exquisite taste buds of coffee connoisseur.
So…
When Would You Ever Want The Best Instant Coffees?
While most coffee enthusiasts hate the idea of instant coffee, there is a reason almost 50 percent of all green coffee beans end up being instant coffee:
People actually use it!
Here are a few popular uses of the best instant coffees:
For those who like a quick cup of coffee, saving them time and provides convenience.
For those who do not drink coffee but still want to provide their guests with caffeine options.
For cooking such as making dry rubs for meat
For baking, adding a coffee flavor or caffeine kick without additional liquid (i.e. Tiramisu cheesecake, marbled mocha loaves, coffee brownies)
For smoothies, shakes, and coffee-based drinks (i.e. hazelnut macchiatos, white chocolate latte, dirty chai latte)
Instant Coffee VS. Freshly Brewed Coffee
Most coffee aficionados are quite hesitant to branch out from their freshly ground and brewed coffee just yet. That's because of the complexity and flavors that it brings.
However, for those who already reached out to pre-ground coffee every now and then or just looking to improve their quick, on-the-go options, then the best instant coffee is a great idea.
The convenience factor of an instant coffee that can be brewed with cold or hot water and on the go is quite hard to challenge.
That's all there is.
You simply rip the individual packaging, pour it in your cup, add boiling or cold water, stir, and you're good to go!
No hassle of grinding. No elaborate scheming of the right steeping period and water temperature. No exquisite brewing skills to master.
But, as mentioned, it does compromise the taste and flavor of your coffee.
But, hey, we have a little secret.
While you may not be able to achieve the same flavor and freshness with instant, the flavor and strength of freshly brewed coffee can actually be rivaled if you're buying the right instant coffee.
If you take your time to do your research, you can find the best instant coffee that gives you a tasty and strong brew, nonetheless.
This leads us to our next point…
The Best Instant Coffees Comprehensive Buying Guide
Here are some things you might want to consider when choosing the best instant coffees!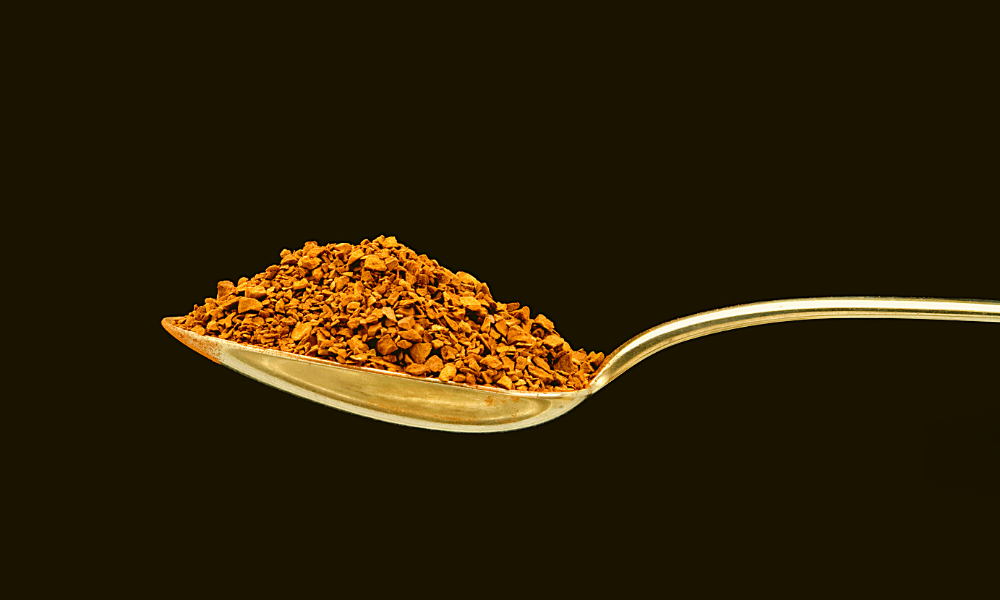 1) Origin
There are a low of countries where coffee is grown to be instant coffees. However, not all of them are used by global manufacturers to export their products.
South American countries make half of the entire world of the coffee market. The Brazilian Arabica coffee, in particular, is cheap and quite popular, so countries are focused on the production of this specific bean type.
If you're considering Asia, then Vietnam and Indonesia account for at least 23 percent of the world market. Here, Robusta being cheaper makes up the majority of the cultivated coffee beans in these areas.
Meanwhile, African countries don't occupy a leading position in the export for instant coffees, all because of the poverty in this continent.
Here, you can choose one country, Cote d'Ivoire. In terms of varieties, Africa mainly produces Arabica.
2) Beans
You're probably confused about our mention of arabica and Robusta. These are rivals in the coffee industry, although arabica seems to be taking the top.
Arabica is loved for the aroma and taste, which are factors that you need to consider most in instant coffee. Since this type of bean is more difficult to grow than Robusta, the cost of 100 percent arabica beans are higher.
However, you need to understand that only Arabica coffee beans can give you the best aroma and taste that's on the market of instant coffee.
If maximum aroma and flavor are what you want, then arabica is your bean.
With arabica, everything is clear, so what happens to Robusta? Well, Robusta beans have less flavor but twice the caffeine. They are also easier to grow, thus the cheap price.
Another feature that distinguished this coffee bean is the taste of earthiness and bitterness.
Sounds bad?
Take note, however, that in most coffee formulas, this flavor profile will be an interesting addition and should give your drink a unique taste.
If the energizing effect is crucial, then you can try the Robusta variety.
3) Roasting
Good coffee will start with the cultivation, but most of its aroma and flavor come from roasting and grinding. The green coffee beans are roasted in order to bring out their inner aroma.
This process is usually done at a roasting facility where the coffee beans are then placed inside a rotating drum which is subjected to the hot combustion gases in order to roast the beans.
And while the process helps release the inner aroma, we want to point out that temperature and the period to which the beans are roasted also play a big role in the final product.
Here's a guide on coffee roasts:
Light roast instant coffee goes perfectly with milk and has a sour shade. The roasted coffee beans are light brown and are suitable for soft raw material.
Medium roasts are the most traditional and popular type of roasting. It results in brown coffee beans with oily but dry sheen. Sour and sweet taste and aroma are usually for this roasting type. Plus, the taste is more saturated than light roasts.
These are the strongly roasted coffees with dark brown beans and sheen oiliness. The taste is less sour but more bitter. With the longer roasting period, the essential oils are actively released which contributes to the appearance of a more saturated and brighter flavor.
Another thing you need to consider is the caffeine content. Caffeine levels help determine how strong the flavor is and it affects the potency from the chemical standpoint.
With that said, keep in mind that high caffeine content can pose risks for people with a sensitive stomach or for pregnant and breastfeeding women.
In general, the caffeine levels in instant coffees are usually displayed on the packaging in grams per serving. Thus, a coffee that contains over 60g per serving might make you think twice.
Or you can go with the decaf varieties.
The decaf is your regular coffee that only takes extra treatment in order to remove its caffeine content. While the amount of caffeine in normal servings is 100mg, with decaf, it only has 4mg.
You also need to keep in mind that there are some brands that like to include all sorts of additives in order to facilitate a fast-brewing process. This is intended to achieve the crema layer, which for the most part, is actually healthy.
However, if you enjoy the taste of traditional coffee, then chances are, you will not like additive-based instant coffees.
Depending on the composition and brand, the best instant coffee can differ to some extent between the manufacturers. Interestingly though, some brands even employ the multi-pack type of packaging, in the sense that you can use individual packet for a single serving.
This is convenient for people who don't want to go through the hassle of preparing their coffee or figuring out the amount to brew. Furthermore, individually packed instant coffees are also practical when traveling since it is easy to carry and store.
Although the price does not always reflect the product quality, the opposite is somewhat true with the best instant coffees.
As a matter of fact, some of the best instant coffees are made by reputable brands, thus boasting a much higher price tag than the low-end versions.
This is because the bigger and more established brands can afford to invest in more resources in development and research, always looking for a way to improve their already great-tasting coffee.
How To Make The Best Instant Coffees?
So, you finally got a pack of instant coffee. Unlike French press or pour-overs, instant coffees don't need to be brewed.
So, how do you make one?
You just need to pour a spoonful or the whole content of an individual packet with hot water and stir for at least 20 seconds.
Taste Tip:
If you pour dry coffee with hot water, it will lose a huge part of its original taste.
To prevent that, you need to pour some cold water first. Then the coffee. Stir the resulting mass so that there's no precipitate left. After that, pour the hot water.
This way, you will have the maximum taste and flavor.
Or you can also try this method:
Combine instant coffee with a dash of warm water. Let it sit for about 30 seconds. Then, top it up with hot (not boiling) water.
This technique can help the coffee to brew more gently without damaging the flavor and aroma by burning them with intense heat. This way, you get to extract maximum coffee flavor and make the most of any instant coffee you have.
Think it's too mundane?
Consider these…
4 Ways To Brew The Best Instant Coffees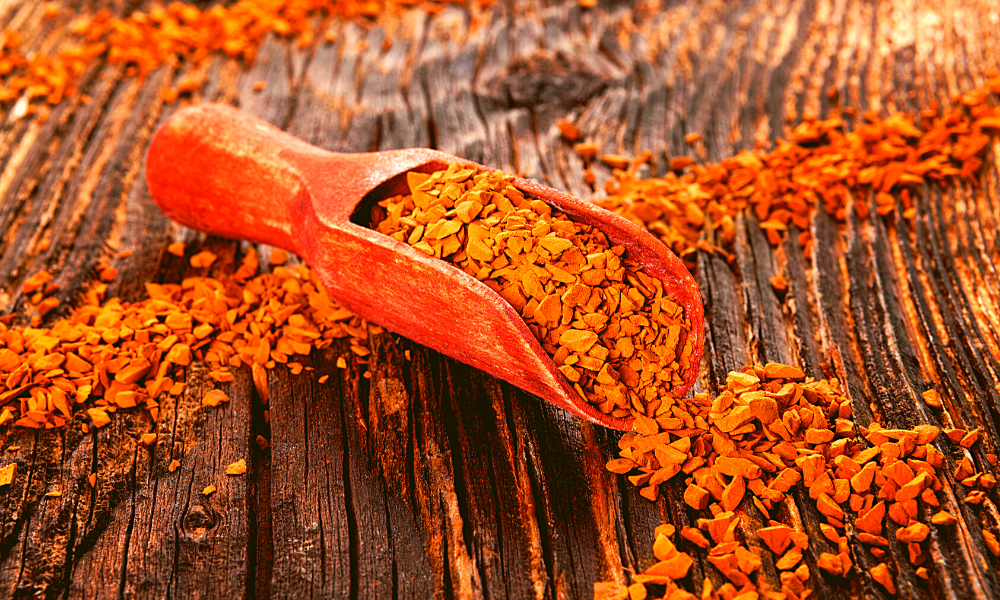 1) Cooking With Cinnamon + Milk
Ingredients:
1 -2 tablespoons of the best instant coffee
30ml – 50ml of milk
150ml – 170ml water
A pinch of cinnamon
Sugar to taste
Instructions:
Pour the instant coffee and sugar in a cup.
Fill the cup with ¾ of hot water.
Let it sit for 2 – 3 minutes.
In the meantime, you can heat the milk. Doing so creates a special aroma and softness which can help improve the flavor of instant coffee.
Pour the milk into the cup.
Sprinkle some cinnamon.
Note: Milk can also be replaced with cream. For the lover of an unusual flavor combo, you can also try coconut milk, providing an even more delicate taste.
2) Coffee Ice in Milk
Ingredient:
1 – 2 tablespoons of the best instant coffees
250ml milk
250ml water
5 teaspoon sugar
A pinch of vanillin
Instructions:
Pour hot water over instant coffee powder and sugar.
Mix it and let it cool.
Sprinkle a pinch of vanillin.
Pour it into an ice mold and freeze.
In cold milk, add the coffee ice.
Place it back in the fridge for 10 – 15 minutes so that the eyes are slightly melted, and the ingredients are mixed.
3) Iced Coffee
Ingredients:
250ml water
1 – 2 tablespoons of the best instant coffees
30ml – 50ml milk
Ice cubes
Instructions:
Dissolve the instant coffee with a little bit of warm water.
Then add cold water and milk.
Add ice cubes and serve.
4) Instant Coffee Shake
Ingredients:
Can of evaporated milk
1 – 2 tablespoons of the best instant coffees
1/3 cup of sugar
Ice cube
Whipped cream (optional)
Instructions:
Combine the evaporated milk, coffee, and sugar in a blender.
Blend until everything is dissolved.
Pour over ice.
Throw some whipped cream on top for extra flavorings.
Is Instant Coffee Bad?
Instant coffees like regular brewed coffees, boast a number of health benefits thanks to their high antioxidant contents.
A serving of the best instant coffees not only tastes like a decent cup of joe, but it also provides potential health benefits such as boosting metabolism and enhanced brain function, just to name a few.
In addition, you should know that instant coffees usually have less caffeine than regular brews. The only potential drawback is that this type of coffee has acrylamide.
The regular brews have only half as much acrylamide as its pre-brewed alternative. This chemical is only harmful in high amounts. Fortunately, the levels in instant coffee are not going to hurt you, even if you like to drink it every day.
Some manufacturers, however, like to include additives and extra flavors and sweeteners. While these may delight your taste buds, they can increase your calorie intake or the useless sugars in your body which can result or worsen some illnesses.
But, if you know how to control yourself, then, no, instant coffee is not that bad for you.
Final Thoughts
And that's a wrap. Hopefully, at this point, you should have all the necessary knowledge about the best instant coffees.
If you want something convenient and quick to sip on, then instant coffees can't be beaten. Want to try its convenience? Then consider picking from our above list of the best instant coffees out there.
We hope you find this article helpful. Got an instant coffee experience to share? Fire up the comment section below! And please don't forget to share this article with your friends and family.