Ground coffee can easily wake you up in the morning, which is why so many people all over the world choose to use it for their daily morning java.
Countless people start their day or end their evening with a sip of the perfect cup of joe. However, coffee comes in several forms and they do not all offer the same great standards of quality and flavor.
You may have been told that getting whole coffee beans to grind right before brewing can yield the tastiest coffee— and that advice is never wrong.
However, if you still don't have the money to get a high-end grinder at home, then buying the best ground coffee can be your best option at the moment.
Top 10 Best Ground Coffees
Ground Coffee VS. Whole Bean Coffee
Ask any coffee geek and they'll tell you without a doubt that buying whole bean coffee for you to grind yourself at home before brewing is a better choice. They are not wrong, however, there are times when buying pre-ground coffee is the right choice.
When the coffee is pre-ground, its surface area is also increased, allowing for a better extraction. However, once the beans are ground, they begin to degass, releasing their characteristic aromas and flavors.
And the larger surface area also makes these coffee grounds more prone to degradation from air and moisture. Also, the finer the grind, the faster it goes stale.
So, why buy pre-ground coffees?
Advantages of Buying Pre-Ground Coffees
If you've dipped your toes into the world of the gourmet and specialty coffees, then you know that pre-ground coffee is often depicted as the "bad guy".
It's often charged for being mass-produced, offering a stale and sub-par coffee experience. Although pre-ground coffees do have their own cons, using pre-ground coffee is sometimes the best decision.
And despite what those purists say, pre-ground coffee can still make a delicious cup of brewed coffee as well as a handful of advantages:
1) Convenience
Perhaps the most appealing advantage of pre-ground coffee is that it is simply much easier to use. You just order the best ground coffees, wait for it to arrive and you're ready to brew it right off the box.
This means there's no fiddling with what grind settings you need or second-guessing its taste and strength. This is particularly advantageous in terms of espresso since you can dodge the tricky and arduous skill of dialing in your grinder.
By getting the best ground coffees, you have one less problem to worry about in your morning coffee and focus on making a consistent and reliable cup of coffee.
2) Best For Beginners
When you're just entering the world of coffee, going with the best ground coffee meant one less thing to worry about.
What the pro-grinder advocates do not tell you is that using a grinder is far trickier than it looks. You will need to find the exact grinding size for a specific brewing method which is often finicky and most of the times feel like an exercise in futility, especially if you lack the skills.
3) Money-Saving
Another major advantage of buying pre-ground coffee is that you have one less piece of equipment to buy.
Another secret in the coffee world is that not all grinders are born equal. Although grind your own whole coffee beans is often equated to better coffee, it's not that simple.
Cheap grinders tend to provide inconsistent extraction which ultimately gives you horrid tasting coffee.
The final flavor of the coffee is mainly governed by the process known as extraction. This is when the hot water extracts the flavors and compounds of ground coffee. And the size of the coffee grind will determine how quickly or how much coffee is extracted.
Cheap or the blade coffee grinders usually grind up whole coffee beans inconsistently. So, instead of having uniform size, the grind becomes a mixture of larger and smaller coffee particles.
This results in some of the grind being over-extracted that produces the bitter taste while other bits are under-extracted, producing a sour and unpleasant taste.
In short, to get the real benefit of grinding your own beans, you will need to invest in the high-quality burr grinders, which you should know, are not cheap.
The best ground coffees, on the other hand, are usually ground in premium commercial grinders, offering uniform grind size.
Choosing The Best Ground Coffee (That Does Not Suck)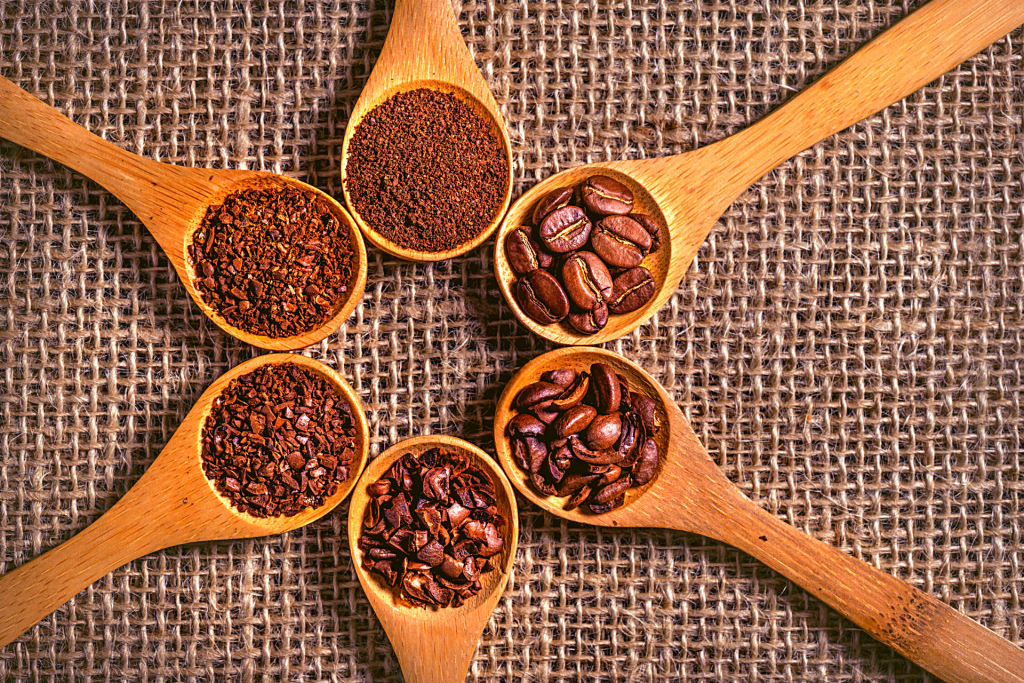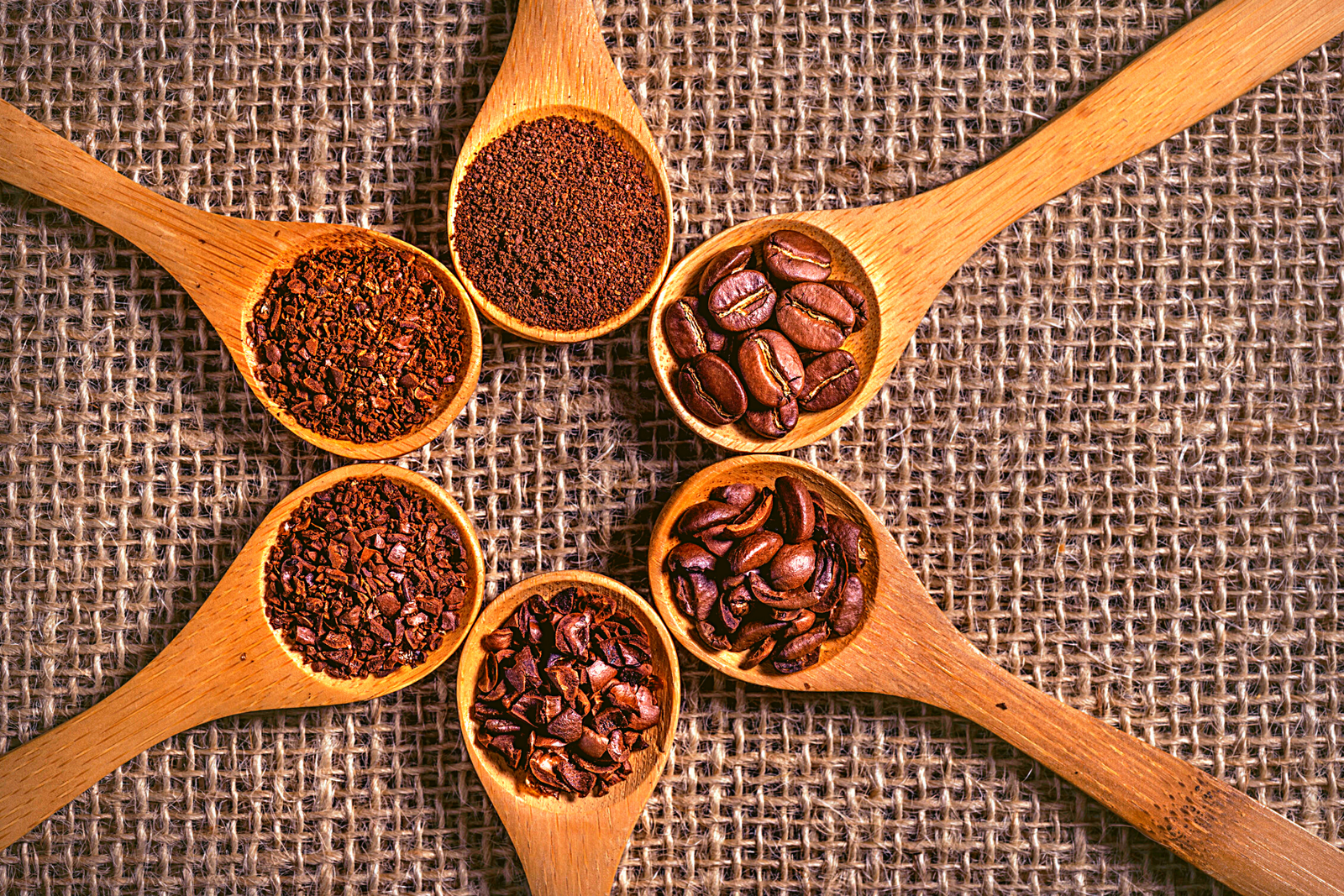 The type of coffee that is right for you is a pretty subjective choice which only you can make.
Still, there are some important discerning characteristics that make objective differences between the best ground coffee and the ones that stuck.
Buying a pre-ground coffee, you need to consider certain things in order to ensure that you only get the best-tasting coffee.
Origin
It is only common sense and natural to assume that every country offers the same distinctive taste. However, you do not need to complicate the selection process, if you are a beginner coffee enthusiast.
For beginners, it is best that you choose ground coffee which has multiple regions since it is certainly an easier choice to make. However, for the genuine caffeine fanatics, here are the 3 main coffee growing regions:
America
The primary coffee-growing zones are Central and South America as well as the Caribbean. Brazilian coffees offer dramatic variations in terms of taste.
Meanwhile, Colombian coffees offer bold and acidic flavors and taste. AS for the Caribbean coffees, they are on the milder side.
Africa
It is the very birthplace of rich and delicious coffee. The eastern part of Africa like Ethiopia and Kenya are known to produce the best coffee in the world.
African coffees offer an extraordinary fruity flavor and character. This is all thanks to the traditional processing method I Africa. As a matter of fact, Kenyan coffees are known to have the most intense and full-body flavor.
Asia-Pacific
From Indonesia and India to the great islands of Hawaii, the Asia-Pacific region also provides diverse coffee characteristics. However, the Sumatran coffee from Indonesia and Kona coffee from Hawaii rank as the premium options across the world.
Arabica vs Robusta
The most famous coffee producers in the world mainly use 2 coffee varieties for producing great-tasting coffee— Arabica and Robusta.
Long regarded as the premium choice bean, arabicas make up at least three-quarters of the current commercial crops. They have more pronounced acidity and a softer and sweeter taste with tones of fruit, sugar, and berries.
Meanwhile, Robusta coffee beans offer a grain-like and harsher taste with a hint of nuttiness as well as containing twice the caffeine. They are easier to grow since they thrive at lower elevations and are more resistant to weather fluctuations and pests.
Most of the best ground coffee for sale today features Arabica, however, some robustas are now starting to find favor.
In addition, both Arabica and Robusta varieties can be mixed in blends with a different ratio of the content of these coffee beans provides to get various quality and taste.
Robusta coffee beans are usually additives in order to reduce the price. However, coffee's caffeine content increases and offers a much stronger and stable crema. The most popular option is 20 percent Robusta and 80 percent Arabica.  
Roast
When choosing the best ground coffee, you need to pay attention to the roast. The taste qualities in addition to the effect on the body will depend on this.
The aroma and taste of the resulting drink also affect the degree of roasting as well as its grade. There are 5 main types of roasts:
Light Roast
Aromatic and fruity notes; light-bodied; acidic; no oily surface
Medium Roast
Sweeter and less acidic; balanced and fuller body; no oily surface
Medium-Dark Roast
More aromatic but not acidic; bittersweet aftertaste with a fuller body; slightly oily surface
Dark Roast
Spicy notes with a pronounced bitterness and roasted taste. Not acidic and very full-bodied; very oily
Double Roast
Charred, smokey taste with hints of sweetness; extremely oily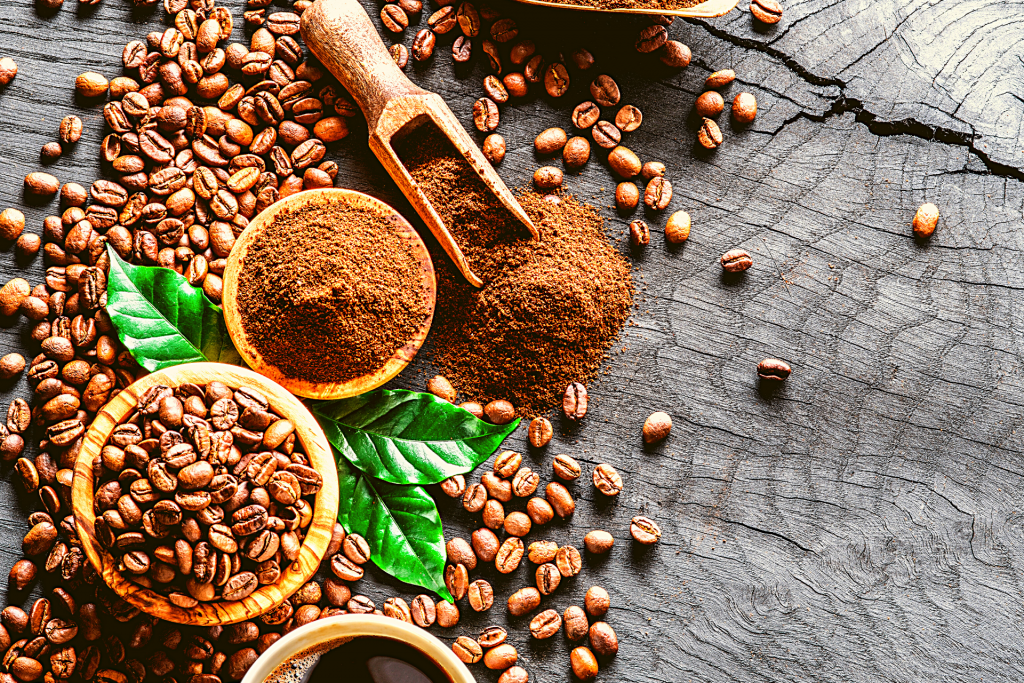 Grind Size
Another thing you need to consider is the grind size. Whatever you choose will depend on the method of brewing that you are comfortable with. Here is a handy guide to grind size:
Extra Coarse
Think of the really small pebbles or peppercorns. Extra-coarse coffee is suitable for Toddy's or cold brews and perfect for lengthy submersions in water.
Coarse Grinds
They have a chunky texture and distinct particles like Kosher salt. Best for French Press, Percolator, vacuum coffee pots, and Cupping, coarse ground coffee often needs about 4-minute for the perfect extraction.
Medium Coase Grounds
This is the grind size for the clever dripper or Chemex coffee makers. The medium-coarse grounds look like sand and require extraction of at least 2 minutes for that great-tasting and balanced cup.
Medium Grinds
More like the texture of coarse sand. This is the classic "dump in the basket" size, producing the generic cup of coffee. Brewing methods include auto or manual drip machines with steel or paper filters, and Café Solo Brewer.
Medium-Fine Grounds
This is the perfect grind size for siphon and pour over coffee makers. This where you reach the zone of experimentation with the medium-
fine ground coffees a great foundational size for testing new ways to brew your cup of joe.
Fine Grinds
Smoother, more like salt or sugar when you rub in between your fingers. Suitable for the Aeropress, Espresso Machines, moka pots as well as cone-paper cone paper filters in a drip coffee machine.
Extra Fine Grinds
Almost as fine as powdered sugar or flour, but you can still feel some grit. These are the type you need for steam espresso machines as well as pump espresso machines.
Turkish Grind
This is the finest grind level, like flour that is very powdery. You will get the best results if you use it in the Turkish coffee pot called Cezve or Ibrik.
A Note On Ground Size
COARSER GRIND = LONGER EXTRACTION
The coarser your grind is, the longer it takes to be extracted.
For instance, pulling an espresso need finely ground coffee beans and takes at least 20 – 30 seconds to produce the perfect shot. Meanwhile, cold brew needs extra-coarse grounds which can take up to 12 hours in order to produce a balanced cup.
FINER GROUND = STRONGER FLAVORS
Finely ground coffee most often results in a strong cup of coffee. However, it is subjected to other variables.
What we are saying is that you don't want a finely ground coffee for a French Press then drink it. It will be dense and overly extracted, resulting with you bouncing off the walls before lunch.
CONSIDER THE VARIABLE
How fine or coarse a coffee ground is will depend on other coffee brewing variables. Consider the water pressure, temperature, type of the methods as well as the brewing method, then choose your ground size accordingly.
Certifications
Do certifications have anything to do with the coffee quality?
Yes, it does!
The best ground coffee will have the proper certifications including USDA Organic, Fair Trade, Kosher, Rainforest Alliance, and AA.
USDA Organic-certified implies the use of zero chemical fertilizers, pesticides, and industrial methods. The AA certification refers to the coffee bean size.
IT is a Kenyan standard of sorting with the larger beans equating to higher quality and a more expensive price tag.
Both the Rainforest Alliance and Fair-Trade certifications mean that the coffee beans are cultivated and sourced using fair and sustainable methods.
Simply put, there are no exploitation practices against the environment and the farmers.
Meanwhile Kosher is a Jewish standard that complies with the dietary law of the Jewish community. In terms of coffee, a Kosher certification means that only water comes in contact with the coffee beans during harvest, processing, and roasting.
There are no natural or artificial flavors added in the coffee even after the roasting process.
Blends
Although some of the best ground coffee comes with coffee as the one and only ingredient, others come with added flavorings.
In recent years, flavored coffee has become popular. These may include chocolate, fruit flavors, vanilla, and hazelnut among others.
So, make sure to check and find out about the composition of the coffee just to be sure that you're okay with its flavor blend. This is definitely worth checking since it can significantly affect the taste, bitterness, and smoothness of your coffee.
Take note that blended flavors are the best for individuals who prefer adding milk, cream, and other ingredients to their brewed coffee.
Date of Roasting
What's the roasting date features on the packaging? The best ground coffee should always have the "Roast On" date on its packaging. This way, you can tell when it was roasted and allows you to determine the freshness of the coffee.
Always go with the ground coffee that hasn't been on the shelf for too long. Otherwise, you will end up with a stale and bland coffee.
Packaging
In general, the best ground coffee will be packaged on containers with air-tight sealing in order to prevent the loss of flavor. Some will come in plastic containers while others come in cans.
Regardless of what you choose, make sure that the coffee comes with a secure and air-tight container.
Quantity
Are you the only one to drink the coffee or are you whole family coffee drinkers too? Can you finish 5 or more cups of coffee a day or you only take it every morning?
These are some of the questions that you need to answer before getting that packet of ground coffee.
Remember, pre-ground coffees lose their flavors and aroma fast and you don't want it to stay on the shelf for long. So, if you're not a coffee addict and the only one in the family who drinks coffee, then a smaller pack is better so you can enjoy fresh coffee at all times.
However, if your whole family likes to drink coffee or you can go on your day without drinking over 5 cups of coffee a day, then getting a bigger amount of coffee can help you avoid frequent ordering and purchasing.
Storing Ground Coffee To Preserve Freshness
Let's say that your chosen ground coffee has finally arrived. What do you do to keep it from going stale and ensure its original freshness, oils, and flavors?
Proper storage!
To ensure maximum preservation, you want to keep your ground coffee in a vacuum-sealed bag. Or you can also transfer it to an airtight, opaque coffee canister immediately.
After that, you need to store it in a dry, dark, and cool place. A pantry or cabinet that is far away from the stove or direct sunlight is the best place to store your coffee beans. Also, make sure that it is away from humidity.
And if you think you can store your coffee in the freezer or fridge, think again. The moisture inside the freezer and the fridge can ruin the aroma and flavor of your ground coffee. Not only does your coffee ages quickly and go stale, but they're also at higher risk of freezer burn.
Where To Buy The Best Ground Coffee?
For most of us, the go-to place to source a pre-ground coffee is our local grocery store or supermarket. However, despite the convenience it provides, it is actually a terrible idea.
Ground coffee on the supermarket aisles are often been roasted months in advance and sits on the shelf for weeks or months. Thus, promising you mass-produced, old and generic coffees.
So, instead of going to the supermarket to buy ground coffee, you should source coffee from local specialty roaster. Most of the specialty roasters of today sell pre-ground coffee on well-known online platforms such as Amazon.
They offer a broad range ground coffee for various brewing methods and will more than be happy to grind your beans as per your requirements.
Or, you can buy a whole coffee bean from a specialty roaster and ask your local café to grind it for you in their commercial grinder.
By sourcing ground coffee beans from a specialty roaster, you are guaranteed to get a freshly-roasted and ground coffee beans for a specific brewing method.
Frequently Asked Questions
Q: What's the difference between ground coffee and instant coffee?
A: Instant coffees offer quick brewing and far longer shelf life. Being able to just pour boiling water and enjoy a cup of coffee is indeed convenient. However, they don't make a healthy option.
Instant coffees are powerful stimulants responsible for the production of gastric juice. This is why it is not recommended that you drink instant coffee in an empty stomach, especially for those with digestive problems.
Meanwhile, ground coffee is far healthier. This is because they contain zero chemical components in order to make it soluble. Also, ground coffee does not affect stomach acidity.
Q: Are espresso beans different from the regular coffee beans?
A: Espresso beans are actually coffee beans which a roaster believed to be well-suited to the espresso preparation. Usually, they are roasted to dark or medium and have lower acidity and a bit more body.
Q: Can I use ground coffee for cold brewing?
A: Sure, you can! However, you will need a coarser coffee bean.
Q: How long does a ground coffee stay fresh?
A: In general, once you open the bag and expose the ground coffee to the air, it starts to deteriorate. However, you can keep freshly ground coffee for a long time with proper storage, but it will become less fresh and taste stale with every passing week.