Espresso machines are one-of-a-kind coffee machines that produce a strong and more flavorful coffee that is used as a base for latte or cappuccino.
Back in the days, espresso machines tend to have an Italian sounding name along with a hefty price tag. Fortunately, this has changed in the past few years.
And today, there are a lot of new players in the industry, and as a result, the value proposition of espresso machines is a lot better at the lower end of the market.
In 2020, it is possible to find a decent espresso machine if you can live without all the bells and whistles of the more expensive models. Whether you are a freelancer, a busy student, or simply love gourmet coffees, then you can easily find the best espresso machine under $300!
However, with so many options, you might be confused and end up with a less than satisfying purchase.
Not to worry though, we listed some of our favorite espresso machines under $300. Plus, we included a comprehensive buying guide as well as the much-needed information about espresso to help you in this wonderful journey to dark, strong espresso coffee!
Top 10 Best Espresso Machines Under $300
What's An Espresso Machine?
Espresso machines utilize high pressure in order to quickly force hot water through finely-ground coffee beans. The process produces an intensely flavored drink with the light brown foam on top, known as the crema.
The espresso method is usually used to produce a 1oz – 1.5oz of coffee, known as espresso, shot. It can be enjoyed on its own or combined with milk in order to make creamy drinks such as cappuccinos, lattes, mochas, and more.
You can also use the espresso brewing method for a larger quantity than the standard espresso shot.
For instance, a lungo is usually around 4oz or going up to 8oz for a double lungo which is roughly the same size as the standard cup of drip coffee.
Also, you might have probably seen "espresso" on some bags of coffee beans. It is worth noting that espresso is not any kind of roast level or bean.
Espresso is usually made with dark roasted coffee beans; however, espresso is not interchangeable with the dark roast.
Brief History Recap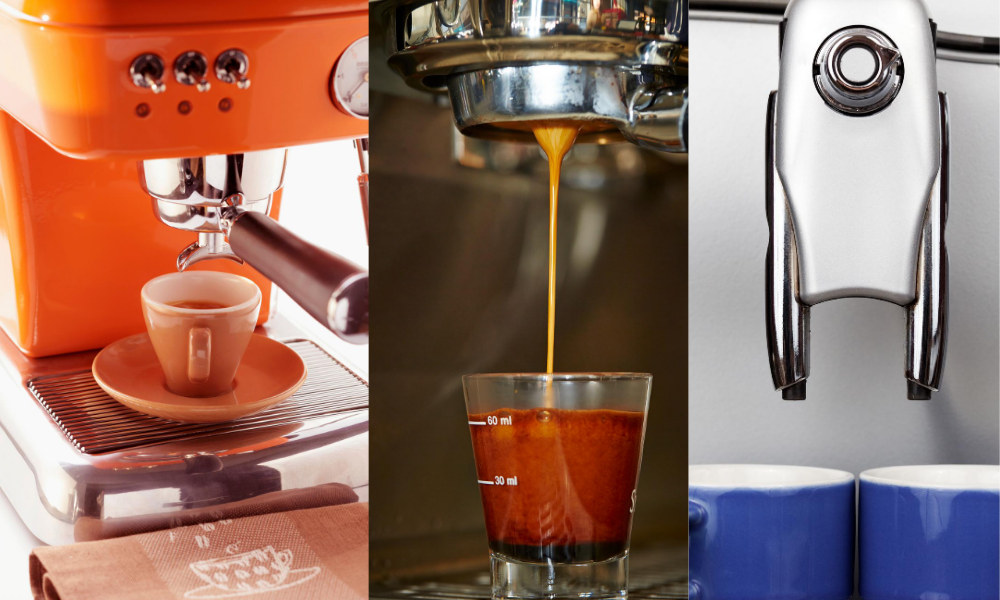 Espresso has a preparation of coffee bean was first introduced during the 19th century. As coffee shops and restaurants bloomed in the early days, came the demand for a quicker way of brewing.
People don't like the hassle of preparing coffee for themselves, so they usually went to coffee shops to order their favorite cup of joe. However, customers also do not like to wait.
Thus, an Italian inventor named Angelo Moriondo invented the very first espresso machine. He patented his machine in 1884. Unfortunately, this espresso machine has a bulky appearance and not suitable for home brewing.
Next came Luigi Bezzerra of Milan, Italy. He added some enhancements to the previous machine and successfully invented a machine that can brew a single order in just seconds.
Unfortunately, the machine was heated on open flames, thus brewing couldn't be controlled, and it couldn't provide coffee quality and consistency.
Then, another Milanese named Desiderio Pavoni bought the Bezzerra's espresso machine patent. He made improvements on the machine while inventing the pressure release valve that helps control brewing.
From there on, Bezzerra and Pavoni later on became partners and called their first working espresso machine Ideale. This machine became the forerunner of today's style of espresso machines.
Coffee Maker vs. Espresso Machines
You might be wondering about the difference between espresso machines and standard coffee makers.
Well, both espresso machines and coffee makers have one primary function. That's to make cold or hot coffee. The big difference, however, is the amount of pressure applied by the machine as well as the coffee ground used.
The standard coffee maker doesn't come with a grinder, however, they can be equipped with filter nets in order to separate the coarse coffee bean particles from the fine powder.
The simple coffee maker features the same function as boiling coffee over continuous hot temperatures. Cream, milk, or sugar can be mixed after.
An espresso machine, on the other hand, has a more complex process. The more premium models may even come with built-in grinders.
Espresso machines have boilers where water is heated through a coil. The temperature is accurately measured with the use of the water heater controller.
Then there's the pressure gauge in which pressure is supplied to produce good steam. The portafilter is where the final espresso flows into the cup.
Why You Should Get The Best Espresso Machines Under $300?
Saves Money
Sure, it can take a hundred dollars to buy a decent espresso machine, or you can just buy a tall cafe latte for only $2.
However, you can save more money by having your own espresso machine at home, instead of regularly buying a cup from your local coffee shop.
Plus, you do not have to always go with the most expensive espresso machine to get your daily dose of espresso.
The best espresso machines under 300 offer the best value for your money since they have enough functions and features to provide a decent and great-tasting espresso and other espresso-based beverages.
Having your own espresso machine, it teaches you how to make coffee by yourself. You can slowly hone your barista skill with the best espresso machines under 300.
You can control your brewing process, producing espresso shots with a distinctive taste and aroma.
You can even experiment with other espresso-based drinks such as latte and cappuccino or experiment with different ingredients at home like adding chocos, caramel and so much more.
The possibilities are just endless.
Espresso machines make a great centerpiece in your kitchen counter. Most of them are drop-dead gorgeous and will be making a dramatic statement in any social gathering.
If you love waking up to an aromatic cup of coffee, then investing on the best espresso machines under 300 is a great choice.
By having your own machine, you do not have to finish all your morning routine, then wait in line at your local coffee shop just to get your first sip of energizing cup of joe.
How To Choose The Best Espresso Machines Under $300?
Choosing the right espresso machine can get daunting at times, especially if you're new to the whole espresso machine buying thing.
There are so many things you need to consider in order to make sure that you make the right choice.
Here are some of them: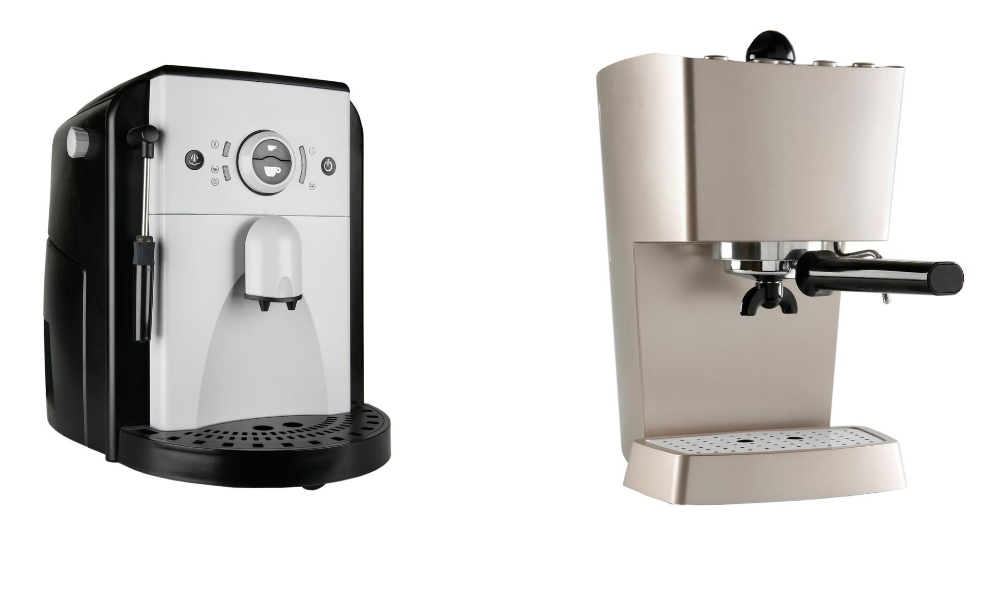 Type Of Espresso Machine
When it comes to purchasing the best espresso machine under 300, the first thing that you are going to consider is the kind of espresso machine you want.
There are 2 main types of espresso machines:
A steam-driven espresso machine can either be a pumpless electric machine or a stovetop. And both are not that common these days.
Pump driven espresso machines are the most common type on the market today. It is further divided into several types:
Manual Lever Pump
With the manual level pump espresso machine, you will be required to do all the prep work like grinding the beans and placing them into the portafilter as well as pumping the espresso out with your hand.
In addition, you can also get electric pump machines that are basically the same, however, it uses electricity in order to pump the espresso.
The manual lever pump espresso machines are best for those who want complete control over the brewing method. However, this can be quite difficult to master.
In addition, a manual lever pump is not common and not suitable for those looking for their first espresso machine.
Semi-Automatic Pump
The semi-automatic espresso machine is like a manual coffee machine in which you will need to do a lot of prep work yourself including loading the portafilter, grinding the beans, tamp, and setting the machine.
The only difference between the semi-automatic and manual is that it operates with a dial or a button that automates the workflow, unlike the manual lever that a manual pump utilizes.
The machine will stop the water flow automatically once it reaches the preset water amount.
The semi-automatic pumps are suitable for those with experience in making espresso coffee as well as having some control over some steps of the brewing process.
Like the semi-automatic pump, the automatic pump espresso machines will also have buttons in place of a lever. You will still need to tamp and grind your coffee beans; however, the rest of the brewing process is automated and can even be programmed.
You can choose your preference in terms of coffee strength or how you like your milk frothed. The automatic espresso machine will do it all for you.
Automatic espresso machines are suitable for people who are just starting out in the espresso-making journey or those who want the easiest to use an espresso machine to save the time and hassle of pulling a decent espresso shot.
Lastly, for this price point, we have the capsules or pod espresso machines. These machines do not use any programs or presets and you can only use pods.
Fortunately, you can purchase different coffee styles and strengths in pods depending on your taste and preferences. The great thing about pod machines is that they are compact, cheap, and very easy to use.
Pod and capsule espresso machines are the best entry-level models for beginners.
Water Reservoir Capacity
The size of the water reservoir will determine how many cups of espresso coffee you can make before you will need to refill.
In order to determine the right size of the water reservoir that will suit you best, you will need to consider how many cups of coffee you will be making on a daily basis.
Do you regularly treat guests and friends? How many people live in your household who loves to sip on espresso shots every morning? How many cups of coffee does each individual want to drink at any given time?
Consider all these questions, then you should have an answer to the perfect water reservoir size for you.
Durability / Longevity
The best espresso machines under 300 should never be flimsy. Sure, the price may be cheap, but a reputable manufacturer should guarantee that the machine can last you for years to come.
Other than the materials used, the best guarantee of durability and longevity would be the manufacturer's warranty. Warranties and guarantees should give you some idea of what to expect from the model's durability.
Also, it is recommended that you also take into consideration the reputation of the brans for making durable products. Make sure to go with the top espresso machine brands with stellar reputations for making durable and long-lasting products.
Programmability And Digital Display
At this price point, you should be able to find an espresso machine with some programmability features.
Some of the best espresso machines under 300 come with a range of great program settings. This includes making adjustments to brewing strength, auto shut-off, as well as setting your drinking routine.
Espresso machine on this price point will also feature clear digital displays that make it easier to navigate the machine as well as convenient indicators light.
Grinding Feature
Most recent models of espresso machines under 300 will come with a built-in grinder. With this addition, you get to purchase any whole coffee beans you want and grind them with before brewing for a fresher cup of espresso.
A machine that comes with this grinding feature can store underground coffee beans so that you can make fresh espresso every time.
Frothing
If you want to make various espresso-based drinks such as cappuccino, latte, macchiato, americanos, or mochas, then you will need an espresso machine that comes with some kind of frothing system.
Size
Some of the best espresso machines can be huge. So, before you purchase a machine, you need to make sure that you have enough space in your kitchen for it.
We recommend that you measure out space you have available and check if the dimensions of the machine before buying in order to ensure that it can fit.
The area needs to have enough surface area and adequate top clearance to use the espresso machine properly. In addition, it should be located near the power outlet.
Now, if you do not have a lot of space to spare, you'll be glad to know that there is some great option for a compact espresso machine.
Ease of Cleaning
If you end up with an espresso machine that is easy to use but a real pain to clean, then it is not actually convenient after all.
Make sure that you have an idea of what the cleaning would be before buying an espresso machine. The more components and features the machine has, the more likely it can take you a long time to clean.
So, look for removable parts that you can easily clean, or much better, dishwasher-safe. Or go with the machines with self-cleaning function for a stress-free cleaning.
Accessories
Most espresso machines come with a tamper or a measuring spoon or both. Or sometimes they are combined into one tool. Unfortunately, most of them are just plastic.
This may be alright for the spoon; however, a tamper needs to be strong enough in order to exert some real pressure on the coffee grounds when tamping them down and trying to make them even.
This included plastic utensils will definitely break before long so consider spending a little extra and get a proper, stainless steel tamper that can last for a lifetime.
Most espresso machines will also include a frothing cup for milk, some don't. Either way, it is always nice to have a couple of spares if you are fixing different drinks for your family or guests.
Also, some espresso machines will come with glass or porcelain cups. Most, don't. If you are going to buy an espresso machine, then consider getting some espresso cups to drink out of.
The sizes usually ensure that you will be able to get them under the portafilter when it is in use.
Budget
The price range for the best espresso machine options is huge. The difference between a cheap espresso machine to the barista-grade machine can be hundreds of dollars.
And there are several factors that can make a difference in price including the materials used, the brand, the features, and functions and so much more.
Obviously, you are reading this article since you are looking for the best espresso machines under 300. So, if this is your budget, then you need to stick with it and do not get starry-eyed by some of the fancier machines.
Frequently Asked Questions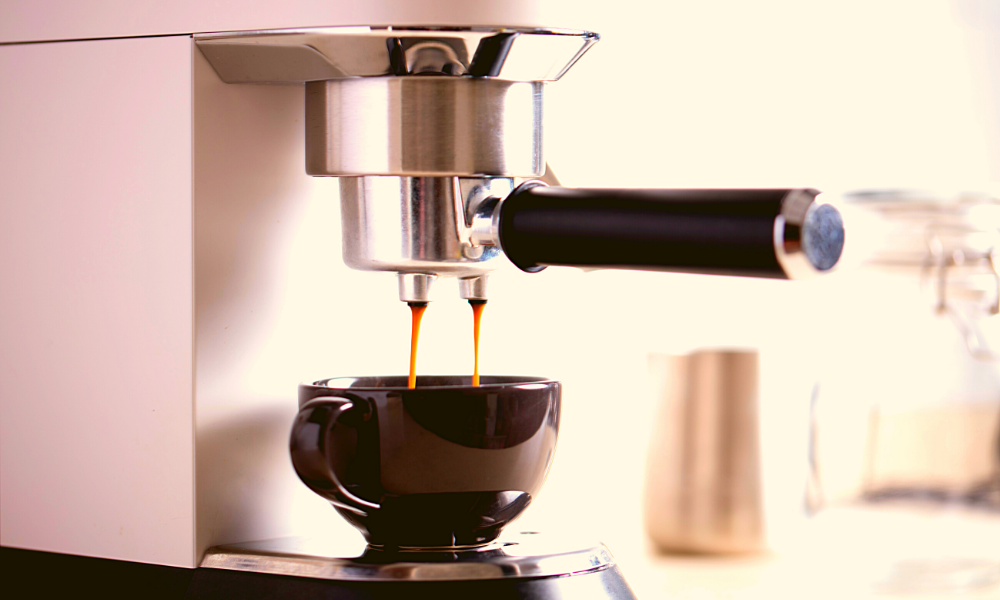 Q: Are espresso machines under 300 worth it?
A: Yes. They are a great choice if you wish to pull a decent espresso shot at a reasonable price. The best espresso machines under 300 are ideal for home brewing, plus they are easy to maintain and perfect for the beginners.
Q: How do you froth milk with espresso machines?
A: It's quite simple. First, you need to pour fresh and cold milk into a small cup. Then, insert the espresso machine's steam wand in the cup and switch it on.
Wait for a few seconds. Remove the wand from the cup. You'll have a frothed milk.
Q: What coffee beans should I use for brewing espresso?
A: This will depend on your preferences and taste. However, it is best to use the medium to dark roast coffee beans. And if you are buying a pre-ground coffee, then you should one with fine grind size.
Q: What's the ideal pressure for an espresso machine?
A: Pressure plays a critical role in the quality of espresso shots and is measured in bars. When making espressos, 9 bars is considered to be the optimal pressure.
However, some coffee connoisseurs claim that in order to pull our great-tasting and strong espresso shot, you will need up to 15 bars.
Q: Can espresso machines make cappuccinos and lattes?
A: If you purchase an espresso machine with a milk steamer or frother, then you can easily make cappuccino or latte.
Q: How noisy are espresso machines?
A: Home espresso machines are usually quieter than those commercially used. The loudest part of an espresso brewing process is the grinding of the whole coffee beans, that is if you have a grinder included with the machine.
Also, a bit noisy is the milk steaming nozzles that often make a loud sucking or hissing noise as the foamed milk for lattes and cappuccinos.
Some machine gurgles quietly or makes clicking or hissing sounds as the automatically presses water through the coffee grounds. But most are not annoyingly noisy.
Final Thoughts
So, there you have it.
By now, you should have all the necessary knowledge about espresso coffee and espresso machines.
Once a luxury, espresso machines are now available for those on a tight budget but still want to enjoy a freshly pulled espresso shot.
And the above-mentioned products are guaranteed to give you a decent, great-tasting cup of espresso every time.
We hope that you find this article helpful. Got any suggestions or questions? Feel free to fire up the comment section below! Please don't forget to share this article with your family and friends.
Until then, have a strongly energized day!