The best espresso machines are coming from Italy, the country with a long tradition of making espresso coffees. Do you love espressos, lattes, and cappuccinos?
Millions of people all over the world do. The aroma and flavor of a freshly pulled espresso shot. Truly nothing comes close! But there might be one teeny-tiny problem:
In order to make the perfectly pressed shot of espresso in your kitchen, you will need the best espresso machine. And they tend to have pretty expensive price tags dangling around.
Or at least they used to be.
The good news for you is that you can get a new espresso machine that guarantees a decent quality of espresso shot but also won't break the bank.
Sounds good? Welcome to the best espresso machines under 200 dollars review.
The $200 price point is what we like to think as a sweet spot for decent quality, entry-level espresso machines with enough features that can satisfy your love for espresso but without being too overwhelming to operate and master.
Top 10 Best Espresso Machines Under $200
Espresso Coffee Explained
When talking about coffee, the first thing that comes to mind is the espresso. However, espresso is neither a type of coffee beans nor the coffee itself. It is also usually mistaken as an espresso roast.
An espresso coffee refers to the mere preparation of a coffee bean that is first introduced in the 19th century. Espresso is coffee brewed by forcing pressurized and almost-boiling water through very finely ground coffee beans.
During the 19th century, there was a demand for a quicker way of brewing coffee when coffee shops and restaurants were blooming in the early days.
And the main reason people go to coffee shops is to enjoy a cup of their favorite joe without the hassle of preparing one for themselves. But customers also don't like to wait.
Thus, the very first espresso machine was invented. An Italian inventor from Turin named Angelo Moriondo was the first to have the privilege to patent his machine in the year 1884.
However, his espresso machine is a bit bulky and not suitable for individual home brewing.
Then, the next inventor, Luigi Bezzerra, was from Milan, Italy. Bezzerra added a few enhancements to Moriondo's machine in the early part of the twentieth century.
He successfully invented the espresso machine which could brew coffee for a single order in just a few seconds.
However, this machine was heated on an open flame. Thus, the brewing couldn't be controlled and failed to provide coffee consistency and quality.
Next came the genius Desiderio Pavoni who was also a Milanese. Pavoni bought the espresso machine patent from Bezzerra and made lots of improvements on the machine.
He invented the pressure release valve which helps control the brewing process. This help created a perfect coffee espresso blend while preventing any splashing and spilling of the brew.
From there, Pavoni and Bezzerra became partners and finally came up with the name Ideale for their espresso machine. The Ideale was the forerunner of this modern day's style of espresso makers.
How To Choose The Best Espresso Machines Under $200
Looking for the best espresso machines under 200 is no walk in the park. At this price range, you have very limited options with some choices only disappoints.
So, how do you decide what to buy? Read throughout a comprehensive buying guide to ensure that you are only getting the best espresso machine under 200!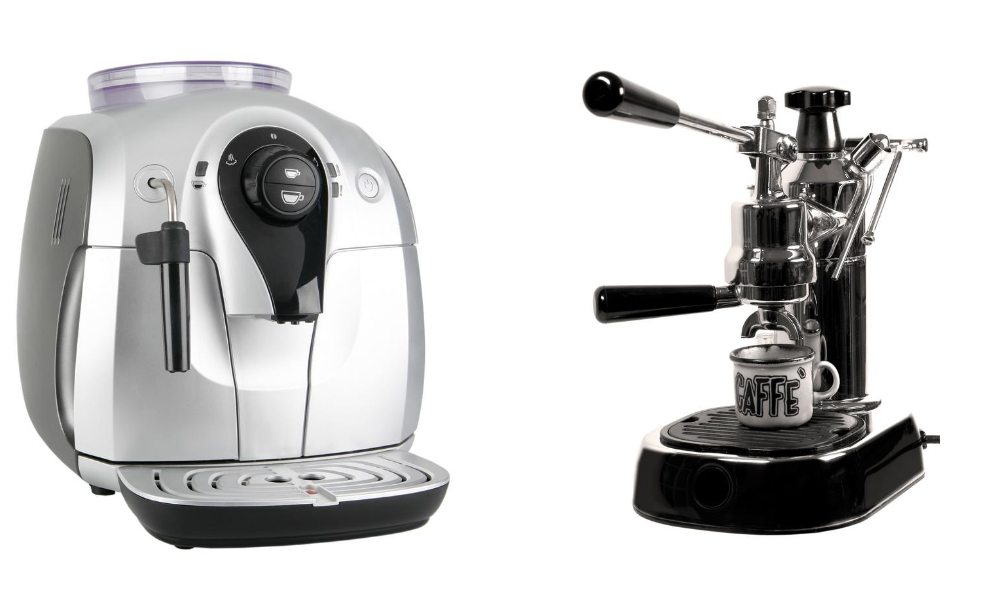 Type of Espresso Machine
So, what exactly are the types of espresso machines that are available in this price range?
With the semi-automatic espresso machine, some features are automatic while some are not. But however tedious it might sound; the semi-automatic kinds are the most in-demand.
This is because it offers you full control over your brewing process. It is typically used in specialized coffee houses or restaurants. You will need to be an experienced barista in order to use this type of machine.
A semi-automatic espresso machine features a pump to extract the espresso. However, at this price point that controls are usually manual. Most will also have a steam wand for frothing milk.
If you're not pressed for time, want to control your brewing method, and like to experience or master the joy of espresso-making, then the semi-automatic expresso machine could be just what you are looking for.
Also known as the fully-automatic espresso machines, this is the type to consider and is mostly expensive. However, you can also find the budget-friendly automatic espresso machine that can extract espresso as well as frothing the milk for you.
You can also program the required volume of water, beans, chocolate, or milk to prepare a serving of a specific type of drink you want.
Now, for the more expensive automatic espresso machines out of this range, they can also self-clean and grind the coffee beans.
Super-automatic is the best machine for people on the go who want a cup of strong coffee in a hurry but without the stress of brewing one. The machine requires very little input from you in order to brew a cup.
The capsule espresso machines are distinguished for their ease of use and maintenance. They work as follows:
A sealed blend of roasted beans is stored in the capsules. The capsule is punctured, then hot water enters the hole. After a few minutes, your espresso coffee will be ready.
The conventional capsule espresso machines have several modes of operation with the capability to select the coffee strength, water temperature and so much more. Some of the capsule espresso machines are also able to froth milk with an automatic milk frothing system or a steam wand.
Manual Lever Espresso Machine
The manual lever espresso machines are the old-world style machines that are designed for the more hands-on espresso enthusiasts who are more willing to invest some time and experiment on making the perfect cup of espresso.
And although these machines are the most complicated version to use, they allow you to become a part of the brewing process and provides you full control.
Pressure
In order to pull a decent shot of espresso, the machine pushes pressurized hot water through tightly-packed and finely-ground coffee beans.
The question now is, how pressurized does the water need to be?
Well, the industry-standard pressure is 9 bars, meaning 9 times the atmospheric pressure at sea level. However, most brewers believe that a pressure of 15 – 17 bars produces better espresso.
You may want to consider what pressure level you would like for your home brewer. However, most espresso machines under 200 will have these pressure ranges, more or less.
Before buying, it is a good idea to think about what you want. Do you want the best espresso machine under 200 to use only as a training wheel that helps you pull a shot in a more hands-on approach? Or do you want to make frothy lattes or cappuccinos?
If you enjoy drinking cappuccino or latte, then a steam wand to froth milk is an important feature that you need to look at.
Fortunately, espresso machines at this price range will have a steam wand on the side of the machine. Others will have a manual frother.
The quality of the steam wand will have a huge impact on how well you can texturize your milk. So, if it is a big deal for you, then you will need to take a closer look at the steam wand or frother on the espresso machine you are eyeing.
There are 3 systems for heating the water in espresso machines. The boiler unit heats the water used to extract the espresso and heating the milk.
And when comparing espresso machines, the boiler type is one of the factors you need to consider.
The thermablock boilers are the most common type of boilers on the best espresso machines under 200. They are reliable, fast to heat, and more compact than other boiler types.
In general, the single boilers offer a more consistent water temperature. This is an excellent feature that helps produce quality espresso. However, they tend to be more expensive than the thermablock machines.
An espresso machine with a single boiler usually has a thermostat to control and vary the temperature for the milk and espresso.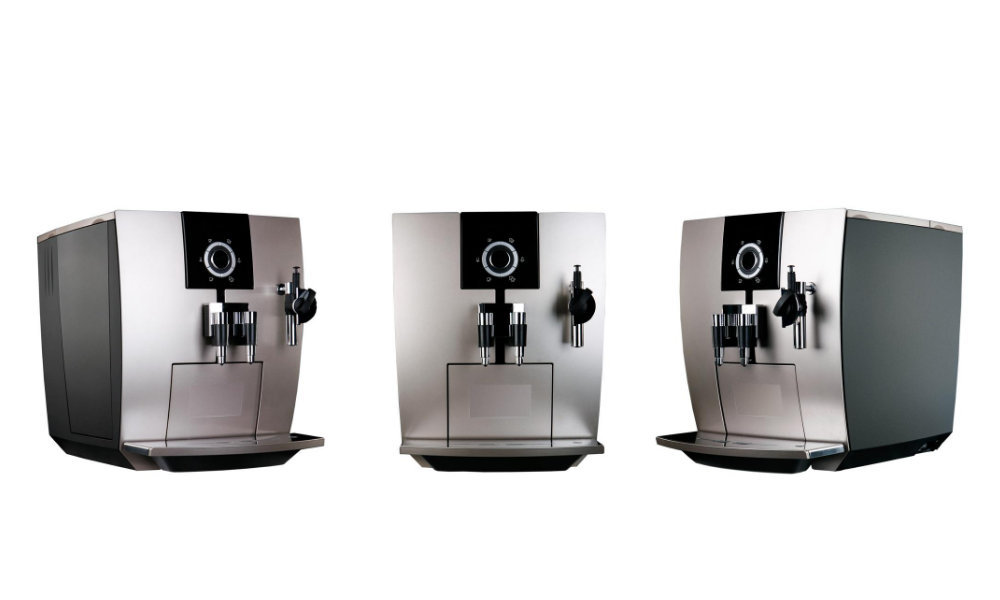 Now, this type is mostly found on the premium and expensive espresso machine. With separate boilers for heating steam and water, they offer the ultimate temperature control and the capability of running the espresso while heating the milk at the same time.
Coffee Pods vs Coffee Beans
Espresso machines will need the very finely ground dark-roast coffee beans in order to produce espresso shots.
And for the freshest flavor, we suggest that you get a whole bean and grind them just before brewing. Most espresso machines will accommodate ground coffee.
But, if you hate dealing with the coffee grounds, then you can consider the machines compatible with single-serve pods such as Nespresso capsules.
These should be more expensive; however, you will not have to worry about grinding your own beans or tamping them to the portafilter.
Your 3rd option is to go with the Easy Serving Espresso pods. These are invented by Illy which is an Italian company.
These eco-friendly and soft pods work with specifically designed espresso filters, taking out the guesswork of your espresso coffee preparation.
Think about how many shots of espresso you want to brew on a daily basis. If you brew espresso for yourself, then you can go with the more streamlined and compact espresso machine.
But if you have a family who loves espresso or entertains guests every now and then, then you want an espresso machine with a large water reservoir. This way, you will not have to continuously refill the espresso machine.
You might also want to consider the twin-brew head that allows you to brew multiple shots of espresso at the same time.
Maintaining a constant temperature is a crucial factor to consider when choosing the best espresso machine under 200. The ideal temperature of pulling an espresso should be lower than that for heating milk.
Thus, a thermometer is utilized to manage the temperature changes.
Most espresso machines under 200 should have one thermostat to control the temperature of the steam and water. Some will even have dual thermometers that allow you to control both the steam and water temperature separately.
It is not just what the espresso machine can do. But it is also about what the machine is made of that also matters.
Of course, you might not be able to find every espresso machine under the 200 price point to be made of the sturdiest and finest material. However, the best espresso machine should be at least well-built, dependable, and durable.
An espresso machine usually takes up a fair amount of counter space on your kitchen counter. And since it will be very visible on your kitchen space, then you might want to consider the look of the appliance.
Do you like a low-key black profile or prefer the shine of the metal models? Do you care if your espresso machine is made of sleek stainless steel or largely made of plastic?
Whatever you choose, go with the one that fits your preferences and kitchen décor.
Although the traditional espresso machines are bulky and large and usually stay on the counter, you can also find lightweight and portable versions.
So, if you want an affordable espresso machine that you use in the office or take with you on camping, then you might want to consider the small, hand-operated versions.
But, if you think you only need to pull espresso shots at home and have enough space on your counter, then go with the sturdier and larger ones.
In addition to portability, you might also want a compact espresso machine that can be easily stored when not in use. We all want to make your kitchen clean, neat, and free of clutter, without dangling cords or the unnecessary appliances that can make the countertop look crowded.
If you don't intend to keep your espresso machine in the counter or seldomly use it to make a cup of espresso, then you want a model that is easy to store in your kitchen cabinet.
Are you a master of espresso shots and have experienced with espresso maker? Maybe you have worked as a barista or owned an espresso machine for years?
Then you might be interested in the manual models that allow you to have hands-on control over every step of the espresso brewing process.
But, if this is your first time and do not know much about espresso or just do not have the time to learn and study complicated espresso machines, then go with the semi-automatic or fully-automatic ones.
These machines will make it easier for you.
Furthermore, you need to buy an espresso machine with intuitive and user-friendly operations, one that will not make you confuse when operating on a drowsy morning.
Espresso machines are known to require constant and extensive cleaning in order to operate well.
If you are willing to incorporate espresso machine cleaning into your daily routine, then the ease of cleaning features might not matter to you.
However, if you are a busy person and simply do not have the patience to clean a bulky machine, then you might be interested in convenient features such as self-cleaning or the removable and dishwasher-safe parts. 
The best espresso machine under 200, will need to have some kind of warranty to guarantee its quality and reliability.
This way, if the espresso machine suddenly malfunctioned or stopped working in just a few days or weeks' time, you can hold the manufacturer reliable and have it replaced for a new one, all free of charge.
Just take note that even if the machine is covered by a warranty, the manufacturer might still charge you for repairs or shipping.
Also, you might want to carefully read the warranty information first before purchasing the espresso machine and register the machine with the company or manufacturer when you receive it.
Frequently Asked Questions
Q: What can I expect from the best espresso machine under 200?
A: With an espresso machine in this price category, you can expect some decent quality machines and espresso shots, but not high enough to call it classic.
Also, these espresso machines may have the necessary equipment such as a milk frother for the production of espresso-based beverages.
The truth is, with the best espresso machine under 200, you're buying an entry-level machine. So, espresso machines at this price point are best suited for beginners.
Q: Are there even cheaper espresso machines available?
A: Ever since espresso coffee became popular, a lot of brands have jumped on the espresso bandwagon and manufactured their own machines.
Thus, you can find a large selection of espresso machines that even have a less than $100 price tag.
Take note, however, that these machines will not be able to perform quite well and you might find yourself with regret for a bum purchase.
Q: Is the best espresso machine under 200 suitable for home use?
A: Yes. The best espresso machine at this price point is a decent option for most home and office use. However, they are not suitable for specialty cafes and restaurants.
Q: How many bars should a decent espresso machine have?
A: The optimal pressure for espresso extraction is 8 – 9 bars. It is the industry standard. However, most coffee connoisseurs will argue that 15 bars is the bare minimum in order to extract a nice and respectable shot of espresso.
Fortunately, most of the espresso machines mentioned above have an average range of 3.5 – 15 bars which is good enough to make decent espresso shots.
Q: Does the best espresso machine under 200 make a decent espresso shot?
A: Yes. But it will depend on which espresso machine you choose. Some are better than others. And at this price point, only a few are great at pulling decent espresso shots.
And while some can make a decent espresso shot, they are still far from the professional, barista-pulled espresso shots.
Q: Is a milk frother important?
A: This will depend on your preference. If you only care about pulling out decent espresso shots, then you will not need an espresso machine with milk frother.
However, if you're one to crave for a latte, cappuccino, or any milky coffee beverage, then we suggest you go with the best espresso machines with a steam wand or milk frother.
Final Thoughts
As you can see, you do not have to spend so much in order to get a brew and pull shots of espresso at home.
Ultimately, there are so many espresso machines available on the market today that you are bombarded with affordable, yet efficient machines that can get the job done.
Have you been wanting a good espresso machine, but unable to afford the top expensive models? Fear no more!
With the affordable and best espresso machines under 200 from above, you are guaranteed to have a delicious espresso shot every time!
Although the best espresso machines under 200 will not be able to provide you with all the fancy bells and whistles of a premium and more expensive espresso machine, they can still provide you with a strong and great-tasting cup of espresso to enjoy!
We hope you find this article helpful! Are you considering an espresso machine from our list or have a particular model you would like to recommend?
Feel free to fire up the comment section below! We love to hear your thoughts!
Also, please don't forget to share this article with your friends and family!
Until then, have a strong and energized day!