In a world full of coffee makers— automated drip machines, pour-overs, and espressos— why would you even bother with a French press? Admittedly, they need a bit more active work than the other coffee makers.
In fact, using them will generally involve boiling water, vigorous stirring, waiting, then plunging— oh, and yes, even grinding your own beans.
But, if you're looking for a satisfying taste and the barista-worthy cup of joe every morning, then it is hard to beat the French press coffee makers. But don't just go into a buying spree for a French press.
There are a few things that you should consider first, or you could end up cursing yourself for overlooking.
In this article, we are going to take you on a comprehensive journey about French presses and introduce the best French press coffee makers that are currently available on the market.
Top 10 Best French Press Coffee Makers
French Press: What Is It?
French press (cafetiere in England) has an unclear origin, but it is believed to have been around for over a hundred years.
However, its current design was patented by Attilo Calimani in the year 1929, who surprisingly was an Italian and not French.
Its modern design is quite simple, consisted of a plunger and a carafe (or beaker) assembly.
How To Pick The Best French Press Coffee Maker?
1) Carafe
The carafe or the main body features several material constructions. These include:
A special glass material that contains the boron trioxide and silica that makes it exceptionally resistant to thermal shock. This means that pouring hot water into the carafe will not cause the glass to shatter or explode.
Unfortunately, the special composition of the glass won't help if you accidentally drop the glass on your tile floor.
If you want the best French press coffee maker that will not easily break, then you should go with the stainless-steel presses. In general, they are vacuum sealed and double-walled to keep your coffee hot for hours.
Not only that, but stainless steel French presses are also available in a polished finish with a mirror-like appearance that almost like fine silver or the brushed finished with various color options to choose from.
Although durability will depend on the model and its manufacturing, you can rest assured that stainless steel will not shatter on your kitchen floor.
There are also French presses made from plastic. They are lightweight and compact, suitable for your travels. But not just any plastic will do, you need a plastic carafe that is made from styrene-acrylonitrile and is totally free of BPA.
SAN is a highly durable plastic that can withstand higher temperatures without leaching chemicals or warping.
The less common style, ceramic or stoneware French presses tend to be on the expensive side, but they look gorgeous. They are available in various enamel colors and are also coated internally to resist odors and stains.
Most stoneware or ceramic carafes of today are dishwasher safe, highly resistant to extreme temperatures, and durable to last for years. Unfortunately, like glass, they would be useless when dropped on the floor.
Read More: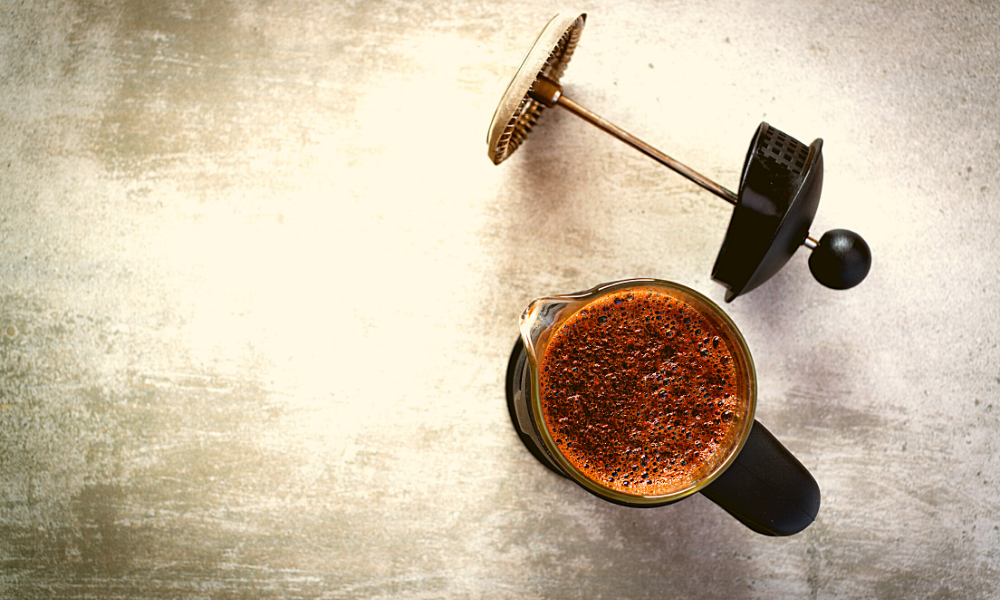 2) Filter Screens
The bottom end of the plunger consists of various filters and discs, held firmly against the glass by a spring.
There are some models that utilize up to 4 stainless steel mesh filters, ensuring that the coffee ground stays on your French press as you plunge.
You see, if you have too fine coffee grounds or your filters are not fine enough, you will end with a gritty brew. So, if you don't like that, then look for models that offer several filter screens.
In addition, metal filters have also been blamed for allowing the cholesterol-increasing oils in your coffee. So, if this is a concern for you, then you can just purchase bags or paper filters for your French press that traps the oil.
3) Lid
This is probably the most overlooked part of the French press coffee makers. However, it is one of the most crucial elements you need to consider.
The lid needs to be made from a material that can block the heat from escaping by coming out of the carafe spout during the brewing process.
This should help keep your coffee warmer for longer. In addition, you'd also like a spill-free lid so you don't have to worry about a mess in your kitchen.
4) Plunger
This is the part that pushes the filter down. In general, expensive French presses offer higher quality plunger that keeps the rod in place.
Meanwhile, the cheaper coffee presses may leave too much room that you can accidentally wiggle the plunger, causing the filter discs to be misaligned with the beaker and allowing the coffee grinds to escape.
Thus, you get more sludge in your coffee. Try to look for a durable and better-quality plunger. Also, consider those with rubber handles so your hands won't slip when pressing.
5) Capacity
The best French press coffee makers come in various sizes— ranging from the single servings to the 12 cups.
With this, you need to think about usability and storage. Do you find yourself entertaining guests frequently or you like to enjoy a cup of coffee alone?
Do you have space for a large French press or renting out an apartment with a small counter space? Also, when looking at the number of cups advertised, keep in mind that the standard size for a cup of Frenched pressed coffee is 4 ounces.
6) Cleaning
Probably the most common complaint of having the best French press coffee maker is the difficulty of cleaning.
Although the majority of models available today are dishwasher safe, most users will agree that disassembling the machine periodically, which means tedious cleaning, is necessary.
And even the most expensive models on our list, the laborious cleaning hassle by hand persists. There is no good way around this issue. Just think of it as a trade-off for the great-tasting coffee it offers.
7) Price
One of the greatest features of the French press? Its affordability. You can get one of the best French press coffee makers in the market today for at least $20. Read Here: Best Espresso Machines Under $500
The basic French presses, typically made of glass, are at the lower price bracket. Meanwhile, stainless steel French presses are at the expensive side, next to ceramic and stoneware.
Reputable French Press Brands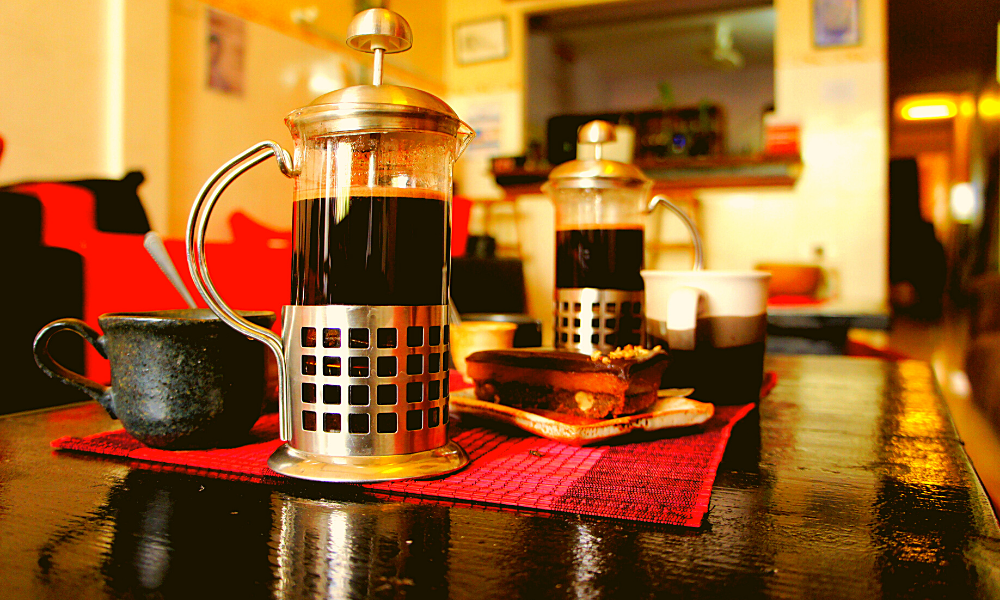 The Yama Glass company is still doing things the old school methods of manufacturing glass products— hand blowing the high-heat resistant glasses at their glass factory based in Taiwan.
Yama has been making all kinds of tea and coffee makers as well as elegant glassware for the last 40 years and so. They are also proud of their superior environmental rating. With Yama glassware, you can assume that you are buying a product that is made to last
If you are looking to add a classic design with fun pops of color, then Le Creuset is the best option you have. Since 1925, this company has been making beautiful and bold cookware and other kitchen tools such as their fancy French Press coffee makers.
The colorful stoneware enamel on their French press coffee makers resist cracks and chipping and retain heat naturally. So, if you are looking for a French press coffee maker that makes a statement in your kitchen, then Le Creuset is the name.
Bodum is another iconic name in the French press category.
Originally founded in the year 1944 in Denmark, Bodum first introduced its French Press coffee maker in 1974, calling it "Bistro".
Products from Bodum are famous for their simplistic, Scandinavian design that is also surprisingly affordable.
Family owned, Bodum Founder, Peter Bodum, once said that good design does not have to be expensive. And Bodum French press coffee makers are a proof of that.
Coffee Gator is not some multi-generational business. As a matter of fact, they have only been around for a few years. Phil Williams, Coffee Gator founder, discovered what a great cup of coffee tasted like during his hike in Columbia.
Fast forward to today, Coffee Gator makes various coffee equipment that is loved by huge number of Yeti-like loyalists. Coffee Gator is here to stay with their blend of quality, affordability and appeal that looks sharp in any kitchen.
Step-By-Step Guide on Making French Press Coffee
Add coarsely ground coffee to the carafe. You should go with freshly roasted and ground coffee.  Use 1 tablespoon per serving.
In a kettle, boil water and allow it to cool to 205 degrees Fahrenheit. You will need one cup of hot water per tablespoon of coffee grounds.
Pour half the water into the French press coffee maker.
Let it sit for a minute and allow the coffee to bloom.
Add the remaining hot water and let it sit for another 3 minutes, allowing the coffee to steep and bringing out the full flavor. If you want a stronger brew, then you can let it steep for a few minutes more.
Gently press the plunger using just the weight of your hand.
Enjoy!
Cold Brew in The Best French Press Coffee Maker
Don't like hot coffee or currently enduring the hotness of summer but still want to sip your daily caffeine? Then go with cold brew.
Add 1 tablespoon of coarse ground coffee per serving to the beaker.
Add a cup of room temperature water per serving.
Stir.
Put the plunger and lid back on without pressing.
Place your French press in the fridge overnight.
The next day, gently press the plunger using the weight of your hand.
You have a cold brew French press coffee to enjoy!
Essential Tips To Brewing The Best French Press Coffee
Other than taking the time to allow your coffee to properly bloom and steep, here are other things you can do to ensure a delicious French press coffee!
Rinse the carafe with hot water to warm it before brewing.
Do not leave the coffee in the French press once the brewing is complete. You need to pour it into a carafe so that it won't continue to brew and taste bitter.
Use one cup (4 ounces) of water to 1 tablespoon of coffee grounds. Balance is the key to delicious French press coffee.
Always use coarse grinds, allowing you to get the optimum flavor without the grit in your cup.
Always keep your French press coffee maker clean so that you will not have old grounds stuck on the bottom for the next time you brew.
Grind Matters
We mentioned that you need to use a coarse grind for brewing a French Press coffee.
But you might be wondering:
Does it really matter?
Yes. In terms of French press brewing, the grind really matters! Can't I just go with whatever pre-ground coffee I have?
No. Your ordinary run of the mill pre-ground probably is not going to cut it!
Why?
First and foremost, a coarse grind helps the filter do its job properly. The fine coffee grounds will likely get through the filter of the plunger and into your mug.
So, not only will this make your cup of coffee grittier, it will also have an over-extracted, bitter flavor.
In addition, too fine coffee grounds will make it difficult for you to press down the plunger. You will risk either improperly extracting the grounds with too much pressure or breaking the tool altogether.
Still, for the higher-quality French press coffee makers, you may have a bit of room to customize the coffee ground. They usually have the finer screens which can handle the more finely ground coffee.
However, we would not still recommend venturing passed the medium-coarse or medium grind.
And while we encourage you to do experimenting and finding the method that works with your taste, we can say that you probably prefer a cleaner cup and an unbroken French press coffee maker.
Coffee Ground Guide
So, all out talk about the coarseness of coffee ground might be hazy, if you have no clue what these sizes actually mean. And you will not be able to judge what kind coarseness levels that your grinder is offering if you do not have a point of reference.
Thus, here is a quick guide to help you understand.
Extra Coarse: Very chunky, like rock salt
Coarse: Visibly chunky, like sea salt
Medium-Coarse: Less chunky, like rough or coarse sand
Medium: Like regular sand or Kosher salt
Medium-Fine Small granules, between table salt and Kosher salt
Fine: Difficult to feel the granules, slightly finer than table salt
Turkish or Extra Fine: Silt-like, like powdered sugar or flour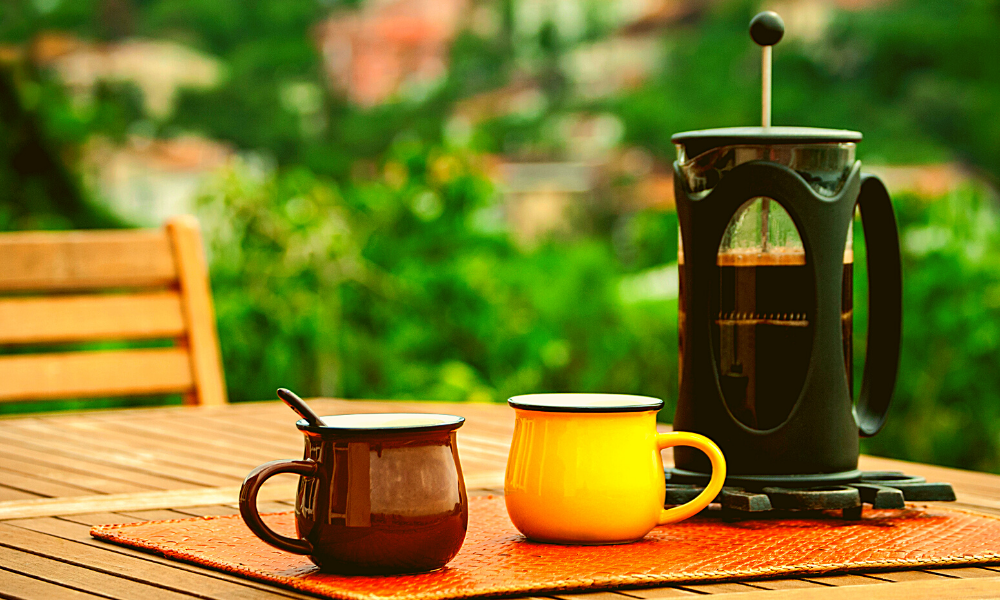 Why You Should Grind Your Own Coffee Beans?
As we already said, experimentation is definitely encouraged so that you can find the taste and flavor that works for you.
However, one thing that will prevent you from experimenting is buying the pre-ground coffee you usually find in the grocery stores and supermarkets.
With pre-ground, your options on getting the appropriate coarse grounds are slim, and you will not be able to tweak your grind size, if what you bought is not ideal.
Although it can be intimidating, buying a high-quality coffee grinder is the key to stepping into the amazing world of the Third Wave coffee.
You will not be to appreciate even the fanciest or most expensive coffee beans if they are not freshly roasted and ground.
So, as you always check on the roast date of your coffee, you also need to buy the whole coffee beans and start grinding at home.
This is particularly important for the manual brewing tool like the French press, requiring a specific size and grind and invites the influence of personal flair and preference.
Cleaning A French Press Coffee Maker
Speaking of cleaning, how exactly do you clean the best French press coffee maker? French press coffee makers are notorious for being annoying and a hassle in terms of cleaning.
Fortunately, most French presses are super easy to disassemble for quick cleaning. The secret to easily and quickly clean the best French press coffee maker is having a mesh strainer.
Remove the plunger.
Fill the carafe about halfway with warm water.
Swish the water around to loosen coffee grounds that are stuck at the bottom.
Hold the mesh strainer over your kitchen sink, then pour the contents of the French press into it. Now, dump the strainer full of coffee grounds into the garbage.
Add liquid dish soap and warm water.
Put the plunger back.
Pump it a few times to remove coffee stains or oil.
Sprinkle some baking soda and use a bottle brush to scrub away stubborn residue.
Rinse well.
Dry with a soft cloth.
In addition, most French presses are dishwasher safe so you can just throw it in and have it deep cleaned without hassle.
Frequently Asked Questions
Q: How often should I replace the wire mesh on the French press?
A: Some people recommend replacing it annually. However, others feel this is entirely unnecessary since it is possible to just clean it with vinegar.
Q: How much coffee do I need to put in a French press?
A: This is a personal preference, so it is up to you to find the perfect water to coffee ratio for you.
However, as a rule of thumb, you can start with the 1-part coffee to 12 parts of water. You can use a measuring scoop of digital weighing scales for accuracy. From there, you can customize the ratio according to your taste.
Q: Why does my French press brewed coffee taste weak?
A: A French press uses the coarser coffee ground. Now, if the grind is too fine, then the coffee will taste bitter. However, if the grind is too coarse, then the coffee could taste weak.
For this reason, you need to go with the medium grind, providing a perfect balance between a stronger taste but without the bitterness.
Q: Is French press coffee bad for me?
A: In 2016, a Harvard study suggests that French press coffee can increase cholesterol levels. This is because of the oils known as diterpenes in the coffee.
The study revealed that people drinking 5 – 8 French press coffee daily had higher levels of cholesterol.
If that sounds like you, then yes, French press coffee is bad for you. However, if you can limit your coffee intake to less than 5 cups a day, then you should have no cholesterol trouble at all.
Q: What can I do with the used ground coffee?
A: You can always throw them in the garbage and add to the landfills, however, you can use it for other ways.
Some plants like blueberries, carrots, hydrangeas, and lilies love the acidity of coffee grounds and respond well with soils mixed with used coffee grounds.
In addition, you can add them to your compost heap for a nitrogen-rich fertilizer. Just don't put too much ground in the soil and only aim for a maximum of 15 – 20 percent.
Final Thoughts
More portable than the automatic drippers, easier than the manual pour-overs, and offers premium quality coffee than the capsule-based brewer— it's no wonder that French press coffee makers are still popular.
And by now, you should be an expert on the French press coffee makers. Don't dismiss its brewing method as laborious or ineffective.
With the best French press coffee maker, you get a cup of joe with rich and powerful flavors that will fire you up in the morning or one lazy afternoon.